Posted in: DC Universe, TV | Tagged: DC Universe, doom patrol, Titans
---
Behold- DC Universe's 'Doom Patrol' Trailer!
Doom Patrol will be arriving on DC Universe right around Valentine's Day, and we have the brand-spanking new trailer:
https://www.youtube.com/watch?time_continue=1&v=5JG-TNPkV8k
I never once in my life thought Tiny Tim's "Tiptoe Through the Tulips" would so perfectly capture the mood and spirit of a comic book!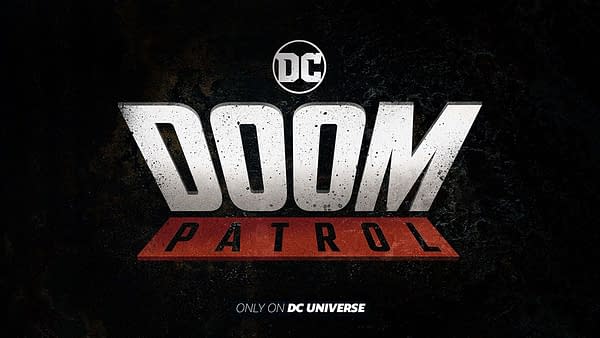 Doom Patrol is one of the more off-beat titles in the DC stable, featuring an eclectic mix of bizarre and tragic characters.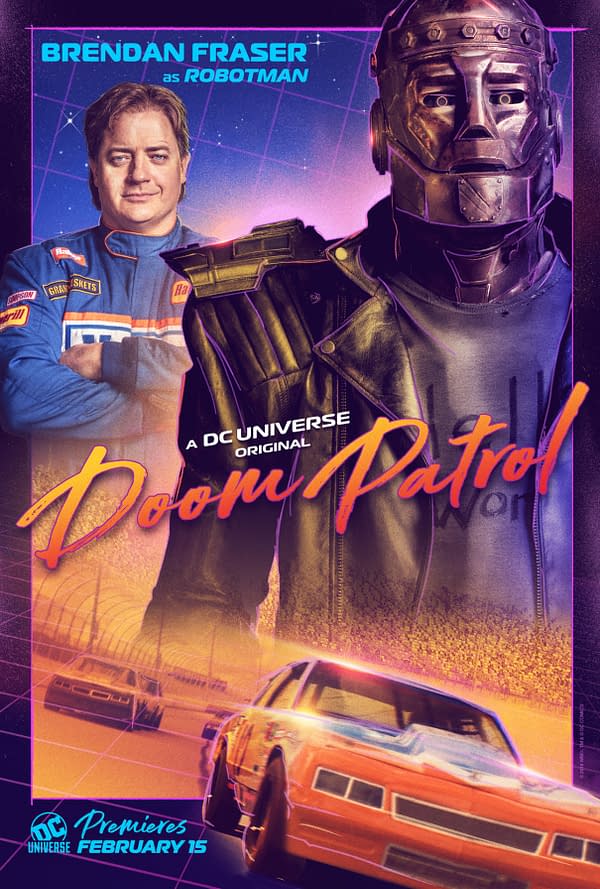 Race car driver Cliff Steel was horribly injured in a racing accident, and his brain was placed in a robot body. Steel became Robotman, and is the only member of the Doom Patrol who has appeared in every version of the comic. Robotman has superhuman strength, speed, and endurance, as well as magnetic feet that allow him to walk on metallic surfaces. Robotman will be played by Brendan Frasier on the Doom Patrol TV series.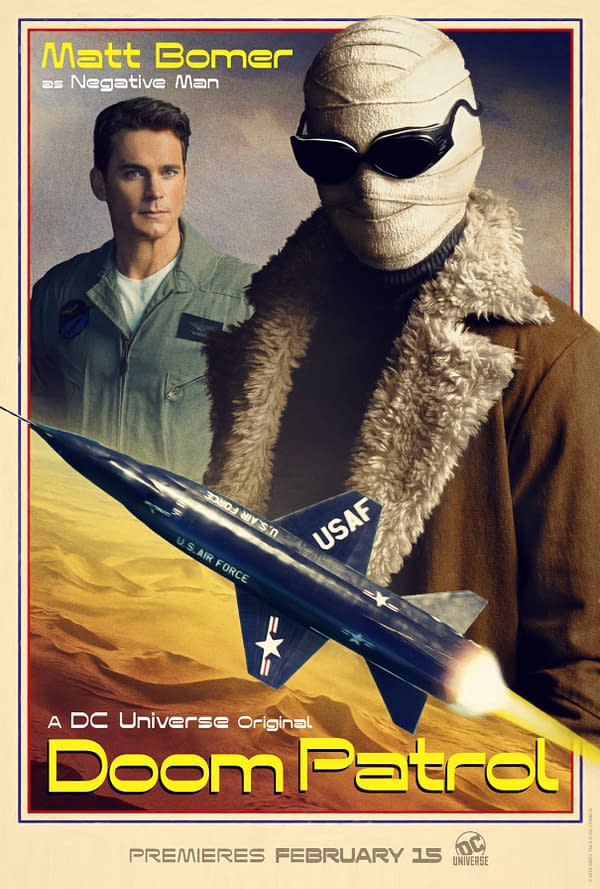 Larry Trainor was a jet pilot before an accident made him into the Negative Man. The Negative Man is able to fire off bursts of radioctive energy, fly, and pass through solid objects. Trainor has been rendered invisible, and wears bandages around his body so that people can see him. Matt Bomer will be playing Trainor in the upcoming show.
April Bowlby plays Rita Farr, an Olympic medalist and Hollywood super-star who's life was changed forever after being exposed to toxic volcanic gasses. She gained the ability to grow and shrink at will, and can enlarge parts of her body. Unfortunately, Rita has very little control over her body, and her elasticity goes haywire at times and causes accidents.
Timothy Dalton will be bringing his trademark wit to Doom Patrol as Niles Caulder, AKA the Chief. The Chief is a wealthy eccentric who gathers the Doom Patrol together as a team.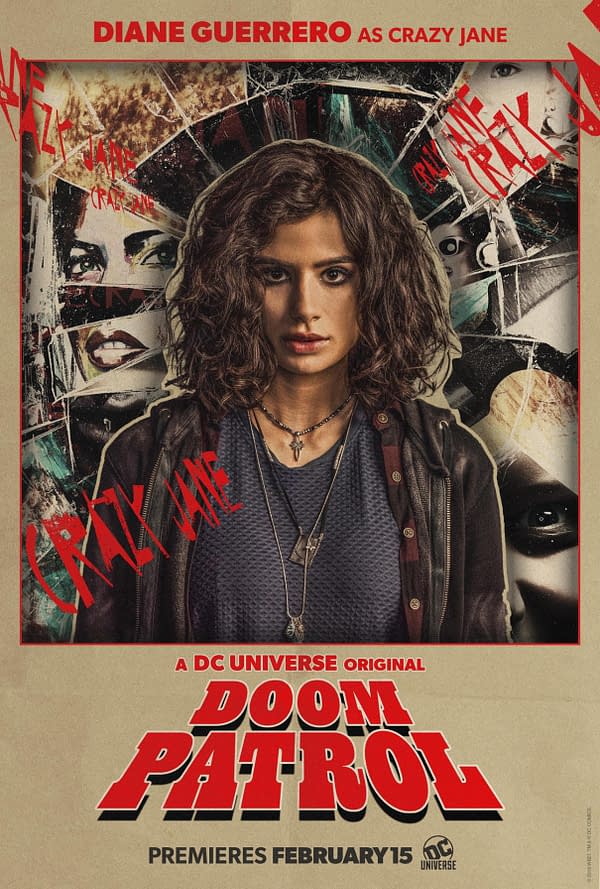 Diane Guerrero plays Crazy Jane, a young woman who suffers from multiple personality disorder. Things take a turn for the worse when she is caught in the blast of a gene bomb, which infuses each and every one of her personalities with a unique super-power.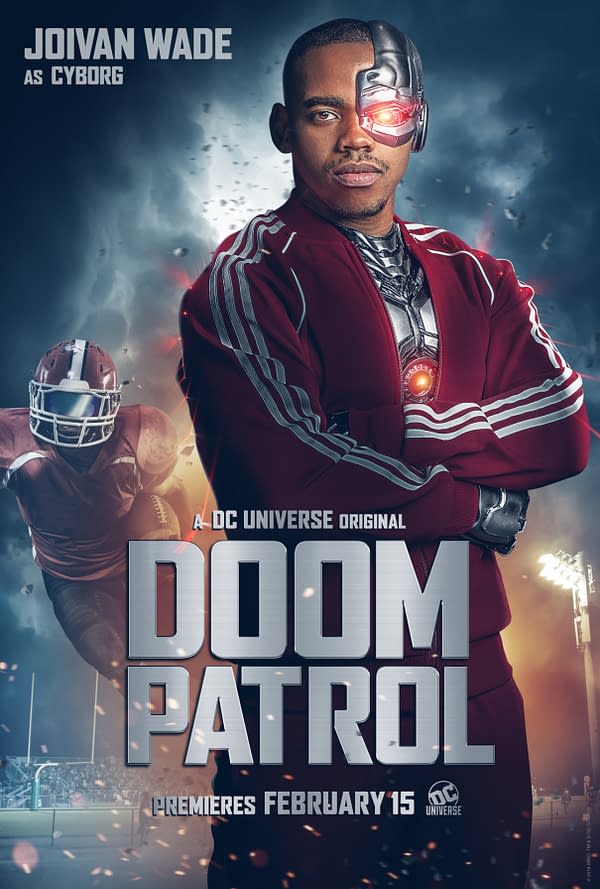 Rounding out the team roster is Jovian Wade, who will play Victor Stone, a gifted athlete who is paralyzed in a sports accident. He is transformed into Cyborg, and has been featured in the Teen Titans cartoons, as well as the Justice League movie.
Doom Patrol already looks like it has embraced the signature weirdness of the original comics, especially Grant Morrison's (Swamp Thing) run back in the 1990's. Gerard Way's (The Umbrella Academy) recent run on Doom Patrol is a must read, and should be a nice appetizer while we wait for the series to debut on February 15th!
Here's a look back from when the Doom Patrol were featured on Titans:
https://www.youtube.com/watch?time_continue=495&v=4NvJ1wpDbuc
Doom Patrol is slated to hit DC Universe streaming service on February 14th 2019.
---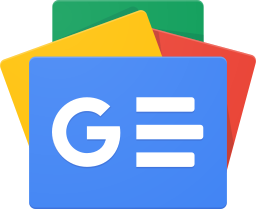 Stay up-to-date and support the site by following Bleeding Cool on Google News today!