"Brooklyn Nine-Nine" Season 7 "Pimemento": Memorable Ep Had Us at "Jason Mantzoukas" [SPOILER REVIEW]
Adrian Pimento (Jason Mantzoukas) is back in this week's episode of NBC's Brooklyn Nine-Nine, so I'm not sure much else needs to be said for how the episode goes. A loose cannon ex-detective now private PI experiences "Memento disease" according to Jake (Andy Samberg), just like that movie. You know – Finding Nemo?
With his bizarre outbursts and strange behavior, Pimento is suffering from short term memory loss and is convinced someone is trying to kill him – but can't remember who. He does tattoo random quotes on his body, a discovery made after Boyle (Joe Lo Truglio) and Jake see him buck naked in the hospital. The tattoos might be clues… but actually, they are just a bunch of random nonsense statements" "buy toilet paper".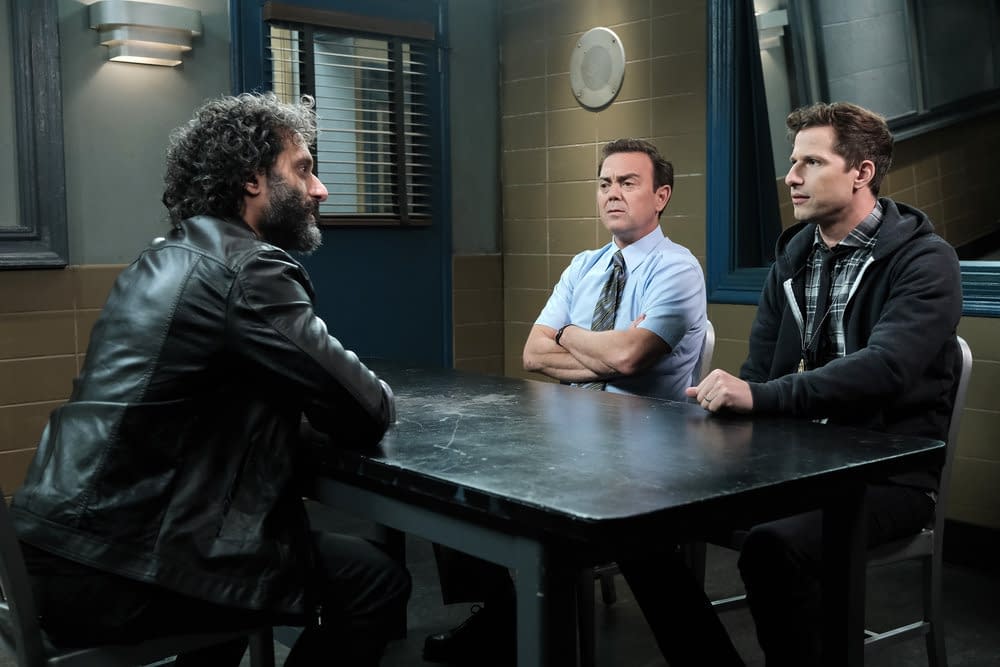 [rwp_box id="0"]
In the tongue-and-cheek verbiage of Harry Potter, Jake and Amy (Melissa Fumero) are trying to have a baby and Jake is "mischief managing" it while getting in to her "chamber of secrets". Banning Jake from telling Boyle about their procreation plans, Jake makes the executive decision to just stop being his friend: a "wise decision" that lasts about 20 seconds and has them having a heart-to-heart on the ledge of a building several stories up in the air. Hearts are mended, relationship patched up, and – Jake, Boyle, and Pimento's fear of heights aside – folks make it back inside the building.
Meanwhile "The 99" is due for a six-hour seminar on workplace conflict, something that everyone is dreading – especially with the trainer being a royal snooze-fest. Santiago has a plan and gets her hands on last year's training material, learn the text, and quickly get through the training.
Well, not exactly…
Although the team aces the training with two hours left, a group therapy session follows – and there are lots of unresolved conflicts. Terry (Terry Crews) is too nice to have pet peeves, Rosa (Stephanie Beatriz) chews too loud, and Amy has to stop finishing Holt's (Andre Braugher) sentences. Unfortunately before any of that could be resolved the training ends with the team left in a toxic workplace – so no closure… but at least they're good for the year?
Jake uses Pimento's memory loss as an outlet to be cathartic and spill his secrets – smart to disclose to someone with traumatic head injuries. Unfortunately Pimento screams the news of Jake and Amy's baby-making plans to everyone – including Boyle. He even ventures to get it tattooed on himself.
Oops.
Turns out Pimento's therapist has been poisoning him with pills so he wouldn't tell his wife he was having an affair. In the end, Pimento is back to being his insane self, Jake and Boyle's bromance is in full swing, and "The 99" team sweep their issues under the rug.
Because a repressed workplace is a happy workplace.
Important Life Lessons:
-Butter someone up before giving bad news
-If you want to get out of a boring seminar, memorize the boring seminar
-The skull is the hammer of the body
-Fear of heights? No problem: when out on a ledge focus on juicy old butts in a neighboring window