Clone High Set to Screen Sneak Peek Teaser at WonderCon 2023: Details
HBO Max and Christopher Miller, Phil Lord & Bill Lawrence's Clone High will screen a teaser at WonderCon 2023 - here's what you need to know.
---
The last time we checked in on how things were going with HBO Max and Christopher Miller, Phil Lord & Bill Lawrence's revival of Clone High, it was the beginning of the year, and Art Director Tara Billinger had a very promising update to share ("In the depths of post-production & combing through these finishing touches is getting me hyped. Everything is coming together; everyone is working so hard & doing incredible work. I'm so proud of my crew. Be prepared for me to not shut up when this finally drops soon"). And the news just keeps getting better, with Billinger sharing a heads-up reminder that the animated series will be screening a sneak peek teaser during a panel discussion at WonderCon on Friday, March 24th. Lord, Miller, Erica Rivinoja, Erik Durbin, and voice actors Nicole Sullivan & Will Forte will be on hand to reminisce about the show's best moments while also offering a look at the story arcs and characters still to come.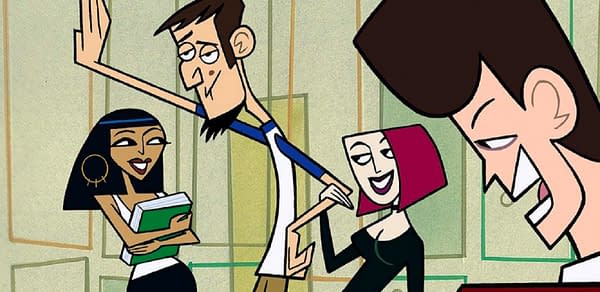 In this new iteration of Clone High, after a high school that was secretly being run as an elaborate military experiment to clone the greatest minds in history was put on ice, the clones have been thawed out 20 years later to resume the experiment with new clone classmates—all while navigating a new set of cultural norms and overly dramatic teen relationships. Now, here's a look at Billinger's tweet with all of the details (or you can head on over here for more intel & to get tickets):
Here's a look at Billinger's tweet from the beginning of the year, sharing an update on how things are going (followed by a look back at the previews that were shared back in November 2022):
Clone High: A Look Back at Those 20th Anniversary Previews
Here's a look back at Lord & Miller's tweets from back in November offering additional looks at the "thawing" process, with the series set to hit HBO Max screens next year::
And here's a look back at Miller's tweet from earlier that day that Billinger confirmed was a sneak peek at what's to come in a retweet offering some personal thoughts on how it feels to see the series start to go public:
"First sneak peek for the show I've been art directing on for the past year or so. This has been such a fun ride so far, this crew is truly special, and we're so excited to finally thaw out the clones in 2023!" Billinger wrote in a retweet of Miller's preview. And in case anyone's wondering if the humor will still be as strong as the original, Billinger added in the thread, "It is very funny. Phil [Lord] and Chris [Miller] brought their A-game":
Produced by MTV Entertainment Studios, the new series finds Miller, Lord & Lawrence executive producing, with Lord & Miller writing and Erica Rivinoja (South Park, Borat Subsequent Moviefilm, original Clone High) serving as showrunner.