Posted in: AEW, Sports, TNT, TV | Tagged: aew, AEW Collision, cm punk, tnt, warner bros discovery, wrestling
---
CM Punk Calls Out "Misinformed Clickbait Industry," Fans Picking Sides
CM Punk's Instagram day included calling out "misinformed clickbait industry," fans picking sides on issues they no little about & more.
---
On the same day that Warner Bros. Discovery confirmed that AEW: Collision would be setting up shop on TNT for two hours every week beginning June 17th, CM Punk has been proving himself to be quite busy on Instagram. Granted, Punk's name was already being buzzed about going into the announcement of the new series. Over the past few weeks, rumblings had been growing that Punk would be making a return to AEW – and that the new show would be the best place to keep any potential lingering issues with Kenny Omega, The Young Bucks (Matt Jackson & Nick Jackson), or Chris Jericho at bay. And then, when he wasn't included in the press materials, folks began to really wonder. And then came that report from earlier today (see below) claiming Punk was included in the original announcement but was removed in the final copy to add more question marks to the situation.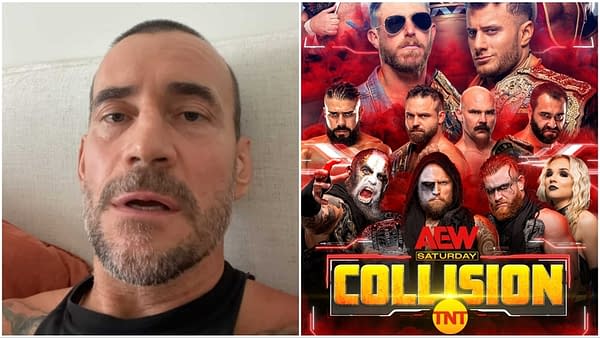 As we said, it's not a surprise that Punk would offer some "reactions" on social media – and they covered a wide range of topics that included calling out a professional wrestling writer, following Larry through various stages of "employment," and the following message with regards to folks still using his name to get online traffic: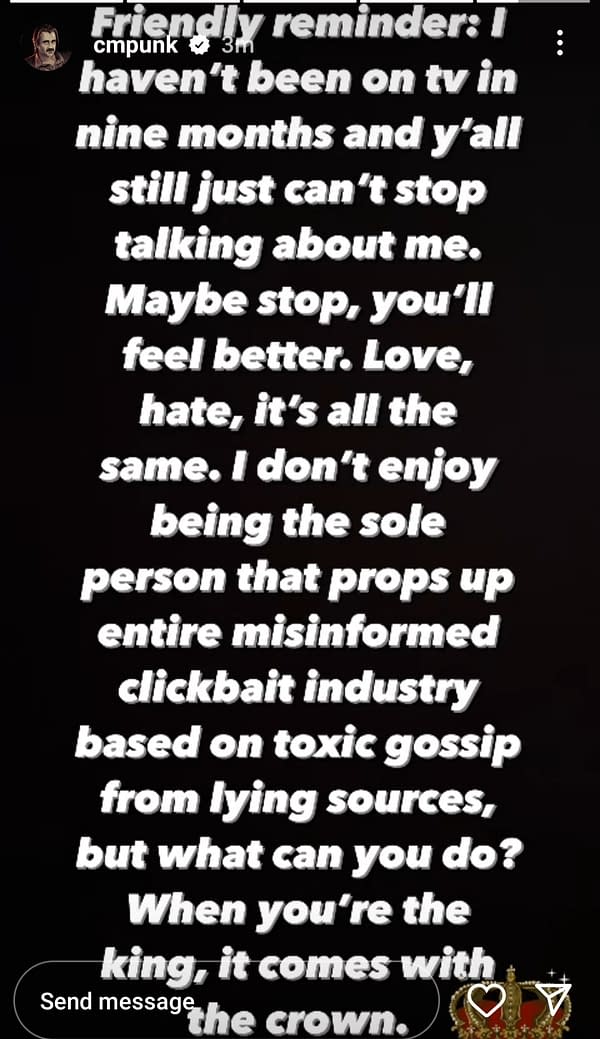 And then there was an Instagram Stories video that saw Punk addressing extreme "tribalism" going on among professional wrestling fans & journalists, where people need to pick sides on issues that they don't have a full grasp on. "The parasocial relationship a lot of fringe wrestling fans have with certain people is really unhealthy. I get the tribalism; it's fun to root for your team. But picking sides seems a little silly. You don't know me, you don't know anybody else. So, go touch grass."
In a cached version of the Warner Bros. Discovery press release, Punk was apparently listed as one of the new show's headliners (reported by Fightful and other sites) before a revised edition went public. For its part, a representative from Warner Bros. Discovery released a statement to ComicBook.com that read: "CM Punk is not affiliated with TNT's 'AEW Collision.'" Here's a look at the tweet from writer/reporter Brandon Thurston, who covers the business side of professional wrestling, showing the "before/after" AEW: Collision announcements that include the disappearing name:
---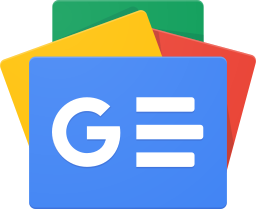 Stay up-to-date and support the site by following Bleeding Cool on Google News today!