Cody Rhodes Loses Twitter Feud with Wife Over Diet Coke
Cody Rhodes may be on a winning streak on AEW Dynamite, but when it comes to competition in the squared circle of social media, his record is a little more spotty. Cody tried to pick a fight with his wife, Brandi Rhodes, on Twitter by criticizing her choices in beverage shopping and ended up getting whipped like a government mule in response. "My wife buys me those tiny diet cokes," Cody tweeted. "7.5oz. Honestly, two sips and it's gone…who the f is this for?"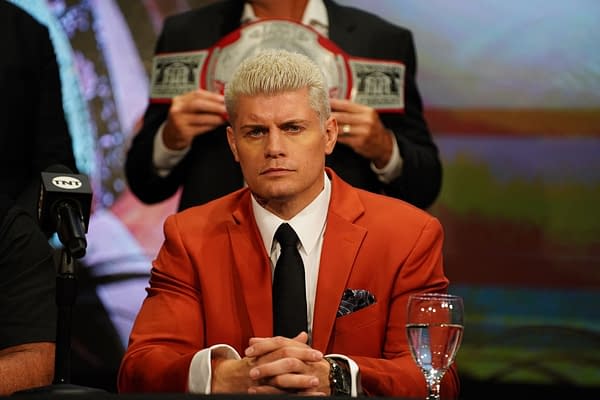 Brandi wasn't in the mood for Cody's nonsense, however, quickly calling him out and putting him in his place. "Keep that same energy for the full-sized diet cokes you take two sips out of and leave all over the house," Brandi tweeted. "Learn to appreciate and finish the cokes and I'll consider buying full-sized again."
Dammmmnnnn! We understand that Brandi deserved to get the win here, but did she need to totally bury Cody like that? Honestly, Cody leaving mostly-full cans of diet coke around the house is probably the most compelling example yet that Cody is on his way to a full-blown heel turn. It's been all downhill for Cody ever since he got that neck tattoo and the fans turned on him for it, but he's been dropping subtle clues in recent appearances on AEW Dynamite that a heel turn is in the work. Cody keeps on defending his TNT Championship against babyfaces, who he always beats. He travels with an entourage that rivals Mike Tyson's. And recently cut that promo asking, "What about Cody?!" and complaining that the Elite and Nightmare Family had abandoned him.
And now, he's been outed as a cola snob who doesn't clean up after himself. The heel turn is nearly complete, and we know who Cody can face first as a heel: former Elite teammate Hangman Page, who never has any problems finishing a drink.