Comedy Central, Hulu, Amazon Prime Pull Chris D'Elia Workaholics Ep
In response to social media accusations that the stand-up comedian and actor sexually harassed underage women, Comedy Central, Hulu, and Amazon Prime Video have removed an episode of Comedy Central's Workaholics featuring Chris D'Elia (Whitney) as a child molester. First airing on the comedy cable channel in May 2011, first season episode "To Friend a Predator" followed Adam (Adam Devine), Anders (Anders Holm), and Blake (Blake Anderson) as they looked to bring a little "neighborhood justice" to D'Elia's character but actually end up partying with him instead.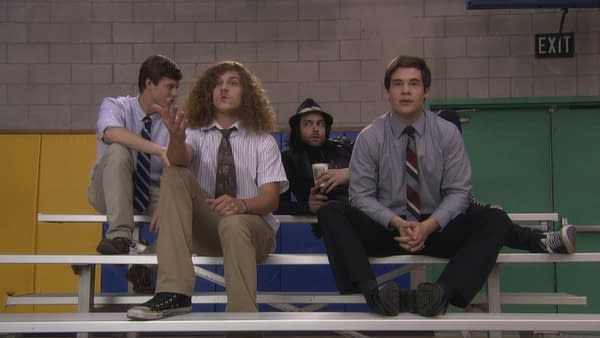 Other than that one episode, both streaming services are carrying all four seasons of the workplace comedy series. D'Elia's three stand-up specials, Man on Fire, Incorrigible, and No Pain were still available on Netflix as of Sunday afternoon, and he will not be appearing in the third season of You. D'Elia portrayed a character who harassed a 15-year-old girl and was eventually killed off. As of Deadline Hollywood's reporting, episodes of Whitney were still available through NBC.com (though previous sitcom Undateable wasn't). Saying in a tweet that she was "devastated and enraged by what I've read and learned," Cummings tweeted: "This is a pattern of predatory behavior. This abuse of power is enabled by silence. Now that I'm aware, I won't be silent. Girls should be able to be a fan of a comedian they admire without becoming a sexual target. It's the adult's responsibility to be an adult." D'Elia portrayed Cummings' boyfriend on the series, a role that was written for D'Elia.
D'Elia released a statement earlier denying the allegations, writing, "I know I have said and done things that might have offended people during my career, but I have never knowingly pursued any underage women at any point," D'Elia said in a statement obtained by Deadline. "All of my relationships have been both legal and consensual and I have never met or exchanged any inappropriate photos with the people who have tweeted about me. That being said, I really am truly sorry. I was a dumb guy who ABSOLUTELY let myself get caught up in my lifestyle. That's MY fault. I own it. I've been reflecting on this for some time now and I promise I will continue to do better."