Dave Chappelle Drops Free Special 8:46, Addresses George Floyd Killing
For those who thought Dave Chappelle didn't have some thoughts about the killing of George Floyd at the hands of four Minneapolis police officers and the resulting protests, the comedian corrected that world view in a big way early Friday morning. The Netflix-produced special 8:46 (the length of time police officer Derek Chauvin pressed his knee into Floyd's neck, killing him) was released on YouTube for free and over the course of nearly 30 minutes, Chappelle covers a number of topics. In what comes across more as an important comedic conversation than a stand-up special, Chappelle opens up about the death of several other black men at the hands of police, such Michael Brown in Missouri, Trayvon Martin in Florida, and Eric Garner in New York City; and called out the media for its past coverage of police brutality issues and racial inequality. Here's a look at the special, followed by some stand-out quotes from a special filled with stand-out quotes.
Chappelle put the time Floyd suffered (nearly nine minutes) in the context of a 30-second earthquake experience he had that convinced him he was going to die to demonstrate just how horrific Floyd's death was: "This man kneeled on a man's neck for eight minutes and 46 seconds! Can you imagine that? The kid thought he was going to die, he knew he was going to die. He called for his dead mother. I've only seen that once in my life – my father on his death bed called for his grandmother. When I watched that tape, I understood this man knew he was going to die. For some reason I still don't understand, all these f****** police had their hands in their pockets… I don't mean to get heavy, but gotta say something."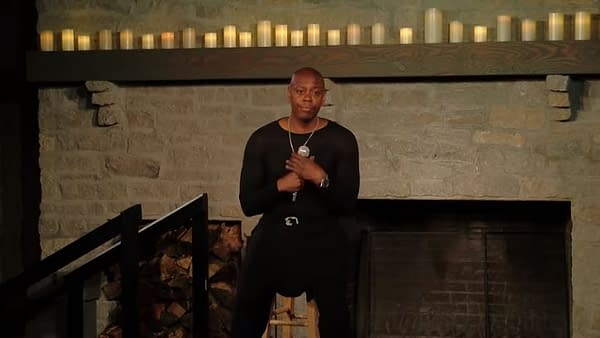 Chappelle also pushed back on media outlets calling out him and other celebrities for not having a more public face on the issue, reminding everyone that he's been spreading the message for years while also making a sharp point as to where the answers will come from (and it's not from the popular folks): "I was watching [CNN's] Don Lemon and he said, 'Where are these celebrities? Why aren't you talking?' I was yelling at the TV: 'I dare you to say me!' … Have I not ever said things bout this before? Now, this n****r expects met to step into the streets and talk over the work these people are doing? Do you want a celebrity right now? Do we give a f*** what Ja Rule thinks? This is the streets talking. I kept my mouth shut. But don't think my silence is complicit, trying to get everyone to sing these f***ing songs. I know all these songs. I was raised on these songs. why would anyone care what their favorite comedian thinks after seeing a man kneel on a man's neck for 8 minutes and 46 seconds? I can't get that time out of my head because it was the time of my birth on my birth certificate."
The comedian also took issue with how FOX News host Laura Ingram responded to Los Angeles Lakers star Lebron James when the NBA superstar went public with his thoughts on racism: "…Lebron James once said something about racism and [Fox News host] Laura Ingram … told one of Ohio's greatest residents to 'shut up and dribble. He exceeded every expectation they had for him. Good man, Lebron James. He's a family man, didn't let anyone down. B***h told my friend to 'shut up and dribble.' My friend is the best at something. She's not the best at anything."