DC Comics to Announce "Strange Adventures" TV Show at NYCC?
Okay, this is a bit of speculation, joining up dots of information that's out there. There is o leak, there are no sources, this is just an exercise in joining the dots. But as anyone who has played join the dots in the past knows, that what is meant to be an octopus sometimes comes out looking like a walrus. So bear that in mind.
DC Comics and Warner Bros have just trademarked the phrase 'Strange Adventures' for;
Entertainment services, namely, providing entertainment content in the nature of ongoing television programs and non-downloadable videos in the fields of live-action, comedy, drama and reality; entertainment services in the nature of live-action, comedy, drama, and reality television series; production of live-action, comedy, drama, and reality television series; Internet services providing information via an electronic global computer network in the field of entertainment relating specifically to television; providing television programs, not downloadable, via video-on-demand transmission services.

Television program broadcasting; Simulcasting broadcast television over global communication networks, the Internet and wireless networks; streaming of audio, video, and audiovisual material on the Internet; streaming of data; broadcast of information by means of television

Pre-recorded compact discs, DVDs and other digital recording media in the nature of video cassettes, laser discs, digital video discs, digital versatile discs, all in the field of relating to entertainment featuring music, comedy, drama, action, adventure and/or animation; motion picture films for broadcast on television featuring comedy, drama, action, adventure and/or animation; digital media streaming devices; streaming of audiovisual material on the Internet; downloadable motion pictures and television shows about ; downloadable audio-visual recordings in the field of entertainment featuring animated motion pictures, television series, comedies, and dramas
Otherwise known as TV shows. Strange Adventures is a DC Comics brand with a chequered past. The first Strange Adventures ran for 244 issues and was DC Comics' first science fiction comics title, though later became a supernatural-fantasy title. Strange Adventures #180 (September 1965) introduced Animal Man in a story by Dave Wood and Carmine Infantino. Writer Bob Haney and artist Howard Purcell created the supernatural character the Enchantress in Strange Adventures #187 (April 1966). Deadman's first appearance in Strange Adventures #205, by Arnold Drake and Carmine Infantino, included the first known depiction of narcotics in a story approved by the Comics Code Authority. It later began reprinting stories of Adam Strange and the Atomic Knights.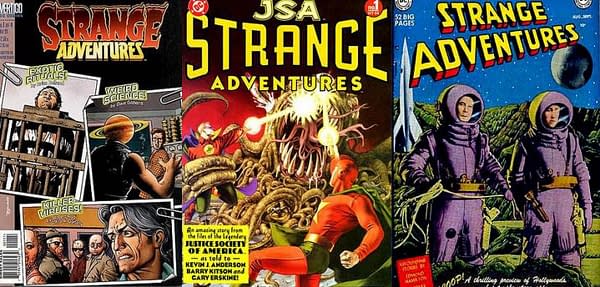 In 1978, DC Comics intended to revive Strange Adventures but was renamed Time Warp. In 1999, DC Comics' Vertigo imprint released a four-issue mini-series reviving the Strange Adventures title and concept. In 2004, Strange Adventures was again revived, in modified format, as the six-issue limited series JSA Strange Adventures, which presented a new Golden Age Justice Society of America story incorporating fantasy-fiction themes. Jim Starlin wrote an eight-issue limited series called Strange Adventures which focused on Adam Strange, Bizarro and Captain Comet, which started in May 2009. And in 2011, Vetigo published a 80-page Strange Adventures #1, anthology one-shot.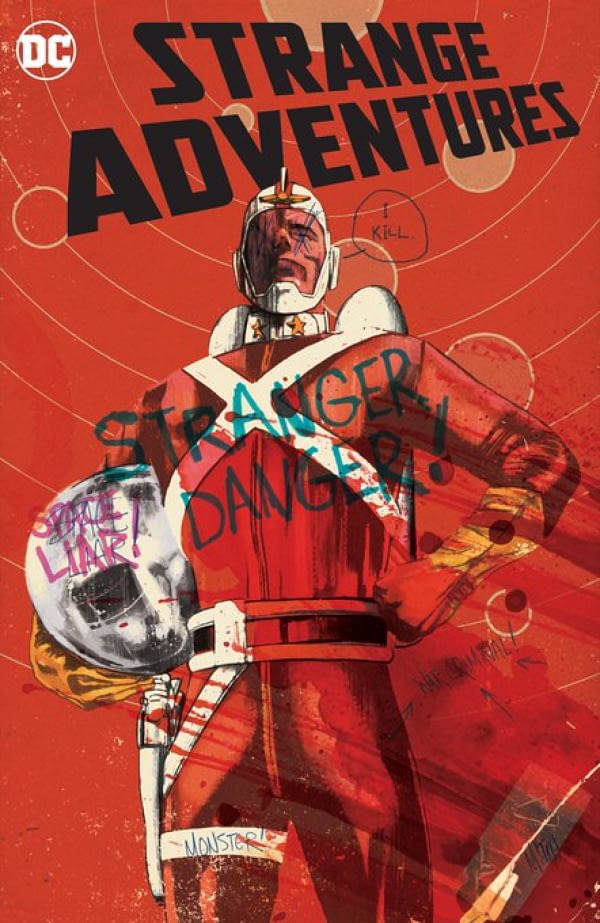 Recently it was announced that Tom King, Mitch Gerads and Evan "Doc" Shaner are to revive the series as a 12-issue Adam Strange comic book, which King has said will be about the Trump era.
And now DC Comics and Warner Bros are nailing down the trademarks to a TV show using the name. Just before NYCC. That certainly is what has happened in the past.
Oh and Tom King also said he was working on a secret TV series, didn't he?
I wonder…