Dead Day DOA: Peacock Not Moving Forward with AfterShock Series Adapt
Peacock is not moving forward on Julie Plec's & Kevin Williamson's series adaptation of Ryan Parrott's AfterShock comic book Dead Day.
---
Remember the good old days when a project was given a series order or a series was renewed for another season… and those things actually happened? Welcome to the age of the free-for-all we call streaming, where a series can be pulled only hours before its new season was set to hit our screens. A little more than a year after Peacock gave a series order to co-showrunners, writers & executive producers Julie Plec's (The Vampire Diaries, The Originals, Legacies) and Kevin Williamson's (The Vampire Diaries, Dawson's Creek, The Following) adaptation of the AfterShock comic book series Dead Day, the streamer has scrapped the project. Based on Ryan Parrott's comic book series, the streaming adaptation of Dead Day would've followed an ensemble of characters as they navigate the annual "dead day," when for one night, the dead come back to complete unfinished business – be that to celebrate a night back on earth or to torment the living.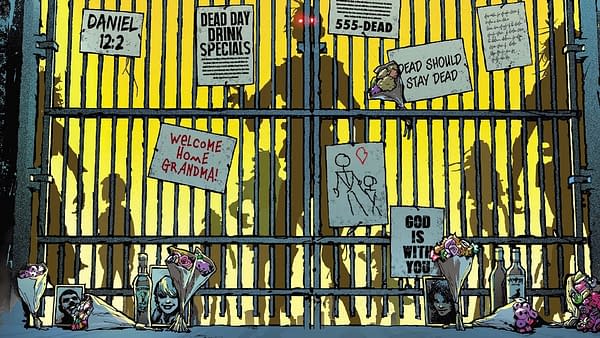 "We have been looking for a project to do together, and 'Dead Day' has all the ingredients we love as storytellers. Love, death, thrills, and tears — and we know Susan Rovner and her team at Peacock is the perfect fit for this project," Plec and Williamson said when the news was first announced last year. For Plex, the news is a double hit from Peacock, with the streamer canceling the Plec-written & executive-produced Vampire Academy earlier this month. With Plec (My So-Called Company) and Williamson (Outerbanks Entertainment) set to write, executive produce, and serve as showrunners, Peacock's Dead Day was also executive produced by Ben Fast, Emily Cummins & Lee Kramer; Jon Kramer and David Sigurani for AfterShock Media. Parrott served as a consulting producer, with the series stemming from Universal Television (a division of Universal Studio Group). There was no word at the time of initial reporting if the project can be shopped for a new home.