"Disenchantment" Season 1, Part 2: Too Much in Too Little Time, But Still Worthy Viewing [SPOILER REVIEW]
Matt Groening's medieval fantasy adventure for Netflix Disenchantment continues the misadventures of Bean (Abbi Jacobson), Luci (Eric André ), and Elfo (Nat Faxon) – jumping off from Part One's cliffhanger.
When we last left our heroes, the Kingdom of Dreamland was left in ruins – with the reveal that King Zøg's (John DiMaggio) first wife and Bean's mother Queen Dagmar (Sharon Horgan) was plotting against him from the beginning. Meanwhile, Bean and Luci try to find a way to revive their fallen friend, Elfo. They're also trying to restore Dreamland and its citizens from their stone forms.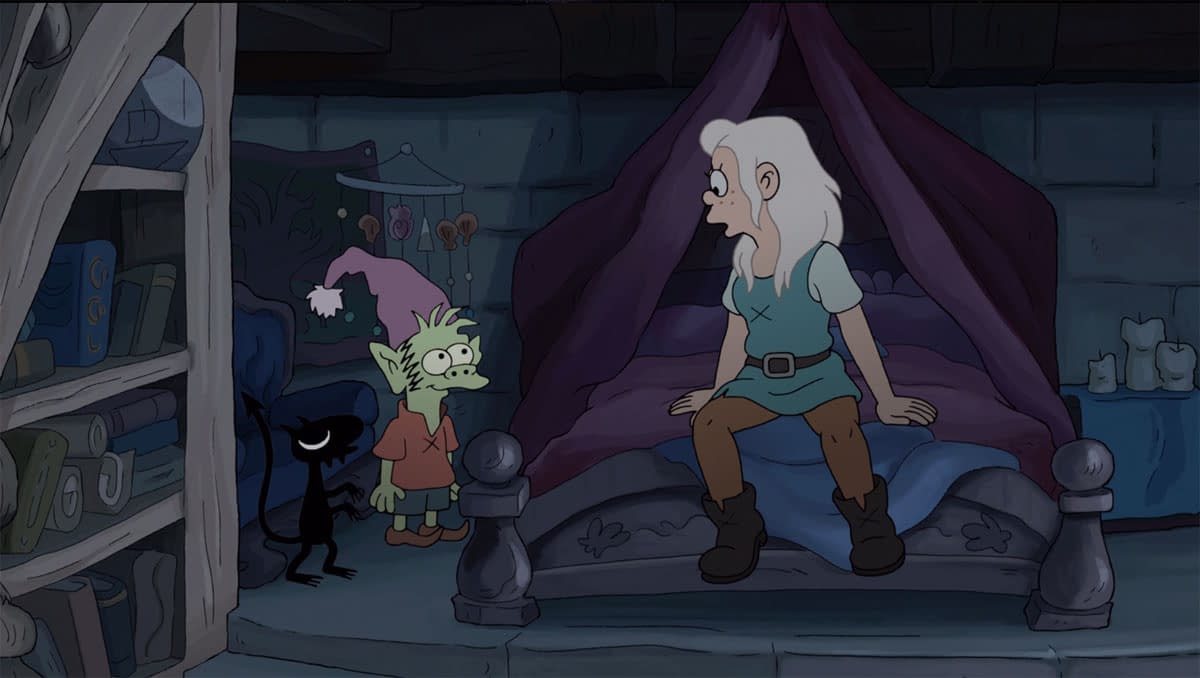 Carrying on with its mostly non-serialized format, Disenchantment Part 2 is still about Bean trying to forge her identity as a young adult and future queen. She is also trying to make sense of her mother's betrayal and the clues left behind. Meanwhile, Zøg is still trying to fulfill the void missing from having lost his two loves and queens.
"Disenchantment": Familiar Formula, Squandered Potential
While Bean almost starts back at square one, she is also trying to overcome her overbearing father and systemic misogyny. There is significant growth with her partners in crime. Elfo's newfound courage makes him an even more valuable member of the team – and better "street smarts" never hurts. Luci's come into his own as the resident cynical prankster who comes through – as nonchalantly as possible… similar to Groening staples Bart Simpson and Bender.
Speaking of similar characteristics, Disenchantment's Bean shares her moments of buffonery without being defined by it like The Simpsons' Homer and Futurama's Fry. When comparing the humor to the other two shows, the show isn't as strong in Disenchantment as it relies more on medieval cliches.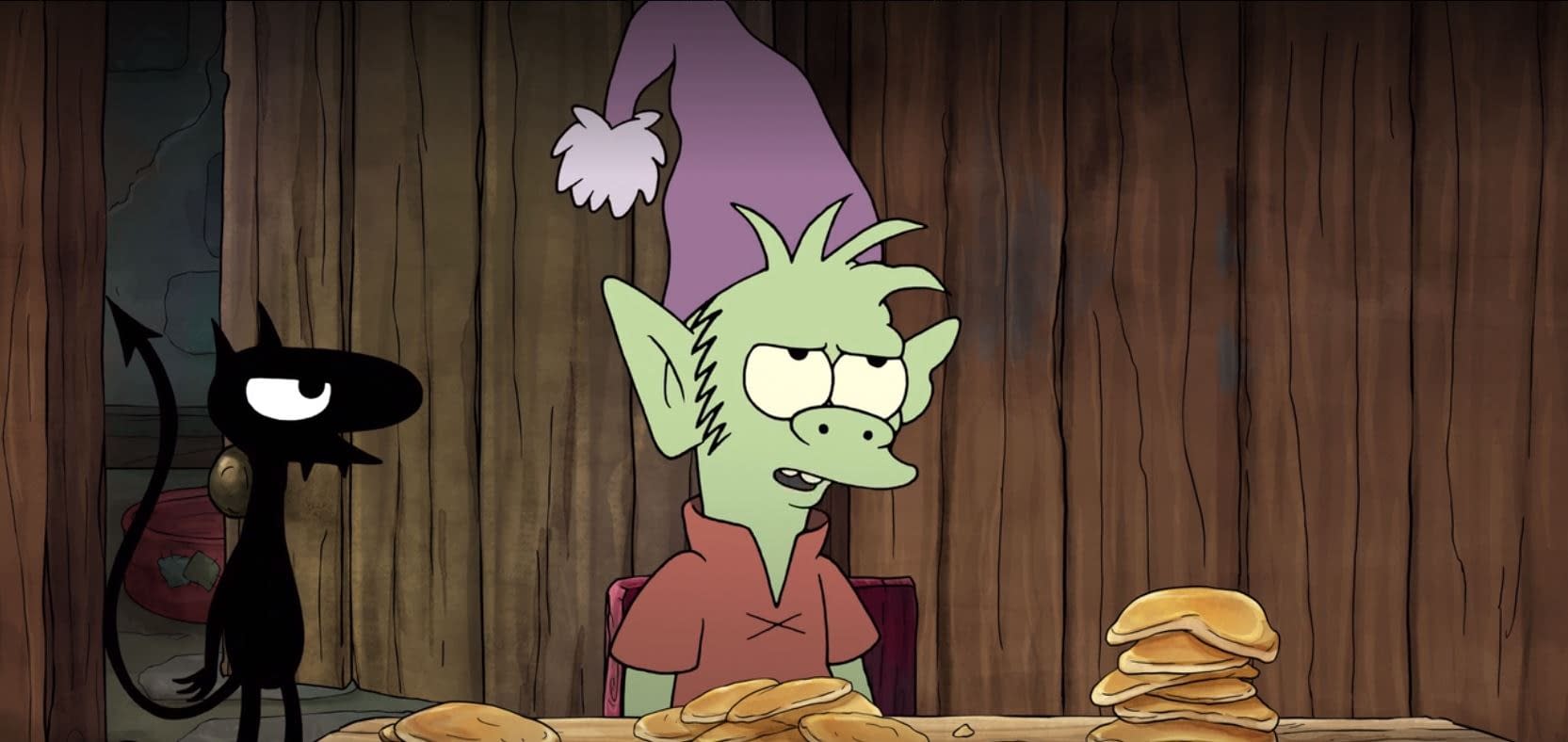 There are two episodes that show the potential of what the show can be, but also summarizes the lackluster pacing. Both take place in the latter half, beginning with "Love's Slimy Embrace." Derek (Tress MacNeille) is the half-brother of Bean, but all the character reminds me of is a grown up Ralph Wiggum, voiced by the same actor on The Simpsons. There's indelible charm in his simple-minded nature and he's slightly more eloquent, but still is regressively childlike.
It's one of the few instances the show actually focuses on a non-main character outside of Bean, Luci, Elfo and Zøg. Like his Simpsons counterpart, Derek was often teased and treated as an outcast mainly by his own sister. It's kind of a familial love-hate relationship that was on full display between Bart and Lisa on The Simpsons, Bean becomes somewhat cognizant of her own cruelty. Since the show is still in its first season, she hasn't come full circle to make amends for past behavior. It's the kind of character development that makes the show strong and I wish the series had more of.
The other episode is "The Electric Princess," which despite the show's grounded nature is willing to travel to places when needed to. The nature of the steampunk world of… Steamland. Yeah, real imaginative name. I don't know why it couldn't be called New New Steamsy, Los Steam-geles. Given the pseudo-futuristic nature of the world, it feels like proto-Futurama. Introducing this "sandbox" this late in the season felt like a cheap plot device that was never built up to close it. It was almost like the writers were having such a good time and they realized they had to find a way to finish the season.
Random throwaway characters and a sudden 180 degree turn left me feeling like like the writers of Disenchantment wanted to have their own Game of Thrones moments to end the season. It works when it does, but the series could be so much more. Here's hoping for a more inspiring season two.