Doctor Who: 10 Doctors Post Message of Thanks, Hope for Big Night In
A time of crisis is when the Doctor is needed most, and when it comes to supporting our health care workers in these global pandemic times, it takes more than one Doctor to let them know how special they are and to get them the help that they need. On Thursday night UK time, Doctors past and present from Doctor Who will join together to support our real-life heroes during The Big Night In, airing on BBC One at 7 pm BST. Actors Tom Baker, Peter Davison, Colin Baker, Sylvester McCoy, Paul McGann, David Tennant, Matt Smith, Peter Capaldi, Jodie Whittaker, and Jo Martin have recorded a special message for not only the NHS but also for all frontline workers in what is an unprecedented reunion for the long-running series.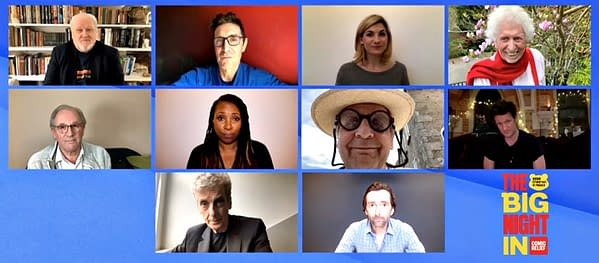 For the first time, BBC Children in Need and Comic Relief have teamed up through The Big Night In to celebrate kindness, humor, and spirit of hope and resilience that is keeping the nation going during the coronavirus pandemic and home lockdown. The goal of the event is to celebrate and reward those going the extra mile to support their communities in these troubling times and raise awareness (and funding) for causes that aid those in need during these very times.
Between episode rewatches with live-tweets and new material being released from the creative forces behind some of the most popular episodes of the show's return run, the Doctor Who franchise is as active as ever. In fact, it feels more active than it did when the show was in-series (and that's saying a lot). This week has been another perfect example, with "The Witchfinders" writer Joy Wilkinson posting a brand new short story entitled "The Simple Things" that finds Graham looking to tick off an item from his "bucket list" (more on that here). In addition, Friday sees the next live-tweet rewatch, orchestrated once again by Doctor Who Magazine writer and BBC Radio producer Emily Cook. For this round, fans will rewatching the two-parter "Human Nature" and "Family of Blood". Writer Paul Cornell, director Charles Palmer, and actor Lucy Cartwright will be live-tweeting during the rewatch; with Cornell promising some new content before and after the event.