'Doctor Who': David Tennant Offered Chris Chibnall, Writers Pep Talk Prior to Series 11
With Chris Chibnall, Jodie Whittaker, and the rest of the team behind Doctor Who currently busy with Series 12 production, now seems about as good a time as any to learn a little more about Chibnall and Whittaker's journey to the Who-niverse. Who better to share an anecdote than the Tenth Doctor himself, David Tennant – the man who knew Chibnall and Whittaker back from their days together on the critically-acclaimed, award-winning series Broadchurch?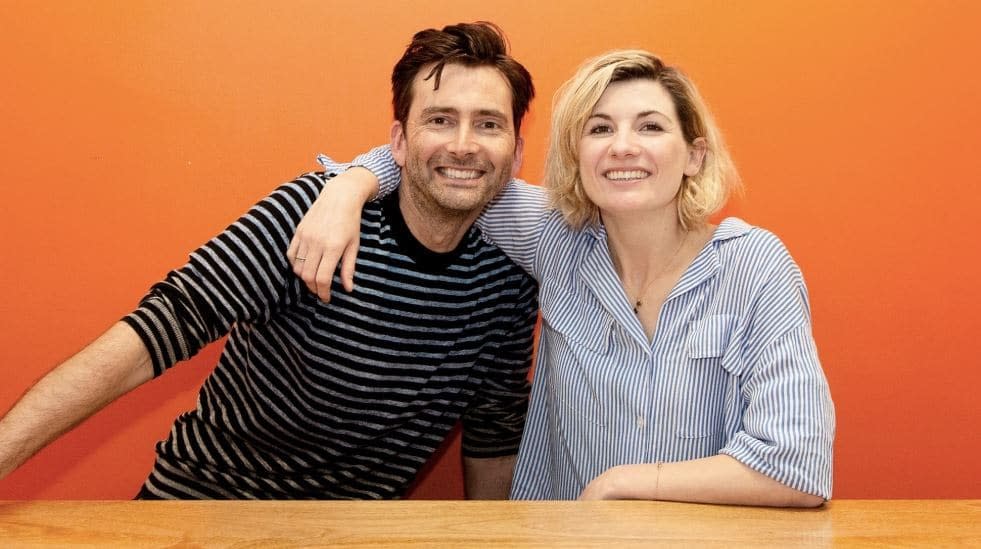 Speaking with Radio Times, Tennant explained that Chibnall had opened an unofficial/official writers' room on the set of Broadchurch to start formulating scripts for Doctor Who:
"[Showrunner Chris Chibnall] started work on Doctor Who while we were still shooting the final series of Broadchurch."
Chibnall would end up opening "a kind of writers' room in the hotel" where all of them were staying – which Tennant described as "a kind of brainstorming session to get the new scripts in order."
According to Tennant, Chibnall asked him to stop by the writers' room to speak with the writers and offer up some words of encouragement: the words of an ex-Doctor carry a ton of influence. Writers for Doctor Who series 11 included Malorie Blackman, Pete McTighe, Joy Wilkinson, Ed Hime, and Vinay Patel – but it's expected that there were more writers involved during the preliminary stages.
Now Tennant may have offered some encouraging words – but advice? Ummm… no…
"Oh God no! [laughing] What would I say? What would I say to a writer? 'Thank goodness you're better at your job than I would be.' 'Make sure your pens work!'"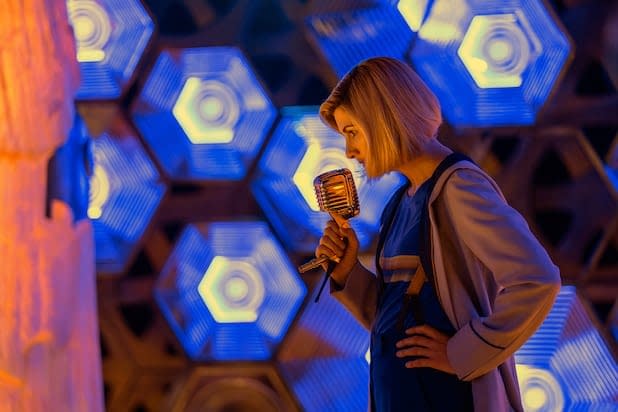 Towards the end of January 2019, the BBC offered up the first bit of good news for Doctor Who fans: production on Series 12 was underway. In a post on the show's official Instagram account, the message, "#DoctorWho is back in production" was accompanied by a photo of Whittaker with TARDIS companions Bradley Walsh, Mandip Gill, and Tosin Cole – clearly on set and on location:
"We're off again! Well we never actually stopped – as Jodie Whittaker's Doctor and friends have been winning the hearts of families across the nation this autumn, we've been busy with a whole new set of action packed adventures for the Thirteenth Doctor. We adore making this show and have been blown away by the response from audiences, so we can't wait to bring more scares, more monsters and more Bradley Walsh, Mandip Gill and Tosin Cole to BBC One. Brilliant!"

– Chris Chibnall, Showrunner
Even with a year still to go before any "New Who," Chibnall offered some insight into what fans can expect back in January 2019:
● On the possibility of more "Classic Who" villains:
"Well, maybe we'll do some [classic monsters], then. I'll have a think."
Apparently he had a thought – at least about the Judoon, who are set to make a return appearance to Doctor Who during the next season (as confirmed by the show's official Twitter account in May 2019):
● If there will be a larger focus on Yaz's (Gill) backstory:
"That's a really good question. I think that some of these questions may be answered in the forthcoming season. I think that's the first teaser of the series! Really good question!"
● On how Doctor Who has always addressed "real world" issues – and will continue doing so:
"I think you want to be writing about the world that we live in – the show is not a standalone thing, it's a response to the times that we're living in, the world that we're in, and things that affect people's lives, particularly things that children and young adults are going through."