"Doctor Who": With Time Swirling All Around Her, Sometimes Even The Doctor Can't Win [SERIES 12 TEASER]
Once Doctor Who Series 12 brought the Doctor (Jodie Whittaker) and her companions Ryan (Tosin Cole), Yaz (Mandip Gill) and Graham (Bradley Walsh) back to BBC One and BBC America screens to kick off our new year, it wasted no time throwing our heroes into a grand adventure filled with spies, intrigue, world domination, and… The Master (Sacha Dhawan)!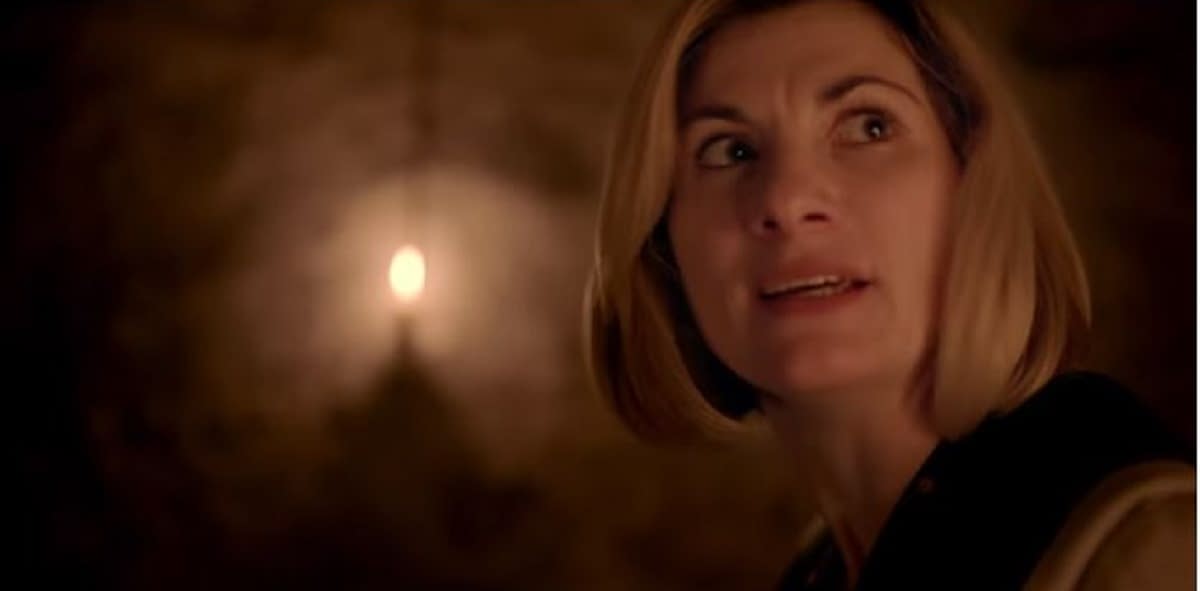 Chris Chibnall knows how to create a season-long, overarching mystery – because that last reveal between the two adversaries over the fate of their home planet still has our brains buzzing. What "truth" did The Master discover that would cause him to unleash so much rage? What about it makes him so sure the Doctor will share that rage when she discovers the truth?
You would think a two-part interstellar James Bond homage, a trip to a resort from Hell, and an adventure with Nikola Tesla (Goran Višnjić) would pretty much set the bar for the level of insanity the Doctor and her crew would be facing this series. Of course, this is Doctor Who – the first four episodes could best be seen as a "friendly welcome" compared to what lies ahead, as you're about to see in the following "Coming Soon" teaser:

"Doctor Who" series 12, episode 5 "Fugitive of the Judoon": Stomping their way into present-day Gloucester, the Judoon are on the hunt for someone on the run. Who is this fugitive? And why are these alien mercenaries after them? Guest starring Jo Martin, Neil Stuke, and Paul Kasey. Written by Vinay Patel and directed by Nida Manzoor.
Speaking with RadioTimes, Chibnall explained that the goal of this season is to give both new and long-time Doctor Who fans a better appreciation of the scope of the Doctor's universe:
"Last year was a recruiting year for the show, and I think we managed to recruit some people for the show. That's exciting. And obviously we kept the existing audience and built on that. I think this year we're developing that, so for all the people who are new to Doctor Who we're going to go 'Look at the amazing world of Doctor Who, look at all the treats that are in there.'

So we're building on last year. There are lots of new faces, a few old faces. There are some things trickling through which might be important. It's different! I think you always need to take new, big risks from a storytelling point of view.

Doctor Who has to exist in the modern television landscape. There is so much drama, there are so many shows. We have to continually find new reasons to be existing. But also there's loads of things the show hasn't done before. I think you saw last year that we took a lot of risks, and I think that they paid off, and I think that we'll continue to take some big risks this year.

But you can do that and also give people all the stuff they love about Doctor Who as well. You balance the two.

Risk is built into Doctor Who, from day one in 1963. No question of that."