Doctor Who Series 12 Hiatus Hijinks: What to Watch While We Wait…And Wait
It is a brand new year, 'Resolution' and its Dalek has come and gone, and we are now in for at least a year of waiting before we get any new Doctor Who television adventures…so what is a Whovian to do?
While I have seriously considered just being sad and yelling at people on the internet, there are much better ways to spend my television watching time over the next year. In order to save you from a similar fate, I have put together (with a little help from my Bleeding Cool friends) an incredibly long and not at all comprehensive list of shows (with random clips) to watch (or listen to) to fill that TARDIS-shaped hole in our hearts.
If You Like Quirky/Funny Doctor Who:
DC's Legends of Tomorrow – An attractive band of young heroes travels through time to save the Earth at vital moments throughout history. The show has an outlandish thread of ridiculousness about it that the showrunners fully embrace. Added bonus for Who fans: Arthur Darvill as Rip Hunter and the occasional Doctor Who reference. Available on Netflix.
https://www.youtube.com/watch?v=CqRZJgA_IqM
If You Like Setting Historical Wrongs to Rights:
Quantum Leap – Heaven Can Wait crossed with Doctor Who, Quantum Leap follows the adventures of physicist Dr. Sam Beckett (Scott Bakula) as he jumps from body to body throughout his own lifetime. Unlike Who, Beckett takes the place (and the body) of a person in another time and attempts to fix whatever problem that individual is facing. Available on Hulu.
If You Like Friends As Family Travelling Time Together:
Timeless – Lucy (Abigail Spencer), a historian, Wyatt (Matt Lanter), a soldier, and Rufus (Malcolm Barrett), a scientist, travel through time together to prevent a mysterious organization from changing American history while trying not to change history themselves. Lots of encounters with famous events, famous places, and famous people and historical costumes. Hulu
If You Love Captain Jack Harkness (And Think Companions Should Shoot More Guns):
Torchwood – An obvious choice since it is a Doctor Who spinoff, Torchwood follows the adventures of the Cardiff office of the Torchwood Institute: a secret agency that protects Earth from aliens and other threats that come from a rip in space-time that exists in the city. Led by immortal former companion Captain Jack Harkness (John Barrowman) and including kick-ass police officer Gwen Cooper (Eve Myles), the show is unapologetically action packed and made for an older audience than Doctor Who. There are four seasons but you should only watch the first three. Trust me on this. Amazon Prime
If You Want More Jodie Whittaker and/or Chris Chibnall:
Broadchurch – Detectives Alec Hardy (David Tennant) and Ellie Miller (Olivia Colman) investigate the murder of a local boy in the town of Broadchurch, the mother of whom is played by current Doctor Who star Jodie Whittaker. The first season follows the murder investigation, while the second season centers on the trial and the third follows Hardy and Miller through a rape investigation. Run by current Doctor Who showrunner Chris Chibnall, Broadchurch is gritty, emotional, dark, and raw. Netflix
If You Like Teen Angst With Your Alien Monsters:
Class – Students at the Cole Hill School, a frequent visiting place for the Doctor, must protect the school from threats taking advantage of a weakening of space-time barriers on campus. As they battle the supernatural, the students must also face the scariest threat of all: being teenagers. Think Buffy The Vampire Slayer meets Doctor Who. Amazon
If you Prefer A Younger Target Audience (or Classic Doctor Who):
The Sarah Jane Adventures – Former companion to the Third and Fourth Doctors, Sarah Jane Smith is now all grown up and an investigative journalist and saving the world from aliens and other oddities. The Sarah Jane Adventures is a shorter form show (24 minute episodes) aimed at the same child audiences the original Doctor Who was designed for, with the same aliens and world-saving you love. Amazon Prime
If You Like Steven Moffat and Man-Splaining
Sherlock – Co-created by former Doctor Who showrunner Steven Moffat and starring the incomparable Benedict Cumberbatch, Sherlock is by far the best of the recent Sherlock Holmes inspired properties. Throughout four seasons (fifteen 90-minute episodes) Sherlock is assisted by the cynical and damaged Dr. Watson (Martin Freeman), who writes of their adventures in his blog. Netflix
If You Dream Of Being Swept To Another World By A Mysterious Stranger
Neverwhere – Created by Neil Gaiman and Lenny Henry, this miniseries follows the adventures of average London man Richard who is sucked into the secret world of London Below after helping a young woman he finds injured on the street. Stuck in this new, fantastical parallel world, Richard must work with his new friends to find a way home. Amazon
If You Are Missing Peter Capaldi
The Thick Of It – A satirical British comedy about the fictional Department of Social Affairs, a watchdog department within the British Government. Full of incompetent ministers, political bulldogs, complicated hijinks and Peter Capaldi rants, the show is seen as the follow on to Yes Minister and the 2009 film In The Loop was a spin-off of the show. Hulu
If You Like Entertaining And Funny History:
Drunk History: UK – The British version of the wildly popular and hilarious US show, intoxicated comedians relay historical stories while actors poorly reenact the scenes. If you are going to do something badly, why not do it badly while drunk and telling jokes? Available on Amazon.co.uk. Hulu (U.S. version)
If Nothing But Doctor Who Will Do
Big Finish Doctor Who Audio Dramas: Want to experience new adventures with your favorite Doctor? Experience new companions with former Doctors? Check out the Big Finish audio dramas. These original stories feature Classic and New Who characters, sometimes with the original actors providing the voices, as well as introducing new characters. A great way to spend a little extra time with your favorite former Doctor. Amazon and BigFinish.com
Titan Comics: An excellent way to go on more adventures with your favorite Doctor. Titan currently has 197 Doctor Who titles in its collection, ranging from Classic to New Doctor Who Doctors. You can even go on additional adventures with the Thirteenth Doctor, as the third issue of Doctor Who: The Thirteenth Doctor was released on January 2, 2019. As broken by Bleeding Cool at San Diego Comic-Con 2018, the 13th Doctor's series will be written, drawn, inked, and edited by women.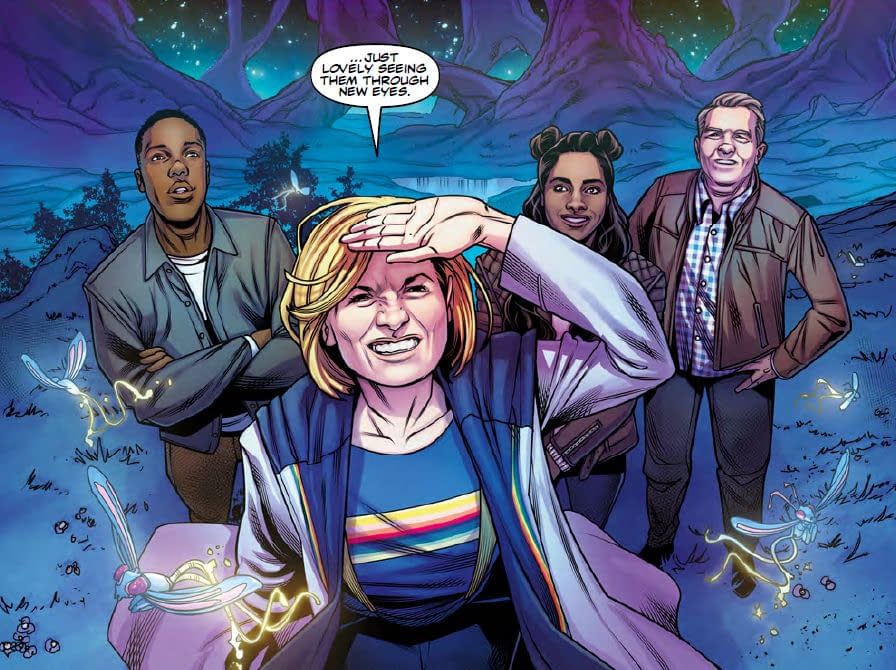 Classic Doctor Who – A whole year with no new Doctor Who is a perfect time to catch up on Classic Doctor Who episodes. Not only can you watch the Who episodes that have survived over the years, but you can also view the revived animated episodes that the BBC has recreated. BritBox