'Doom Patrol' Season 1, Episode 1 Offers Viewers a Gentle Place to Land [SPOILER REVIEW]
This week saw the series debut of "The World's Strangest Heroes," with DC Universe's live-action Doom Patrol staking its claim as the most dysfunctional super hero team of 2019. When you consider we have The Boys and The Umbrella Academy this year, too – that's a lofty goal to achieve. With that said, the pilot for the 15-episode series not only checked off all the boxes on my pilot scorecard but also surprised me in ways that not only swim upstream from the current wave of "grim-n-gritty super hero teams" but also sets itself apart from other DC super hero series – including the DC Universe series Doom Patrol originally appeared: Titans.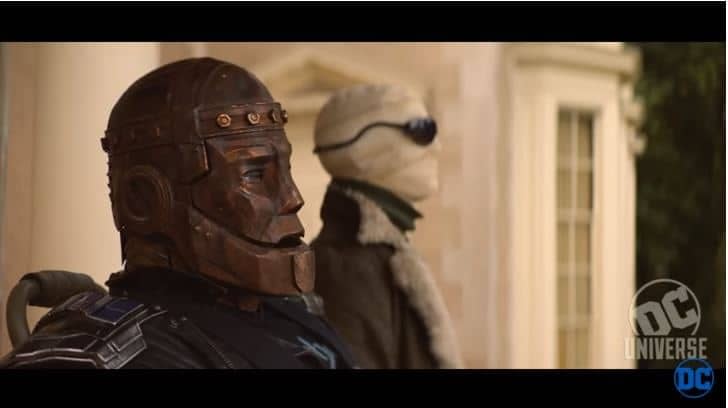 Note: While it's both pretty easy and obvious to make comparisons to the comics, I won't be doing that here. I prefer to let comics be comics and TV series be TV series. Just something to keep in mind as you check out my spoiler thoughts:
● Just look at the credits: way more Ryan Murphy / American Horror Story than "Arrowverse" – setting a tone that the episode doesn't betray…
● Let's start with backstory: essentially, the reason to be visiting a new "universe" like this one – and Doom Patrol worked because it gave me just enough on two levels. The bookend device involving 1948 Paraguay and Alan Tudyk's Eric Morden – and his connection to Dr. Niles "The Chief" Caulder (Timothy Dalton) through disappearing donkeys and a farting message "The Mind is the Limit" – not only punched my ticket for continued viewing, but also reassured me that what lies ahead lives up to the show's billing.
But to be clear? They had me at "shady, clandestine Nazi experiments."
● The other aspect of the show's backstory that worked also segues nicely into the next part of my "pilot scorecard": our cast of chracters – and this is where nuance is key. Not a single one of these characters is either a "saint" or a "sinner": they are damaged goods, victims of fate, societal woes, bad decision-making – and possibly some still-unknown intervention. Brendan Fraser's Cliff "Robotman" Steele could've easily been portrayed as another 80's douchebag – and in many instances, he was – but his relationship with his daughter and how he questioned his actions even in the midst of them kept the cliches away. April Bowlby's as Rita "Elasti-Girl" Farr was a Hollywood actress who took out her own personal actress on those on-set – yet her films brought joy to millions over the years. Matt Bomer's Larry "Negative Man" Trainor was a pilot whose job it was to literally rain down death on others – defending a nation that forced him to live a life that wasn't his own.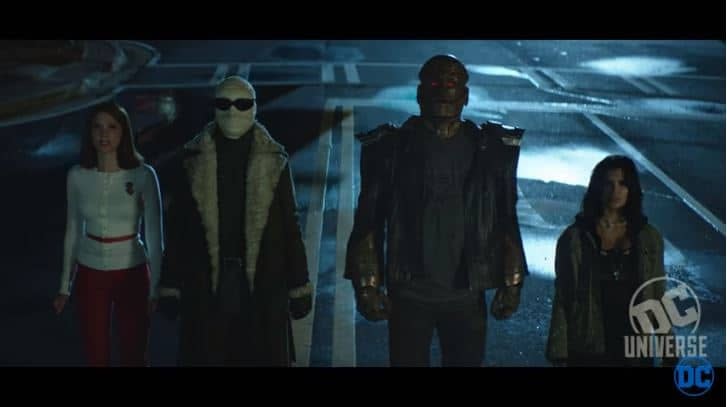 Again, we're talking people who feel real, who feel like us – minus the melting skin or robot body. We feel their anger, pain and regret – lashing out at themselves and harboring a seething loathing for a world that treat them as freaks and outsiders. And yet, it's a world they feel they need to save – have to save – to find a sense of peace and acceptance.
With the world and with themselves.
● So we have the episode scoring on "backstory" and "characters"… now what about giving me a reason to tune into next week's "Donkey Patrol"? This one's easy since it ties back to the opener/backstory – with Caluder and Morden having a purposefully vague conversation (well-played) as our heroes are about to face off against a swirling pool of "?????" (seems a pretty accurate description). Throw in the fact that we were just getting to know Diane Guerrero's Crazy Jane and haven't even met Joivan Wade's Victor "Cyborg" Stone yet, and it's safe to say I'm locked in for at least the next five episodes.
Now that we got the heavy-lifting review stuff out of the way, here are some random highlights worth mentioning and for you to consider:
● Big fan of the way they had Morden narrate the episode and supplying commentary, going super-uber-meta-fourth-wall-breaking in the process. When he makes his on-screen reappearance at the end of the episode, I was almost expecting Tudyk to verablly excuse himself and announce that he was rejoining the action.
● "Doom Manor" is a pretty sweet title for their headquarters (better than "Hall of Justice" or "Avengers Tower") – and much respect for the spray-painted school bus serving as the team's Batmobile.
● Fraser and Bomer need to start doing scripted podcast series, because their vocal acting in this episode was incredible. You felt every word and every pause – and special props to Riley Shanahan and Matthew Zuk for supplying the physical acting to match their words.
● Bowlby's ability to portray Rita as both vulnerable and burning with internalized rage is something to keep an eye on this season: imagine the ending to this episode if Rita was angry instead of hurt and afraid? Bowlby gives Rita a quiet depth that comes across as a sweet, brutally-honest-to-others ticking time bomb – looking forward to see where her story arc goes.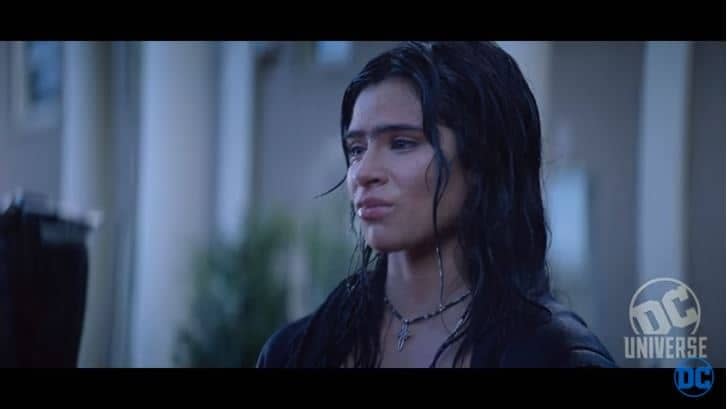 ● I need more Crazy Jane in my life, so I'm glad we're going to start getting regular doses of Guerrero moving forward. The character can be a one-woman acting showcase – and from we've seen, Guerrero more than has the skills to meet the challenge.
● Dalton is doing a nice job straddling that line between loving "father" and a crazed scientist who may not be that far removed from the ones Caulder's running from. The fact that Cliff's daughter was still alive didn't come as a surprise to me – called that early. The truth behind what really happened to Cliff? Now that surprised me – and the manner and timing in which Caulder chose to reveal that truth to Cliff definitely calls his motives into question.
And we're all on the same page that he knew damn well the team would decide to stay and fight, right? Makes you wonder how many other "Doom Patrolees" he has waiting in the wings/warehouse… and how he's reminding me of a cross between Gepetto and his character from Hot Fuzz.
So I can definitely say that one episode in, DC Universe's Doom Patrol is not only the team of heroes I wanted – they're the team of heroes viewers deserve.
DOOM PATROL is a re-imagining of one of DC's most beloved group of outcast Super Heroes: Robotman, Negative Man, Elasti-Girl and Crazy Jane, led by modern-day mad scientist Dr. Niles Caulder (The Chief). The Doom Patrol's members each suffered horrible accidents that gave them superhuman abilities — but also left them scarred and disfigured. Traumatized and downtrodden, the team found purpose through The Chief, who brought them together to investigate the weirdest phenomena in existence — and to protect Earth from what they find.

Part support group, part Super Hero team, the Doom Patrol is a band of super-powered freaks who fight for a world that wants nothing to do with them. Picking up after the events of TITANS, DOOM PATROL will find these reluctant heroes in a place they never expected to be, called to action by none other than Cyborg, who comes to them with a mission hard to refuse, but with a warning that is hard to ignore: their lives will never, ever be the same.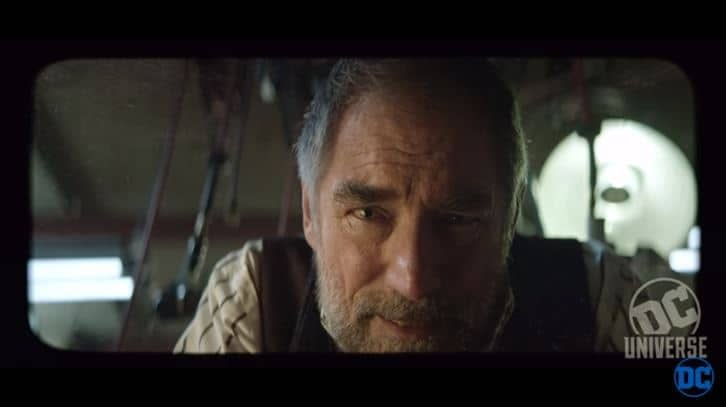 DC Universe's Doom Patrol stars April Bowlby as Rita Farr / Elasti-Woman, Diane Guerrero as Kay Challis / Crazy Jane, Joivan Wade as Victor Stone / Cyborg, Brendan Fraser and Riley Shanahan as Clifford "Cliff" Steele / Robotman, Matt Bomer and Matthew Zuk as Larry Trainor / Negative Man, Timothy Dalton as Dr. Niles Caulder / The Chief, and Alan Tudyk as Eric Morden / Mr. Nobody.
A reimagining of the superhero DC characters originally written and drawn by Arnold Drake, Bob Haney, and Bruno Premiani, DC Universe's Doom Patrol is written by series creator Jeremy Carver (Supernatural, Being Human), who executive produces alongside Greg Berlanti, Geoff Johns, and Berlanti Productions' Sarah Schechter. Warner Bros. Television produces in association with Berlanti Productions.
Doom Patrol premieres new episode every Friday on the DC Universe streaming service.