Erica Durance Talks Her Return to Supergirl and the Future of Alura
Last night's episode of Supergirl brought us back actress Erica Durance in the role of Alura Zor-El, a role she took over from Laura Benanti at the start of the season. Since her appearance was in the previews, it's not really a spoiler, but anything else might be, so continue on at your own peril.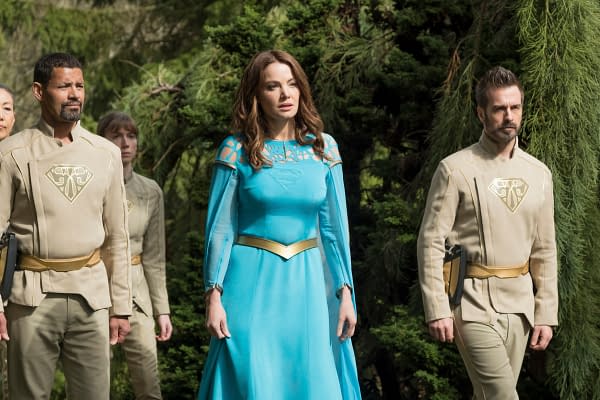 Kara (Melissa Benoist) and Mon-El (Chris Wood) head off to find the black rock and found Argo City. And we learn that the rock is actually Black Kryptonite… which could be fun. Durance talked with TVLine about Alura's new mission:
Ultimately, this is going to put Kara in a dilemma having to deal with the black kryptonite. I believe that [Alura] obviously sides with her daughter … but it's a little bit more of a problem for Supergirl. In order to save her new adopted family, she's taking from her mother, right? So it's this strange dilemma. Of course Alura would do anything to help her, and it also galvanizes her to say, 'OK, I'm going to continue to work on your father's work and I'm going to get this done and I'm going to make it so that we are not dependent on this black rock.' So it's a new mission for Alura as well.
She also talked about Alura taking responsibility for her previous actions:
I reveal how much I'm culpable — and I was — in the fate of Krypton, and some of the things that I did, and the way that I ruled on Krypton. That set the stage for the prison. And then everybody escapes so there's also the fact that Alura is partly responsible for them escaping. That's kind of interesting.
I don't get how the Kryptonian naming work. Kara Zor-El is the daughter of Zor-El about Kal-El is the son of Jor-El who is the son of Seg-El… but Lara, Kal-El's mother is just Lara not Lara Jore-El…. might have to look into this.
Supergirl airs Monday at 8 PM on the CW with three episodes left in the season.