Family Guy's Carrie Fisher Eulogy Will Break Your Heart
The opening to this week's episode of Fox's Family Guy featured a rain-soaked Peter eulogizing his boss Angela (Carrie Fisher). Amid the jokes and pop culture references, we get some beautiful and complex feelings about loss–especially about losing someone like Fisher. A show that does meta-commentary like no other, Family Guy makes this scene all about our feelings about losing her and helps make the bitter medicine go down a little easier with humor.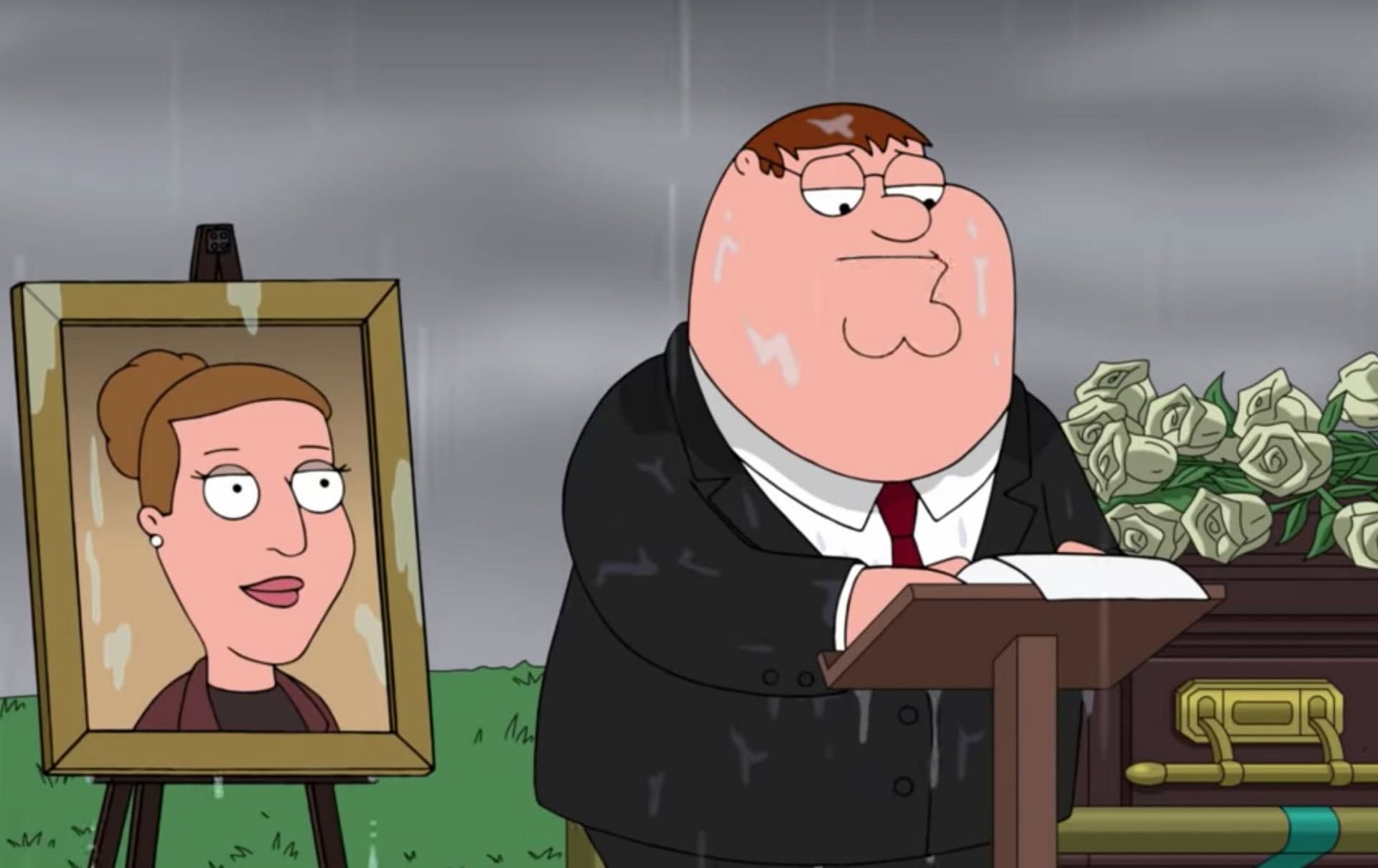 In what was otherwise a fairly typical episode, Peter gets new bosses at the brewery and becomes the new mascot. But first, they had to say goodbye to their old boss. Fisher appeared in over two dozen Family Guy episodes, most recently in last year's Christmas episode 'Don't Be a Dickens at Christmas,' and perhaps most hilariously as "Mon Mothma" in their third Star Wars spoof 'It's a Trap!'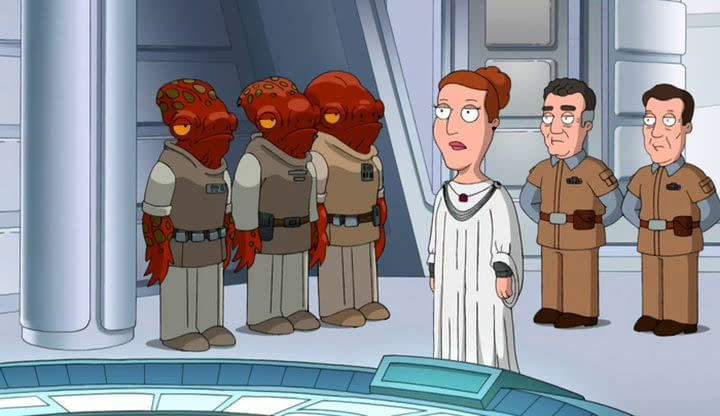 Family Guy is not known for being "subtle" or "thoughtfully touching," but this moment was actually quite beautiful–paying homage to Fisher's contribution to the show in a way I think she would've gotten a kick out of, though it starts off Peter and the worst cliché ever:
"Webster's defines 'class' as 'a group of students gathered at a pre-ordained time for the purposes of education.' Angela pretty much epitomized class."
From there, Peter goes straight for the heart in typical Family Guy fashion with a string of references to classic tv shows:
"Who could turn the world on with her smile? Angela.

Who could take a nothing day and suddenly make it all seem worthwhile? Angela.

So no one told you life was gonna be this way. (Clap-Clap-Clap-Clap) Angela.

Sometimes you want to go where everybody knows your name. Angela.

*Sings opening from "Sanford and Son"* Angela."
(In case you were wondering, those first lines were from The Mary Tyler Moore Show, Friends, and Cheers.) Gotta admit: the Friends clap and Sanford and Son part just broke me. Great jokes. I hope someone tells them at my funeral.
"I'm sorry, death is hard for me. But at least Angela died doing what she loved: swimming less than twenty minutes after she had eaten. That's a real thing, kids. Listen to your mothers."

"That was Angela — fearless, spontaneous, honest about herself just as much as she was about the world around her. She had grace, courage and an unmatched zest for life. She may be gone, but her voice will live on in DVD and Hulu Plus and tiny droid-projected messages. I may have lost a boss, but heaven has gained a princess."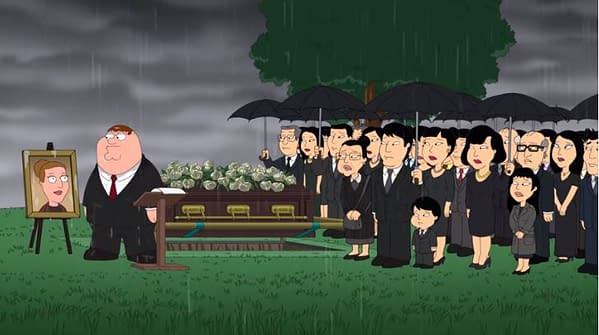 That's really beautiful. Even two years after Fisher's death, there is still a deep sense of loss, but remembering we can enjoy those good times still is a great feeling. The "heaven has gained a princess" line broke me, too–but in the other direction. What a perfect sentiment. We will always miss you, Carrie Fisher.
Of course, this is Family Guy…so wait for the lovingly and fitting (and episode-important) "punchline" at the end: