First Kill: Netflix Rounds Out V.E. Schwab Vampire Drama Series Cast
A little more than seven months after Netflix announced its upcoming eight-episode vampire hunter series based on the short story by New York Times best-selling author Victoria "V. E." Schwab, the streaming service announced on Thursday who will be joining Sarah Catherine Hook's vampire-with-a-conscience Julliette Fairmont and Imani Lewis' fearless, headstrong monster hunter Calliope Burns in First Kill. For The Burns' (Monster Hunters): Aubin Wise (Hamilton) as Talia, Jason Robert Moore (The Punisher) as Jack, Dominic Goodman (Animal Kingdom) as Apollo, and Phillip Mullings Jr. (Chad) as Theo.

For The Fairmont's (Vampires): Elizabeth Mitchell (Lost) as Margot, Will Swenson (The Chilling Adventures of Sabrina) as Sebastian, Gracie Dzienny (Jupiter's Legacy) as Elinor, and Dylan McNamara (LA's Finest) as Oliver.

Also joining the cast are MK xyz (singer- "Lost" and "Pass It") as Tess, as well as newcomers Jonas Dylan Allen as Ben, and Roberto Mendez as Noah.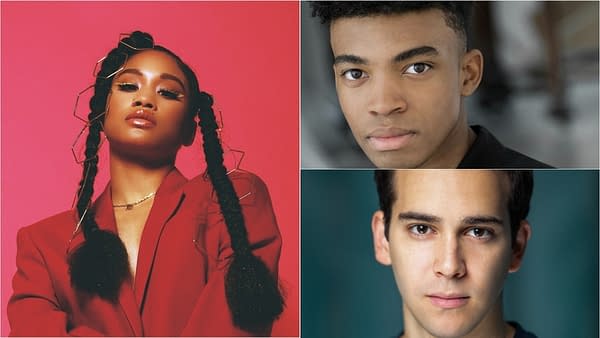 When it's time for teenage vampire Juliette to make her first kill so she can take her place among a powerful vampire family, she sets her sights on a new girl in town named Calliope. But much to Juliette's surprise, Calliope is a vampire hunter, from a family of celebrated slayers. Both find that the other won't be so easy to kill and, unfortunately, way too easy to fall for. Showrunner Felicia D. Henderson writes and executive produces alongside Schwab. Emma Roberts and Karah Preiss serve as executive producers through Belletrist Productions. Schwab's "First Kill" was featured in Imprint's Vampires Never Get Old: Tales with Fresh Bite, a collection of short stories about vampires first published in September 2020. Here's a look at an overview of the anthology:
Eleven fresh vampire stories from young adult fiction's leading voices in this bestselling anthology!

In this delicious new collection, you'll find stories about lurking vampires of social media, rebellious vampires hungry for more than just blood, eager vampires coming out—and going out for their first kill—and other bold, breathtaking, dangerous, dreamy, eerie, iconic, powerful creatures of the night.

Welcome to the evolution of the vampire—and a revolution on the page.

Vampires Never Get Old includes stories by authors both bestselling and acclaimed, including Samira Ahmed, Dhonielle Clayton, Zoraida Córdova and Natalie C. Parker, Tessa Gratton, Heidi Heilig, Julie Murphy, Mark Oshiro, Rebecca Roanhorse, Laura Ruby, Victoria "V. E." Schwab, and Kayla Whaley.
And since you're here…
BCTV Daily Dispatch: For a look at what's going on across the television and streaming landscape, sign up for Bleeding Cool's daily email round-up of the news you need to know here.