Flash Season 4: Barry Tries to Save the Bus Metas, Starting with Subject 9
Tonight's episode of The Flash is called Subject 9 and introduces us Izzy Bowin (Miranda MacDougall), the ninth bus meta who has the power to manipulate sound through her fiddle. She is a rising country western star and Team Flash fears she may be next on DeVoe's list. Izzy is a gender-swapped version of the classic Flash villain The Fiddler, who first debuted in All-Flash #32 (1948) created by Robert Kanigher and Lee Elias.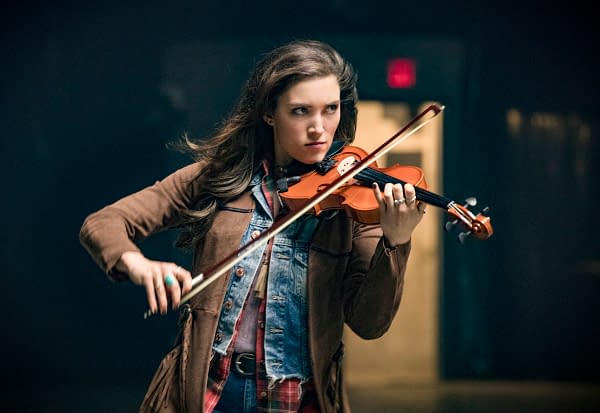 The video below features executive producer Todd Helbing talking about what Barry (Grant Gustin) is thinking now that he's out of prison and watched DeVoe (Kendrick Sampson) kill three of the bus metas (Black Bison, Kilg%re, and Dwarfstar) after taking their powers and then taking over the body of Hazard (Sugar Lyn Beard). Barry feels he needs to protect the other metas and they get a lead on Izzy, who they try to convince that she's in danger. But as you can see in some of the clips, that doesn't go all that well. Plus, Ralph (Hartley Sawyer) would be on that list too.
The Flash airs tonight at 8 p.m. ET on the CW.
https://youtu.be/ZQ7N6RxssAM