Flash Season 4: Season Finale Will Bring Answers to Lingering Questions
After last night's episode of the Flash, there are four episodes remaining and quite a few lingering questions. We know that there will be a string of guest stars which started with last night's appearance of Wentwoth Miller as Citizen Cold (and he brought a friend). The hit parade continues over the next three weeks building up to the finale and Todd Helbing, executive producer, gave TVLine some clues for their May Sweeps / Season Finale look. Spoilers ahead as we put together all that we know.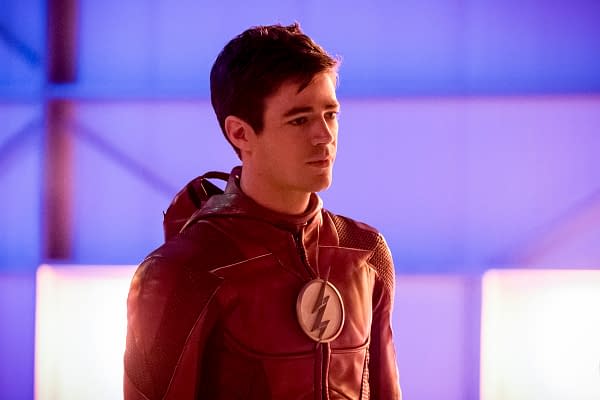 Unlike with Arrow, we don't have all the episode titles, but we do know that next week is Therefore She Is and features the return of Gypsy (Jessica Commacho), then there is Harry and the Harrisons which has the team turning to Amunet Black aka Blacksmith (Katee Sackhoff) for help. And in the untitled penultimate episode of the season which airs May 15th, David Ramsey appears as John Diggle from Arrow. We'll also get a return of the Council of Wells and meet the Council of Harrisons. This should increase the variation of characters played by Tom Cavanagh into a range no one will ever beat.
But the key are some of the things Helbing said. He talked about Caitlin (Danielle Panabaker) and her quest to restore Killer Frost. Helbing said, "At the end of the season, everybody will sort of understand what happened to Killer Frost and if there is a possibility to get her back." That is one of the lingering questions. The other has been the teasing of the awkward girl from the wedding and coffee shop. He swears we will know by the end of the season, "Everyone will get an answer to who exactly The Mystery Girl is, and how she plays into not only this season but next season." Looks like we'll be getting more of Jessica Parker Kennedy.
What about the finale itself and how the team will defeat DeVoe (Neil Sandilands)? Well, the title gives us a clue in that it's called We Are The Flash and plays on the theme of the season that Barry (Grant Gustin) doesn't have to burden everything on his own. He doesn't have to take him on alone. The finale is being described as "Inception-like" and "The way they attack The Thinker is totally different from anything we've seen before in a finale." Which makes it sound like the finale will be visually stunning.
The Flash airs Tuesdays at 8 PM on the CW. The finale airs May 22nd.