Frasier Returns to Boston as Sequel Series Production Gets Underway
With production underway on Paramount+'s sequel series this week, it looks like Kelsey Grammer's Dr. Frasier Crane is returning to Boston.
---
Earlier today, Paramount+ confirmed that production on series star & EP Kelsey Grammer's return as Dr. Frasier Crane in its upcoming revival/sequel series kicks off this week, with filming set in Los Angeles in front of a live audience. And while we've learned previously that the series represents the next chapter in Frasier's life (a chapter that will include new challenges to face, new relationships to forge, and an old dream or two to finally fulfill), we learned based on the preview key art below that he will be returning to his old Boston, Mass., stomping grounds. Legendary director & television creator James Burrows (Cheers, Night Court) has been tapped to direct the first two episodes (with Episode 101: "Pilot: The Good Father" written by Joe Cristalli & Chris Harris). Joining Grammer on the streaming series are Jack Cutmore-Scott (Kingsman), Nicholas Lyndhurst (Only Fools and Horses), newcomer Anders Keith, and Jess Salgueiro (Y: The Last Man).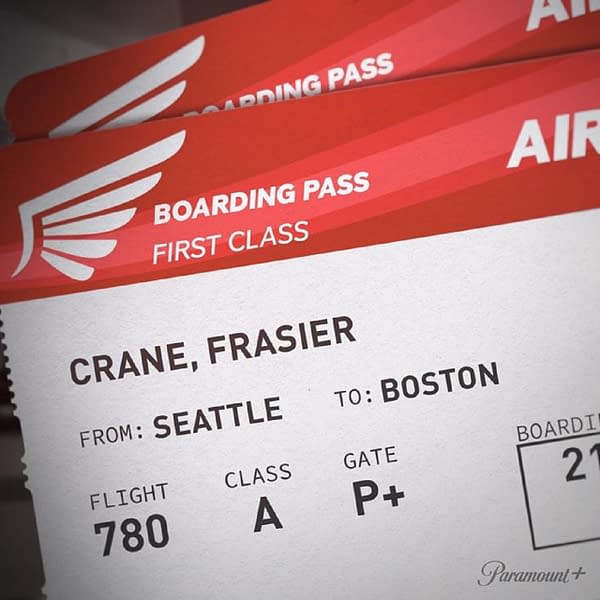 Paramount+'s Frasier Revival: Who's Who?
Charming and handsome, Cutmore-Scott's Freddy is a nuanced combination of his father and grandfather. Years ago, Freddy rejected following in his father's footsteps—dropping out of college to become a fireman—and he's never looked back… until now when recent troubles have left him with no one to turn to in his life. If they can overcome past differences, Freddy and Frasier might finally have a chance to repair old wounds. Lyndhurst's Alan Cornwall is Frasier's old college buddy turned university professor. British, boozy, and larger than life, Alan has an intellect on par with Frasier's—if only he ever felt like using it. Alan's mischievous streak might be just what Frasier could use to shake up his routine, while Frasier's thoughtful guidance might help Alan find some of the direction he's been missing in his own life.
Keith's David is Frasier's nephew, now an adult and an awkward college freshman with a penchant for off-kilter observations. Frasier's nephew David has Niles' intelligence, Daphne's smile, and neither of their polish. David's unearned confidence may confuse some, but Frasier has a fondness for his nephew's earnest enthusiasm. Salgueiro's Eve is Freddy's (Cutmore-Scott) roommate who is spontaneous, outgoing, and bursting with creative energy whether it was asked for or not. Eve is a breath of fresh air. With an innate ability to connect with both Frasier and Freddy, Eve is a critical bridge between father and son as they attempt to reconcile.