Hopefully by now, you've caught up on Game of Thrones 8th and final season with episode 2, "A Knight of the Seven Kingdoms". It really was the most wonderful love letter to the characters, from Grey Worm to Tormund Giantsbane.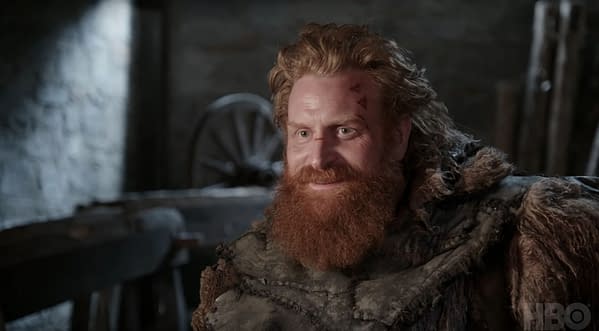 Speaking of Tormund– Kristofer Hivju had some things to say to The Hollywood Reporter about s8e2, including the backstory of how the Wildling leader got his moniker.
It's been a while since I've read the books, but, I think it's a true story. They used to call him Giantsbabe. It was a mocking name. In the books — and you have to check this out — I believe it's the same story, but it doesn't say it as something he's bragging about. It's the story of how he got his name, and they thought of him as Tormund Giantsbabe, because this giant mother took him and nursed him and he couldn't escape, because she was taking care of him as if he was a baby. They were mocking him, and that's how he got the name. It was Tormund himself who changed the name to Giantsbane … The part where he killed a giant? That might be a lie. But the fact that he was nursed by a giant? I would say it's about 67% true — and that's nothing to brag about. [laughs]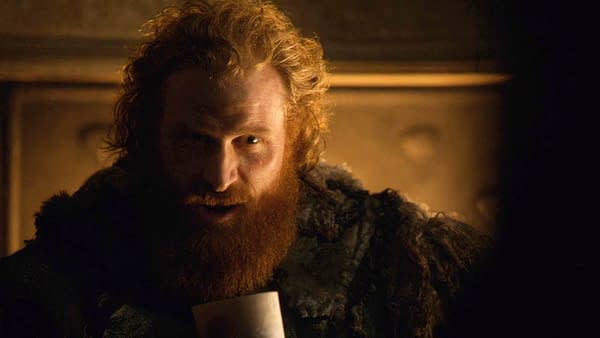 Hivju also went into details about the filming of the scene which again disproves the old "no great story ever started with a glass of milk" meme:
Well, as you know, you do it 40 times. I insisted on making it as "Tormundish" as possible, every time. (Laughs.) For me, it's like … this Jaime guy. I don't know. Tormund has picked up something about this Jaime guy. After Tormund comes to the castle, I think he's been watching [Brienne] as much as he can. He's picked up that this new guy, this "King Killer," he's competition. It's all about Tormund trying to push him down in order to push me up. But it doesn't work. It doesn't work! (Laughs.) It never works in life to push someone down to get yourself up. But it was hilarious. I had a lot of fun with it. We laughed a lot.
And what can he tell us about this weekend's looming Battle for Winterfell?
I will say… I've worked a lot with [director Miguel Sapochnik], because we did "Hardhome" and "Battle of the Bastards" together. When you've starred in sequences like that, it's like you're climbing a mountain. Beforehand, we watch [pre-visualization] in a huge room. We watch a pretty good, animated version [of what we're going to shoot], with lines and everything. Everybody was like, "Is this even humanly possible to pull off?" We knew we had 56 night shoots in front of us. We were going into two or three months of night shoots. That's pretty intense, in terms of driving everybody crazy. (Laughs.) Miguel was the greatest commander in chief you could find. He literally had huge armies around him. He's trying to make this all fit together. Some days, we were 900 people at lunch. It was just crazy. I haven't seen the episode, so I really don't know. But I think it will be pretty intense.
Man. Are waaaaay not looking forward to seeing which of our favorite Starks die this weekend.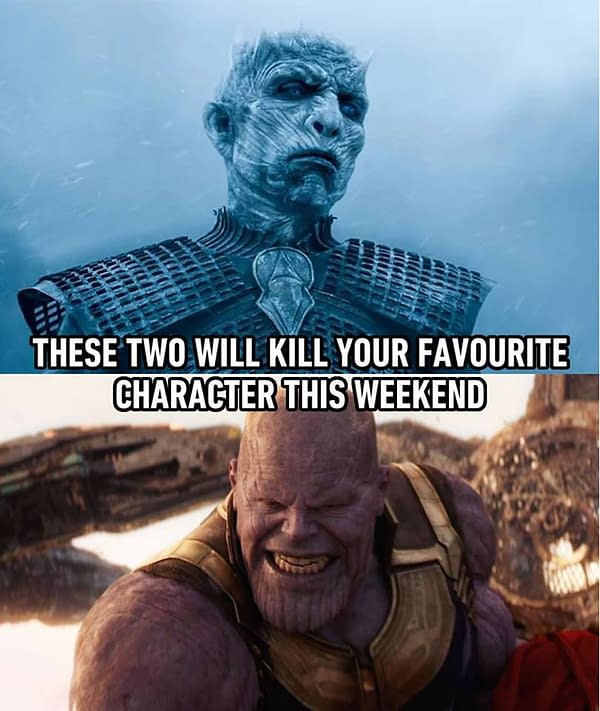 Game of Thrones season 8 episode 3 airs this Sunday, and the series will continue for just three episodes after that.
Enjoyed this article? Share it!