George Santos Reportedly Claimed Spider-Man B'way Producer Credit
Congressmember George Santos reportedly claimed they produced Spider-Man: Turn Off the Dark, raising questions like... really? That one?
---
If you had a chance to check out late-night last week, then you know that newly-elected GOP House of Representatives member from New York, George Santos, has been making a lot of headlines over their apparent issues with the truth and being able to tell it. Well, based on what Bloomberg had to report earlier today, it looks like Bowen Yang might have some fresh material for this weekend's new Saturday Night Live. According to the reporting, Santos allegedly shared with potential donors to their congressional run that they produced a Broadway show. Okay, fine. In the pile of things being alleged, that doesn't sound like it's "Top 10" material. But when the Broadway show is Spider-Man: Turn Off the Dark? One of Broadway's most disastrous productions ever? Yeah, that's going to get some attention.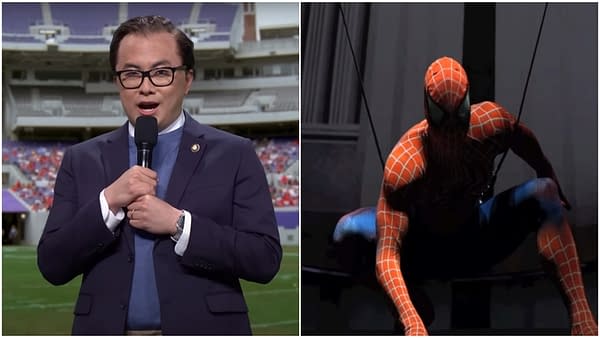 Right from the start, you have to wonder why, if Santos was going to lie, why they wouldn't "lie big" with a show that actually succeeded… as opposed to "Spider-Man." Unless they thought having something so notoriously bad attached to them would give them some kind of interesting "kitsch" factor? But then there would be the huge holes in Santos' story if true. For example, they would've been around 21-22 years of age as a producer when the show hit the stage (assuming Santos' age is accurate)- a pretty young age for a producer. From there, Bloomberg noted that Santos isn't listed in the show's official Broadway Playbill and that producer Michael Cohl confirmed to Bloomberg that Santos wasn't involved in the musical. But just in case that's not enough, EW ran a statement from Rick Miramontez, the show's spokesperson: "Of all the tribulations the producers of 'Spider-Man: Turn Off The Dark' had to endure, we are very pleased, proud and relieved to report working with George Santos was not one of them."
Late-Night "Introduces" Itself to George Santos
This past week, it was "A Tale of Three George Santos" when it comes to late-night television. Stephen Colbert interviewed Harvey Guillen's Santos in what was a great back-and-forth between the two exposing the dangerously growing absurdity behind Santos' ability to lie their way into Congress. Following that, Jimmy Fallon and SNL alum Jon Lovitz teamed up for their take, but it was… lacking. And then, on Saturday night, we had Yang tackling Santos in both the "NFL on FOX" cold open for Saturday Night Live as well as on "Weekend Update" (more on that in a minute). While I'm a big fan of what Colbert & Guillen did earlier in the week, I have the give the edge to Yang for two reasons. First, Yang doesn't need set-up or assistance to get his fire across- in both sketches, Yang could've easily gone solo a number of times, and the effectiveness of each sketch wouldn't have dulled. What also gives Yang's portrayal the edge is its willingness to punch, punch hard & keep punching. Yang and the sketch writers in the cold open didn't just have Santos address the reports that Santos competed as a drag queen… they had their Santos come out in drag. They didn't just say that Santos lied… they directly addressed the question marks surrounding if anyone in Santos' family died or not during 9/11. It's that in-your-face directness that SNL had done well with in the past, and Yang brings it back tenfold.