Good Eats: Reloaded Review: Alton Brown, Coffee Prove Unbeatable Combo
This week, Alton Brown is back with another episode of Cooking Channel's Good Eats: Reloaded to recap on his first truly caffeinated episode. Coffee, Coffee, and more Coffee. Ok he definitely has my vote, and I'm only 5 minutes into the episode. I must disclose for full transparency I'm two episodes into the season and I'm yet again jetting off into my kitchen for something, in this case, to have a short conversation with "Mary," yes, that's right my coffee machine, the love of my life, the reason for my sanity, and probably my existence and safety from homicidal tendencies (that last one is a joke, kind of). "True Brew: The Reload" is a truly amazing episode mainly because it validated my love for all things coffee. I have done my best to cut down my consumption to five cups a day but let's face it: most of us are now working from home and Mary is just a short walk away so how can you blame me.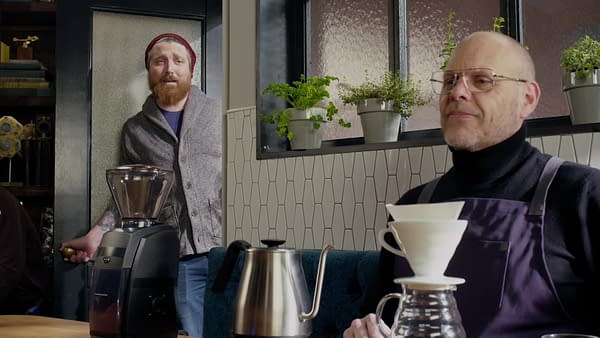 Discussions of Arabica trees, the amazing beans they produce, and the travels around the globe to identify flavors: six cups of coffee later, I had learned probably as much as anyone really needed to know about green, light, medium, and dark roasts. And yes, if you want to get fancy, American, City, Full City, French, Italian and Spanish (though I just want to stick with Dunkin Donuts French Vanilla). Fast forward a little and Brown, in his typical fashion and at length, strategically explains the process of making the best cup of coffee. Granted, I probably could have produced three sub-par cups while he was seven minutes into his process.
With digital scales, a grinder, a digitally-controlled kettle, glass, filter, a cup, and a stopwatch, what in the world are we making here? Oh yes, coffee. Many measurements later, Brown indulges in an orgasmic cup of coffee. Now, I will never go through the process he took: three trains, a bus, 2 planes, and a donkey just to get to that cup, but I respect all that's done for the caffeinated indulgence. After all, 90% of adults in North America consume coffee daily. Our central nervous system is stimulated by the caffeine and we find ourselves coming back for more. Explains why it feels like there's a coffee shop around every corner. My takeaway from this week's Good Eats: Reloaded? Looks like the quality of coffee decreases after a week once the bag has been open. Lucky for me, I drink it in under five days. That's a good thing, right?