Good Eats: Reloaded Review: Alton Brown Makes Gluten-Free Hearts Happy
This week, Alton Brown and Good Eats: Reloaded revisited the 2001 episode about oats and he instantly had my attention. Why do you ask? Oatmeal is my #1 go-to for breakfast, it's easy to make, happens to be gluten-free (my obligatory diet of choice) and you can essentially add whatever you want to it to improve its flavor profile. I even stay away from the mayo for that one (yes, mayonnaise in my opinion tastes great on just about everything). Oats are nutritiously high in fiber (making our bowel movements that much easier) and actually keep us feeling fuller. Brown educates on various stages of oats; are there really that many varieties? I just assumed the only option is the Trader Joe's kind. I digress, there are grains with nuttier flavor, according to Brown it resembles brown rice; steel-cut coats the more delicious of all the oats family; rolled oats this is our typical oatmeal, and finally instant oats. Yuk.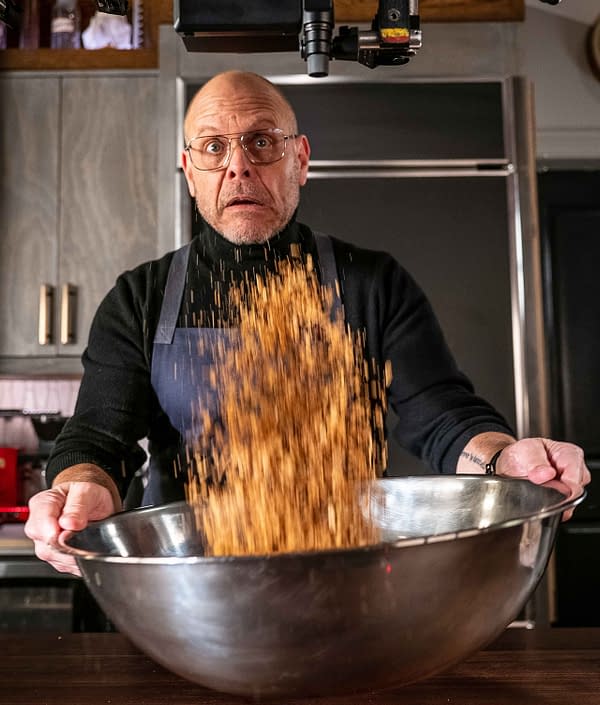 Once in the lab, Brown spots in a bear suit. Is it wrong to be attracted to a bear? Brown demos a rolled oats and quinoa recipe and yes I went ahead and tried to make it. Surprise? It was delicious. Both oats and quinoa are gluten-free, but I never thought to combine the two but for this week I had all the necessary ingredients in my pantry. Combine oats, salt, and quinoa mix in some hot water, cook down for 18 minutes, fluff, and enjoy. An even better recipe: take out some rolled oats, chia seeds, dried fruit, dark maple syrup, vanilla extract, cinnamon, kosher salt, coconut milk, unsalted almond milk (my missing ingredient), and a few others, and you're on the road to make probably some of the best oats you'll ever eat. Thankfully, I did indeed have the mason jars. So then just refrigerate, and come morning you got your own healthy breakfast. Best part? No cooking necessary. I left out the part where he measures things on his trusty scale and evenly distributes the ingredients (feel free to assume that happens every week in various very precise ways).
Brown even went ahead and made granola, but I'll be honest: there was a lot going on there. Think I'll just stick to store-bought. So what did we learn? Fibers are good for you, oats are extremely high in those. I'll avoid going into a spiel about dietary processes and nutritional lingo, but feel free to refer back to the episode for the full break down. Oats are tasty, healthy, and the best part for people like me? Gluten-free.