Good Omens Comes to NYCC and is in Good Hands
Written by Amanda Gurall
"It may help to understand the triumphs and tragedies of human history to understand that they are caused not by people being basically good or basically evil but by people being basically people." – Neil Gaiman
Gaiman said that one of the greatest pleasures of creating Good Omens was getting the chance to hear Frances McDormand (Three Billboards Outside Ebbing, Missouri) say this line as God in the series. He sat for interviews at NYCC along with Director Douglass MacKinnon (Sherlock, Line of Duty), David Tennant (Doctor Who, Jessica Jones) Michael Sheen (Masters of Sex), Miranda Richardson (Girlfriends, Harry Potter series) and Jon Hamm (Mad Men).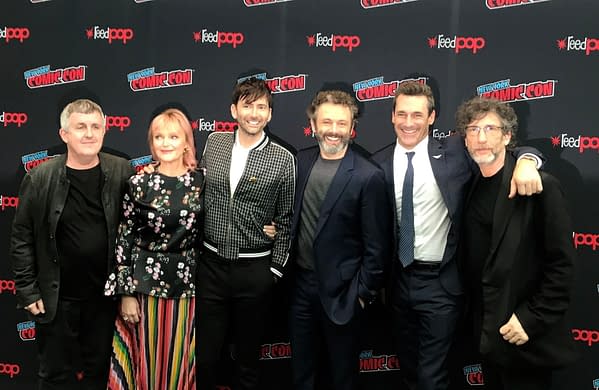 Good Omens is in the very best of hands with Gaiman himself as showrunner and with this amazing cast each bringing their own kind of magic to the production. From the clips we saw today at the panel it looks like the attention to detail and true care given to every aspect of this mini-series will bring the story to life in a way that Terry Pratchett would have been thrilled with and for that Gaiman should be very, very proud.
Good Omens will be released on Amazon Prime in 2019.
Check out a bunch of interview clips below with Tennant, Hamm, Sheen, Richardson, MacKinnon, and Gaiman!