Gotham Has Jumped the Shark and Swung Back Around for a Selfie
This article absolutely has spoilers for the current season of Gotham.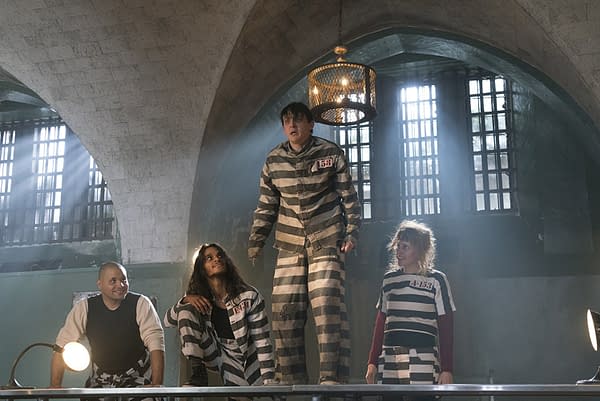 I got a little behind on Gotham, having missed about four episodes, I decided to go back this weekend and catch up. In doing so, I realized just how absolutely insane this series has gotten. Folks talk about DC's Legends of Tomorrow being the crazy DCTV series, but after get up to speed on Gotham, I think the real crazy is the one with Arkham Asylum.
When the show began, it felt like a police procedural set in the Gotham world with Jim Gordon (Ben McKenzie) and Harvey Bullock (Donal Logue) as the Briscoe and Green of a city where we knew things were going to get a lot worse. We saw early versions of Oswald Cobblepot (Robin Lord Taylor) and Edward Nygma (Corey Michael Smith), but overall it was more about the mobsters and politicians and there was the Wayne murders as the background story as young Bruce (David Mazouz) tried to return to life with the help of his butler Alfred (Sean Pertwee).
Now in season 4, the lid has been blown off. In the last four episodes we saw the return of Poison Ivy in a new body (Peyton List) and we got to see along with Penguin and Riddler, Ra's al Ghul (Alexander Siddig), Catwoman (Camren Bicondova), Tigress (Jessica Lucas), Sofia Falcone (Crystal Reed), Mr. Freeze (Nathan Darrow), Solomon Grundy (Drew Powell), Zsasz (Anthony Carrigan), Headhunter (Kyle Vincent Terry), and a potential Joker (Cameron Monaghan) — and I'm sure I'm forgetting a few. We also see an almost-insane Barbara Kean (Erin Richards), who in the comics is Gordon's normal wife and mother of Batgirl — and we see Lee Thompkins (Morena Baccarin) shoot someone and smash another person's hand… definitely not her character from the comics.
And let's not even get started on the horrible things Gordon has done over four seasons that makes him very far from the Commissioner we have grown to love over the years. Bullock seems to be the more well adjusted of the two. And Bruce is having dreams where he sees the Batman?
The headline of this article comes from something I said to my friend yesterday who asked about the series, knowing I had just caught up. I told her that it was a series that not only jumped the shark, but swung back around to take a selfie with it. Somewhere in season 2 it seemed like the writers knew that they couldn't hold back. If the series was going to work at all, it was going to need to be as much Batman as you can get without actually putting Bruce into the costume. They've put him in a costume, but not the actual Batsuit. Season 2 took the cap off. Season 3 shook it up, and now season 4 is dancing in the fallout, completely embracing the insanity and thereby making entertaining television. This is no longer anything close to a Batman prequel. You can't get there from here anymore. But that doesn't make it any less entertaining.
Gotham is an Elseworld story about what would happen if all of the crazy villains showed up well before Bruce Wayne became Batman. If the show gets renewed for a season 5… my guess is that at some point Gordon gets a costume. Because with Gotham, you really have no idea where it's going next.