Oh, Gotham. I'm starting to think maybe you should have wrapped things up last season. You were flying high, swinging for the water tower outside the ball park, and doing your own thing with flair and panache.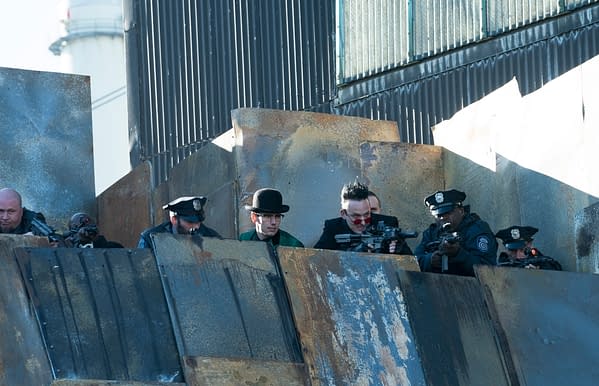 This fifth season, though, you've been struggling. Limping along with bursts of frenetic energy, almost like you're struggling to find your footing since you know you're almost done.
After the thrilling season debut (Scarecrow Scythe Fight!!!) I told all of my Gotham decrying friends that this would be the season where it all came together.
It feels more like everything is falling apart.
The primary cast is still game, ready and capable of telling an engaging, if somewhat nonsensical, story. The series has been chugging along under the mustache-less lip of Jim Gordon (Ben McKenzie) amiably for years, and the other primaries came to play, too.
We've had great scenes with Donal Logue's Harvey Bullock. Bruce (David Mazouz) and Selina (Camren Bicondova) have been teamed up most of the season, and it's been great. Recurring villains Poison Ivy (Peyton List), Riddler (Cory Michael Smith), and Penguin (Robin Lord Taylor) have been the highlights of the season.
And then there's Jeremiah Valeska (Cameron Monaghan), whose last laugh has yet to be cackled.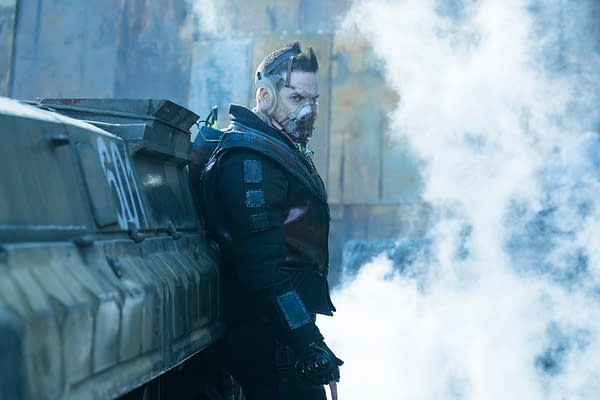 The biggest issue this year has been with the new villains. Ecco (Francesca Root-Dodson) feels flat, despite some amazing design and costume work. Bane is a big, clunky bore, which is sad, since Shane West was actually a lot of fun before the breath mask came down. And then there's Nyssa al' Ghul.
Jaime Murray's line delivery as Nyssa is about as clunky as Mick Jagger's in the horrific 1992 sci-fi train-wreck, Freejack. Yeah, I went there.
"They Did What?" features a lot of the problems that have plagued this season, but also highlight what has made Gotham work for five years. Barbara (Erin Richards) has some great lines, especially regarding al' Ghuls and a certain knife, while Nyssa vamps about delivering clunky lines that can't land.
Oh, yeah… fire up the Spoiler Signal!
And then you get scenes like the one of the barricade, with Penguin, Riddler, Bullock, and Gordon frantically defending the city, charismatic and quippy, while Bane stands on top of a tank in front of them with all the magnetism of a card-board standee.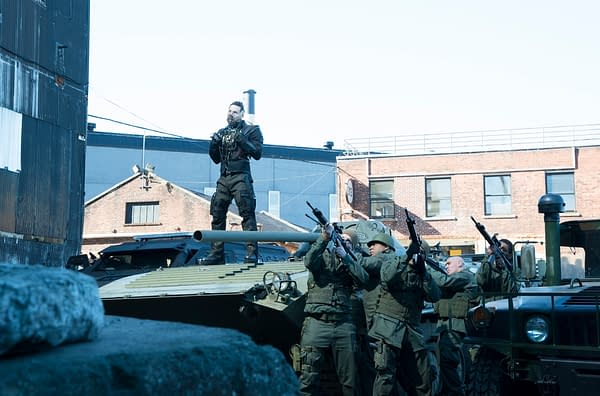 Not only that, but every line Bane delivers feels like West was directed to "do Tom Hardy's Bane, but not exactly." Has Bane ever been done well in live action?
Tze Chun, as usual, delivers some great dialogue, and some fun sequences, too- Bruce and Selina blowing up Wayne Enterprises was a lot of fun, and Bruce's swarm of bats based inspiration had a lot of energy to it, too.
But it's really hard to get beyond Nyssa and Bane. They're the cement anchor that keeps pulling the rest of the production down.
Nice little gems were scattered about, with Baby Barbara, all in purple; Oswald having a reason for a monocle in the future; everything with Ed Nygma; and Gordon's becoming commissioner were all great scenes.
Lucius (Chris Chalk) bringing Bruce the "Nightwing Project", which has an interesting effect on certain mammals. Nice.
Then there's Ed and Oswald realizing that their day is up, and that no one in Gotham will take them seriously as citizens. Best to be villains, then, and the scene is perfectly done- two comrades, united in crime, ready to stab each other if the mood fits.
I'm still really optimistic about next week, when FOX rolls out the series finale, "The Beginning." Here's a peek at the last we'll see of Gotham:
https://youtu.be/l7bZeQvkFD4
Enjoyed this article? Share it!