Do you feel that? There's something special in the air: a crisp, sharp anticipation fueling the footsteps of passers-by. That special electrical feeling that pulls us all together, and makes us all better people. It's a rare, fleeting feeling.
Yes, friends… Gotham returns to Fox in January 2019.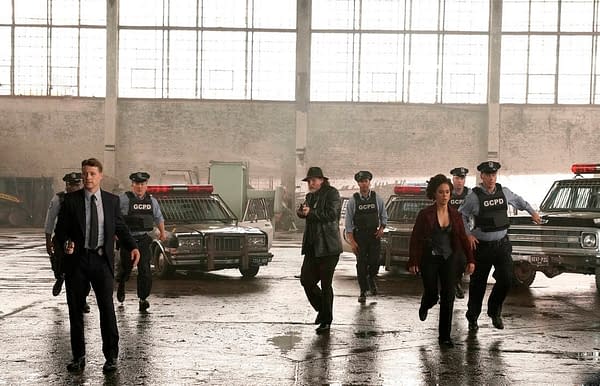 The fourth-season finale of Gotham saw a city plunged into chaos and turmoil, as Jerome (Cameron Monaghan) and Ra's al Ghul (Alexander Siddig) managed to out-smart the GCPD (What? Really? The GCPD outsmarted again???) and destroy every bridge connecting the city to the rest of the world. Gotham is essentially an island now, a literal "No Man's Land," engineered by Al Ghul and Jerome to help Bruce Wayne (David Mazouz) assume the mantle of his destiny: Heir to the Demon Al Ghul, and as the mirror to Jerome's eventual evolution into the Joker.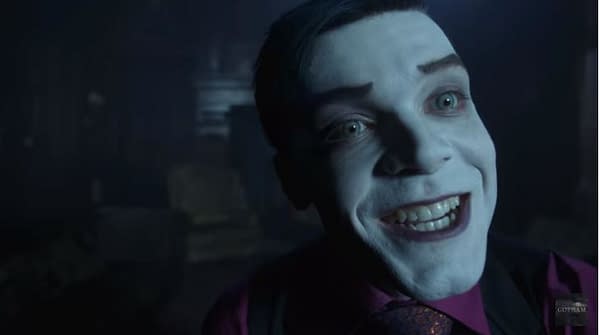 The stakes couldn't be higher for the heroes of Gotham: Selena Kyle (Camren Bicondova) has been shot, her spinal column has been severed. Alfred (Sean Pertwee) is split between his dedication to keeping Bruce safe, and his need to make sure Selina pulls through her much-needed surgery. Bruce is patrolling the streets, trying to keep the peace as a masked vigilante. Jim Gordon (Ben McKenzie) is struggling to restore law and order to the streets of Gotham, while trying to find the whereabouts of Lee (Morena Baccarin) – last seen in the clutches of Hugo Strange (BD Wong). It's the greatest soap-opera ever made, and we're in for one hell of a ride, as these new clips show:
Our first glimpse finds Bruce talking with Gordon on the roof of GCPD headquarters – with a certain spotlight hinting at the future partnership between our heroes.
Alfred and Bruce worry about the outcome of Selina's surgery, when someone breaks into the hospital basement to steal supplies. Bruce has gear, people! Lucius Fox is giving Bruce special gear!
Hopefully, we'll see Gordon grow out his signature mustache by the end of the series. It's the source of his power, and the real reason Gordon's able to keep the streets of Gotham safe.
Gotham unleashes its fifth and final season on Janaury 3rd, exclusively on FOX.
Enjoyed this article? Share it!