Holiday Binge Watch: Runaways
As we move into the holidays, that entertainment dead zone starting just before Christmas and ending just after New Year's, there is going to be a lot of time for folks to catch up on shows they haven't had a chance to see. And while some of you have DVRs full of network shows you've been itching to get to or a Netflix queue overflowing with Marvel and Stranger Things, some of you may need some new shows to watch while wrapping gifts or hiding from in-laws in the "game" room.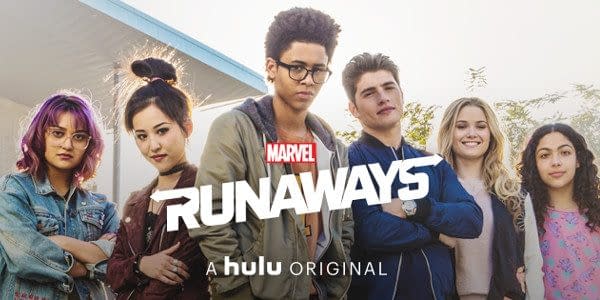 This one most of you are probably familiar with, so this is for those who aren't yet and are looking to scratch that Marvel itch. It's based on the comics series by Brian K. Vaughan and Adrian Alphona and adapted for television by Josh Schwartz and Stephanie Savage. The series is about six teenagers from different backgrounds, played by Rhenzy Feliz, Lyrica Okano, Virginia Gardner, Ariela Barer, Gregg Sulkin, and Allegra Acosta, who join together when they discover that their parents are a super-villain group called The Pride. The parents are played by Angel Parker, Ryan Sands, Annie Wersching, Kip Pardue, Ever Carradine, James Marsters, Brigid Brannagh, Kevin Weisman, Brittany Ishibashi, and James Yaegashi.
The project originated as a film, written by Vaughan, before being changed to a television series for Hulu. Like all the Marvel properties, Runaways exists in the MCU with the Avengers, SHIELD and The Defenders, but the odds are there won't be any crossovers… at least in the first 10-episode season.
The official synopsis reads:
There are times when pretty much every teenager thinks his or her parents are evil — but what if it was actually true? That's the situation six Los Angeles teenagers find themselves in when they stumble upon a terrible secret and realize that their parents have been lying to them for their entire lives. The offspring begin an investigation to try to figure out what their guardians are after, while the adults wonder if their kids are hiding secrets of their own. The unlikely crew of teens bands together — led by de facto leader and primary strategist Alex Wilder — to stop their parents before it is too late. The Marvel series is from executive producer Josh Schwartz, whose resume of young-adult fare includes "The O.C." and "Gossip Girl."
Runaways is being released now on Hulu.
https://youtu.be/plyJQG-nRN0