Into the Dark "The Body" Review: Add it to Your Halloween Viewing List
[rwp_box_recap id="0"]
Blumhouse Television sure has made a name for itself this year. Sharp Objects was a huge hit on HBO, The Purge has made a successful transition to TV, and many other series are coming, and not all of them are horror. Horror is their bread and butter though, and the new year-long anthology series Into the Dark will debut a new horror film on the first Friday of each month. The films will be centered around monthly holidays, and what better month to launch than October with a Halloween-centered film?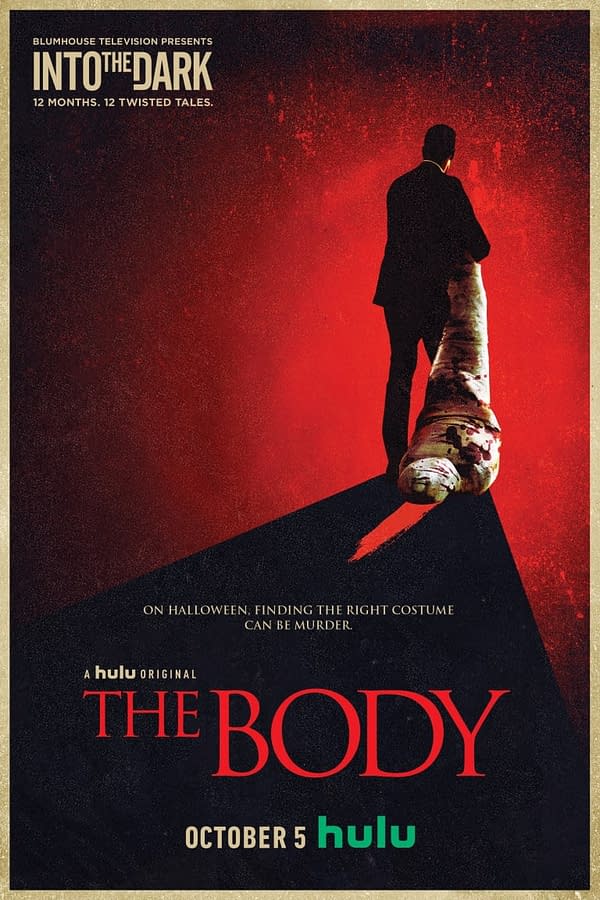 The Body stars Tom Bateman as a hit man who has a problem: he has to transfer the body of his latest job to another location at the request of his employer, and he is not to be late. He wraps it up in plastic and heads out into the night. It's Halloween, and after hooligans destroy his car, he is forced to hitch a ride with strangers (David Hull, Aurora Perrineau, Ray Santiago) to a party so he has access to a car . He blends in perfectly, since everyone assumes that he's dragging around the body as part of a costume. There, he meets Maggie (Rebecca Rittenhouse), who may or may not be a kindred spirit. After his cover is blown, the body is stolen and from there it is a race to get it back before time runs out.
This is a great watch. Very entertaining, with a simple set-up and plenty of laughs and gore to keep all types of horror fans happy. Bateman and Rittenhouse have some of the best chemistry in a horror film this year, every time they interact with each other you sit up in your seat and take notice. Ditto for the three friends who steal the body, as Hull, Perrineau, and Santiago all have one-liners for days and have a real hilarious rapport that never feels forced. You would think that they just hired three friends walking by filming on day. Paul Davis, the co-writer and director (based off his own short called, you guessed it, The Body), does a great job creating a creepy, campy vibe throughout. Everything is very slick-looking and Davis will be a name to watch going forward.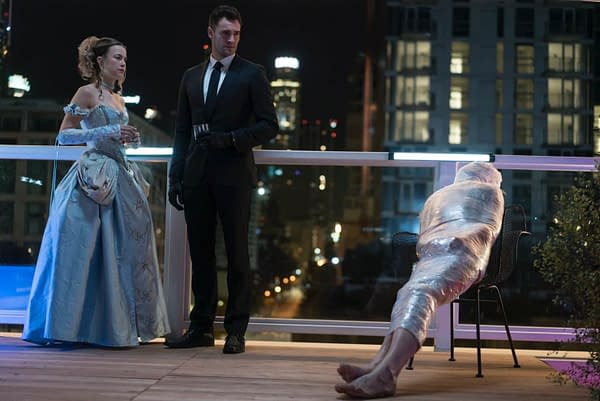 Unfortunately, there are a few issues. As with every other horror/thriller film these days, the twists are not as clever as the filmmaker wants you to think they are. As a matter of fact, it would be relatively easy to figure out the entire film within the first 20 minutes. Its not that the script is bad at all, it just doesn't do anything groundbreaking. When that is the case, you better have characters that hold your attention and don't make stupid, illogical decisions. For the first hour of the film, they pull it off. By the end however, we devolve fast into a run-of-the-mill horror film. The body itself is of a famous person (we don't find out who it is, but my guess is Ben Affleck), and the jokes about this fact get very tiresome.
Overall though, this is a very entertaining start to the series. While this is not anything you haven't seen before, there is enough here in the performances and some inventive kills (think embalming tools) with plenty of gore to keep your interest. This would be fun to watch with a group of people on Halloween itself, and it will be interesting to see how they carry the momentum from The Body into the next entries in the series.