"It's Always Sunny in Philadelphia" Season 14: The Gang Goes Private Dick? [PREVIEW]
With season 14 set to premiere on Wednesday, September 25, FXX's It's Always Sunny in Philadelphia is now tied with ABC's The Adventures of Ozzie and Harriet as the longest-running live-action comedy series. Now that's a title Mac (Rob McElhenney), Dennis (Glenn Howerton), Charlie (Charlie Day), Dee (Kaitlin Olson), and Frank (Danny DeVito) would be more than happy to hang behind the bar – and one they're expected to hold on their vey own very soon. Safe to say things are pretty good for The Gang from Paddy's Pub.
Mac's real-world alter-ego McElhenney even got to play catch with Chase Utley (we're serious – take a look) and nearly got into a "beef" with Steve Carell and The Office over "territory rights" – before building a bridge of love and friendship between both shows (more on that here and here). So in other words?
"It's Always Sunny in Philadelphia" is Back in Business!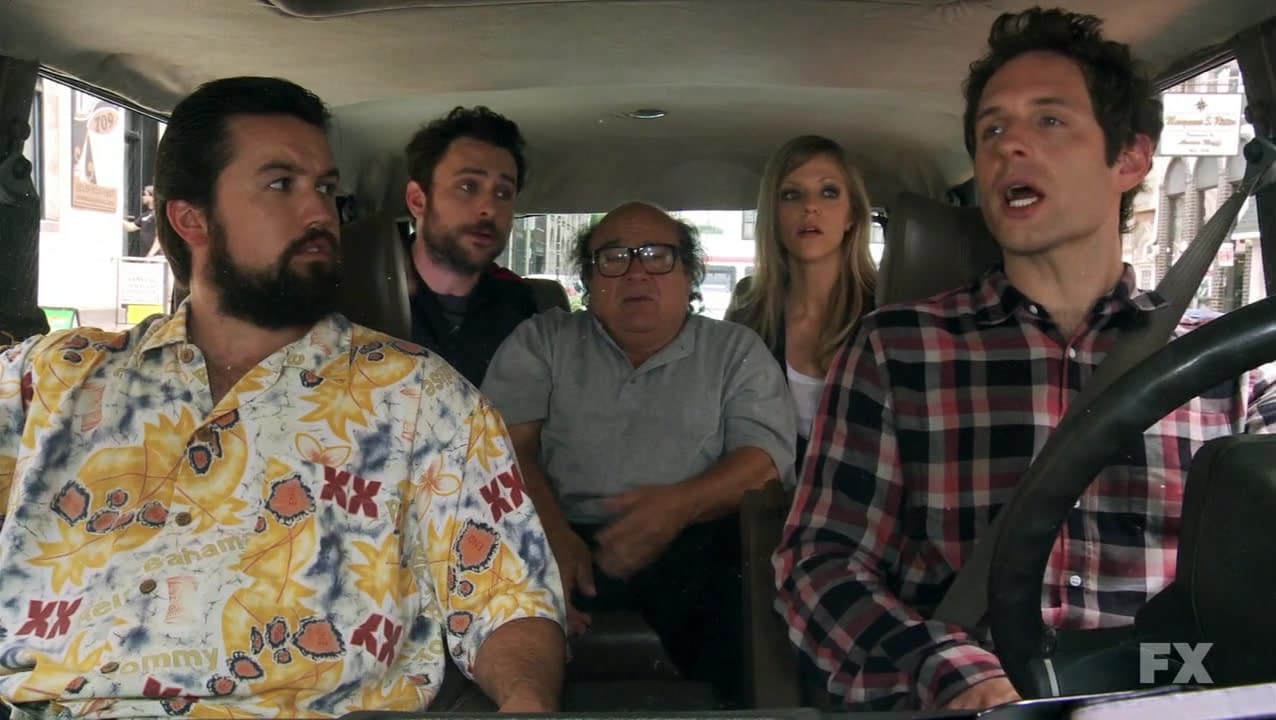 Now about those two images below… pretty interesting, right? We'll get to that in a minute… but first? We would be remiss if we didn't show our love and appreciation for the writer being honored by the team in the first image: Megan Ganz, back for the new season and who penned season 13 highlights "The Gang Escapes" and "Times Up for the Gang;" as well as season 12 standout "The Gang Tends Bar."
As for what we're seeing in the images themselves? Feels like we might be have an upcoming episode that takes a deep-dive into the world of private dicks, foggy streets, and two scoops of… noir. Could we get… Paddy's Detective Agency? Maybe, "Dennis Reynolds, P.I"? I'm picturing Cricket in a "Peter Lorre" role… Mac as the clueless police detective who harrasses Dennis… Charlie's the sidekick who's trying to "learn the ropes of being a P.I…. Dee's the "femme fatale" with the mandatory "secret"… and clearly Frank's the evil dude who hires Dennis to find someone or something.
Or we're painfully wrong.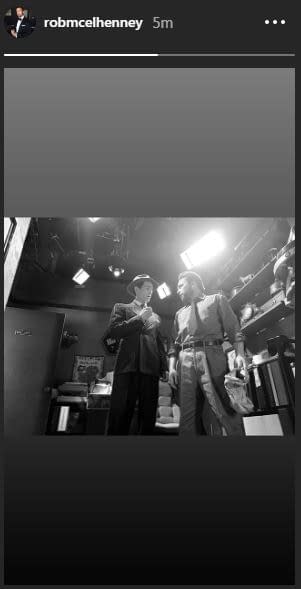 UPDATE: After a decent night's sleep – and about an hour before this article went live – we saw that Mary Elizabeth Ellis (The Waitress) jumped in on the Instagram fun with a post of her own that seemed to validate where our speculating brain was going…

Developed by McElhenney and Howerton, and written/executive produced by McElhenney, Howerton, and Day, It's Always Sunny in Philadelphia was FX's first comedy hit before moving over to FXX – a fact that FX CEO John Landgraf does not take lightly when he explained at the Television Critics Association (TCA) why the series has been so successful for so long – even after all this time: "It was the fist successful deconstruction and reconstruction of a sitcom," praising the leads as "five really hilarious degenerates who are most active schemers" as well as the main reason for the show's success – while also acknowledging the various "social issues" that the series addressed so effectively in the past.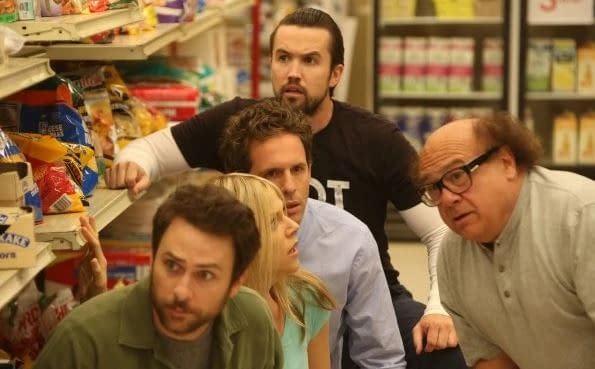 With the show back in production, that means scripts are being written – which makes this time ripe for spoilers. Of course, "The Spoiler Game" gets a whole lot easier when McElhenney posts on social media an image of Day tapping away on an upcoming scene. If you zoom in close enough, it becomes pretty clear it's not Dolph Lundgren's super-powered nose that Day's writing about…
Charlie's leaving?!? Dennis and Mac are in love?!?
Wow! I can't be-… hold on. Keep reading. "Frank" has the biggest revelation of them all:
I can't believe you zoomed in to see what was on this screen and actually think that we'd give away anything we're doing this season. Don't you have better things to do? Just kidding. Thanks for caring. Happy Fourth of July.
Gotta' admit – they have a point. Which is why your friends at Bleeding Cool are more than happy to do the zooming and squinting for you as we pick over ever single fiber of It's Always Sunny in Philadelphia news possible.
Though wouldn't it be funny if it turned out to be true, and they got us with a double-swerve. Wild card!

Even in the middle of a very cool charity initiative with Omaze and thumbing the eye of internet spoiler culture (as you just saw), Day took a moment to serenade the United States of America and celebrate The Fourth of July in as "Charlie" a way as possible:
"I'm gonna rise up, I'm gonna kick a little ass, Gonna kick some ass in the USA, Gonna climb a mountain, Gonna sew a flag, Gonna fly on an Eagle, I'm gonna kick some butt, I'm gonna drive a big truck, I'm gonna rule this world, Gonna kick some ass, Gonna rise up, Kick a little ass, ROCK, FLAG AND EAGLE!"
For those of you who are It's Always Sunny in Philadelphia fans, you know where that song's from – but for the uninitiated, the song first made its debut in the ninth episode of the second season, 2006's "Charlie Goes America All Over Everybody's Ass" (written by McElhenney and Day, directed by Dan Attias). In the episode, Charlie views Dennis's bar smoking ban as an affront to his rights as an American and… well… he reacts about as well as you'd expect:
Earlier this week, McElhenney posted an image of himself and Day in full-on "Charlie/Mac mode" as they wore knit meerkat hats at the Philadelphia Zoo – begging the question:
What's the backstory on the shady dude in the background?
Seriously. We're fixated. Is he writing something? Watching something on his phone? Threatening a leprechaun by jacking him up against a tree? We need answers, people…
Finally, we're just going to leave this little Jennifer Jason Leigh/Single White Female-inspired moment between McElhenney and Olson right here… with no further commentary needed: