"iZombie" Season 5 Episode 12 "Bye, Zombies": Tension-Fueled Ep Had Us Peyton-Hatin' [SPOILER REVIEW]
With The CW's iZombie coming to an end, this week's episode "Bye, Zombies" was full of action, drama, tears, and comedy. In fact, some characters cried a little too much – making my skin crawl just a smidge and wishing for her immediate death. I guess I was wrong, and Martin (Bill Wise) really is gone – more importantly, it seems that Liv (Rose McIver) will not be mourning his death. As expected, this episode set the scene for a full out war for the series finale. General (Andrew Kavadas) ships a truck of heavy duty weapons to Dolly Durkins (Jessica Irwin) instructing her to do what she has to with them; Frenchy (John Emmet Tracy) overthrows Major (Robert Buckley) as head of Fillmore-Graves; Liv and Ravi (Rahul Kohli) sneak out of Seattle to Atlanta to steal the formula for the cure; while Blaine (David Anders) breaks in to Renegades secret digs.
https://www.youtube.com/watch?v=D_SBHo-b4iI
While in zombie mode, Ravi gets bad news that the CDC will not be manufacturing the cure, but instead will use it as a chronic treatment. Clearly, they are not concerned with the lives of those in Seattle. Ravi asks Charlie to get his stash back, however she is unable to due to it being moved to a secret location under lock and key and heavily secured in Zone 19. Ravi feels defeated, but Liv convinces him that they can orchestrate a sting operation Oceans 11 style and get it back. My question is, why did Ravi not just choose to manufacture the cure in his own lab, which ultimately is what he will end up doing? Why bring others in to something that can be solved on the home turf?
"It ends with us saving Seattle and getting our lives back"
The team assembles, Ravi, Major, Peyton (Aly Michalka), Liv and Clive (Malcom Goodwin) to figure out the best way to break in to Zone 19 and steal the Utopium formula. Except instead of a heist made up of experts, Liv and Ravi settle on expert brains. They troop it down to Blain's club to purchase from his menu and settle on a ninja and an acrobat. There is a very theatrical scene between Clive, Liv and Ravi, when Clive essentially says his goodbyes as if the heist will fail and his friends will be killed in the process – way to be supportive, although he did bring them "thief" brains. In the end, Dale (Jessica Harmon) convinces him to join them, and so he does. The threesome make it safely to Atlanta and the plan is set in motion.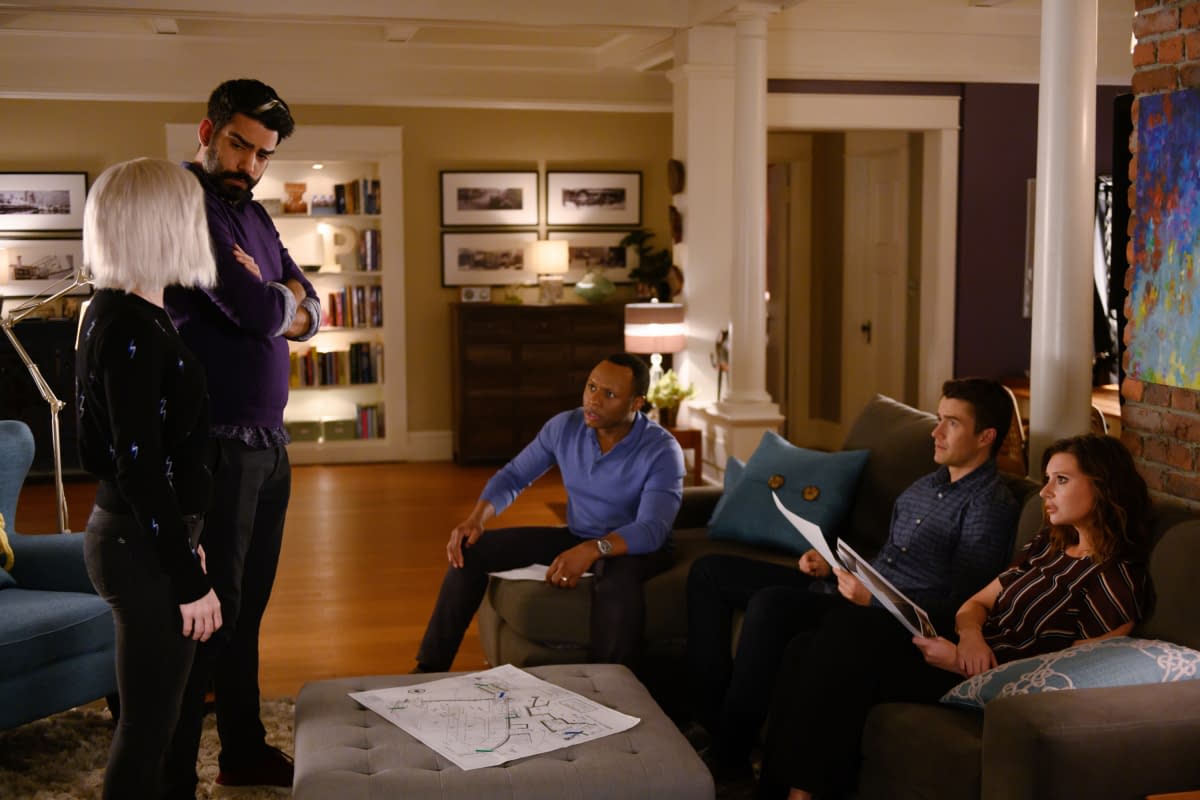 "We've both done a lot of crap to each other"
For at least the last two seasons I have wondered if Liv and Major's on again off again relationship would end with them reunited as a couple. Fortunately for me, it appears that digging in the middle of nowhere makes the heart beat faster and chemistry ignite as the two finally engage in the most awkward, disappointing kiss ever. As much as I have rooted for those two, the scene was not believable and just seemed staged and unnatural. Thankfully, it was short, and we quickly moved to commercial.
Blaine (David Anders) is on pure rage this episode especially after he finds out that Ravi is responsible for stealing his Freylich children. He sets out with Don E (Bryce Hodgson) to follow Ravi but when unable to locate him, he begins to stalk out Peyton and stumbles on Renegade's hideout. Seriously, does no one take precaution with this operation, when did secret hideout equate to easy access. Ultimately, he gets access by holding a gun to a coyote's head who he later shoots and storms in to find the children and Peyton hanging out. Here is where I lost respect for Peyton's character, she was never a strong presence on the show, however I never perceived her as weak. She immediately begins to cry and beg Blaine to not do this, to which he just laughs. I truly hope this was some ploy to delay a heroic plot she's cooking up to save the kids. We will see next week.
"Radical humans want zombies dead. Radical zombies want humans dead"
The 'Dead Enders' shoot up a ton of zombies and soldiers causing zombies to then riot in the streets in retaliation. Major grabs all his troops to diffuse the situation, but while en route their truck is blown up. There are very few survivors, and upon exiting the vehicle all hell breaks loose, shots fired, zombies and humans, and then more zombies arrive being led by Frenchy. Frenchy convinces Major's remaining team members to switch under his command and take Seattle as their own, and Major is left to get shot up and flopped into the river.
"We now have a nuclear option of our own"
Frenchy goes on to make a very public broadcast showing zombies scratch the hostage Dead Enders and zombify them. Dolly does not take well to this and instructs her team to bring together as many humans as possible and prepare for war.
"I just want to curl up on your lap and purr"
Clive as part of the heist must cozy up to a cat lady while Liv steals her key card and phone to reprogram retinal scans at Zone 19 granting Liv and Ravi access to the formula. Most hysterical was Clive attempting to be sexy and busting out some crazy moves on the dance floor. Ravi is successfully able to handle business while pretending to be a janitor and put the necessary steps in place for granting the team access to break into the vault. The trio successfully are able to steal back the formula, finally celebrating a victory. Except, it may be too late and they are not
aware of what is brewing in Seattle. Liv puts in a call to Major who is bleeding out in hide out, and tells him they will have the cure, all the need is Max Rager from Fillmore Graves. Major obviously not wanting to piss on their parade says he will get it.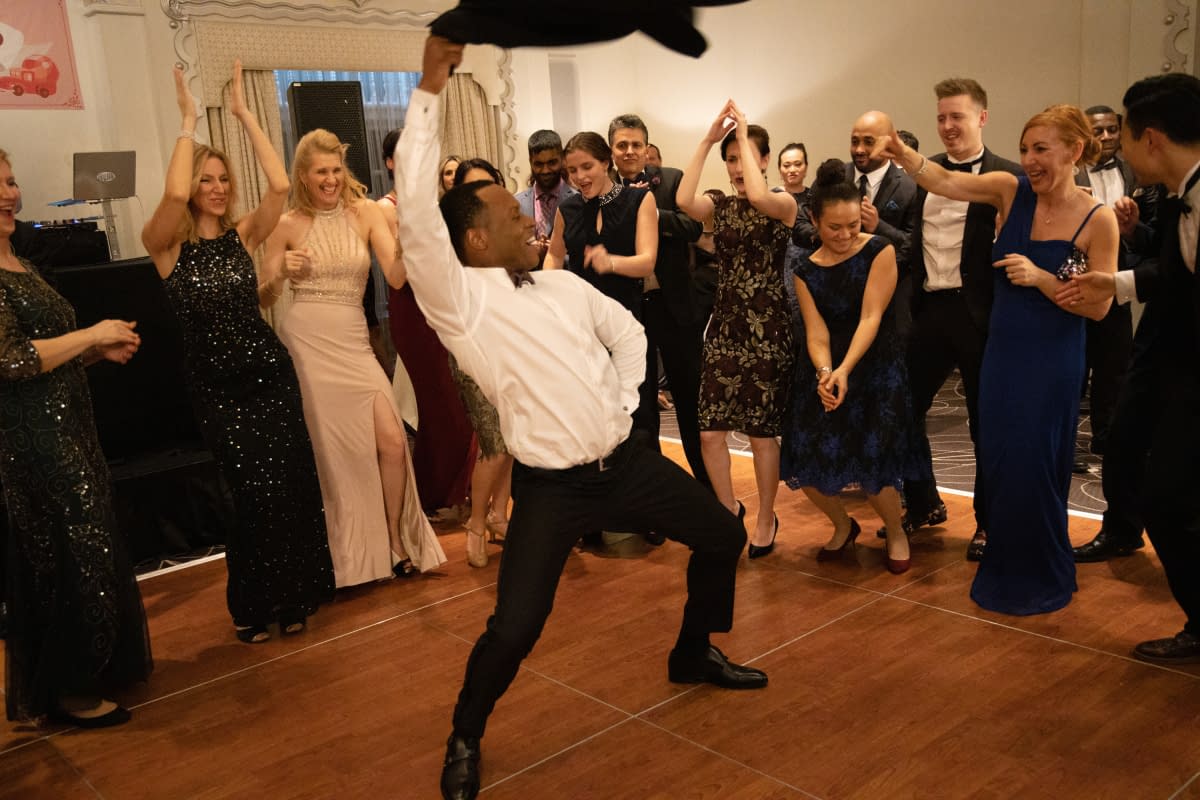 Coming Up on "iZombie"…
So what now? It's clear that the final episode will include a war, and that we might even lose some of our favorite characters. Major is holding on to his last breath, Renegade's hideout has been breached and the Freylich children most likely taken. Dolly is in pure rage mode and will not cease to wreck the brains of humans and zombies alike. Frenchy is ruthless as well, and enjoys collateral damage. Who will win? Who will lose? Whatever happened to the zombies in Las Vegas? Will they be the only zombies to survive this war?
https://www.youtube.com/watch?v=6I0P4NfhgQ4
iZombie season 5, episode 13 "All's Well That Ends Well": SERIES FINALE — The human versus zombie war finally comes to a head. Rose McIver, Rahul Kohli, Malcolm Goodwin, Robert Buckley, David Anders, Aly Michalka and Bryce Hodgson also star. Jason Bloom directed the episode written by Rob Thomas
CW's iZombie stars Rose McIver as Olivia "Liv" Moore, Malcolm Goodwin as Clive Babineaux, Rahul Kohli as Dr. Ravi Chakrabarti, Robert Buckley as Major Lilywhite, David Anders as Blaine DeBeers, Aly Michalka as Peyton Charles, and Bryce Hodgson as Don E. Filmed in Vancouver, British Columbia, Rob Thomas, Diane Ruggiero-Wright, Danielle Stokdyk, and Dan Etheridge serve as executive producers. Production is handled by Bonanza Productions Inc., in association with Spondoolie Productions and Warner Bros. Television.
iZombie airs Thursday nights at 8 p.m. ET/PT on the CW.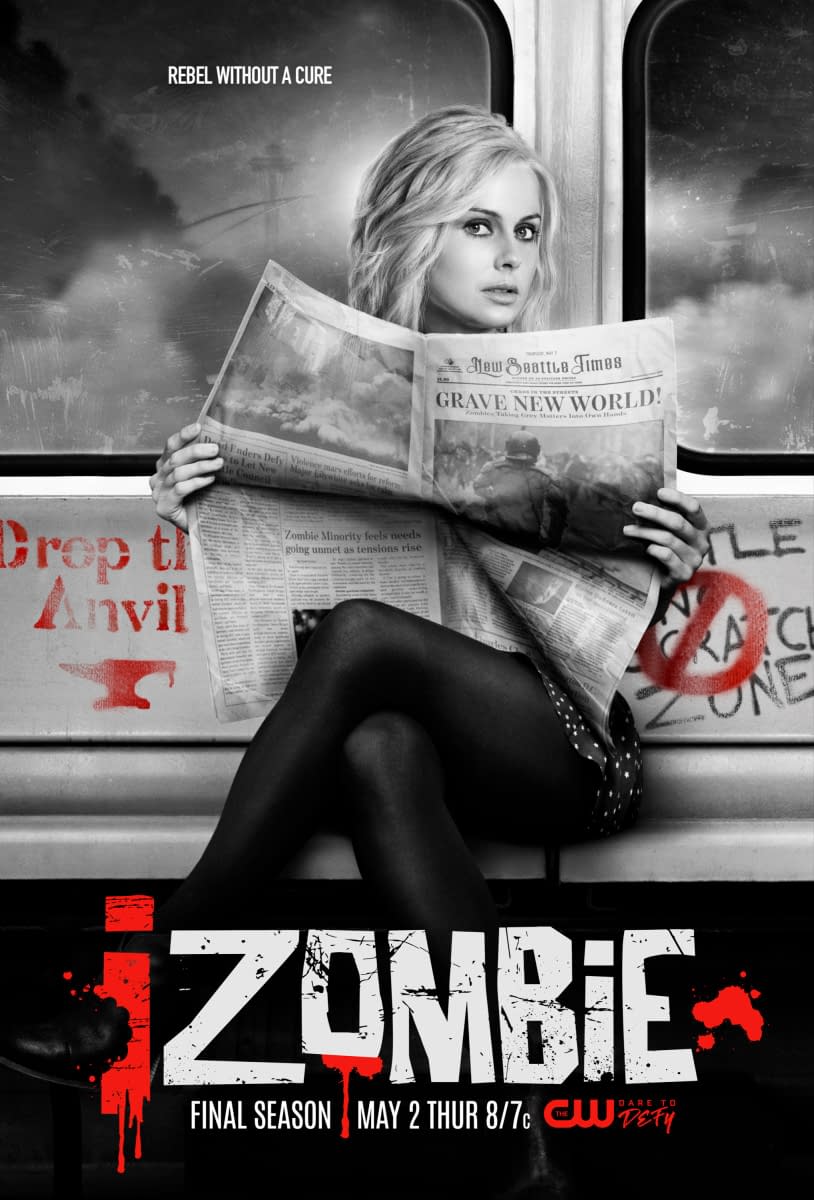 Aside from an avid iZombie fan, Margo Staten is a Ukrainian born, raised in Brooklyn, organically driven, coffee loving, twice-divorced mother of one baby Einstein. Has a passion for books, yoga in the park and all things 80's and New Orleans.