'iZombie' Season 5, Episode 3 "Five, Six, Seven, Ate!": A Ravi/Liv Tango? Hubba Hubba! [PREVIEW]
Last week's episode of CW's iZombie made my head spin like The Exorcist from its fast paced, emotionally neurotic plot twists and turns. This week "Five, Six, Seven, Ate!", all I can say is "Hubba Hubba!": it will require a bottle of wine and a nightcap. It appears Ravi (Fahul Kohil) and Liv (Rose Mclver) on professional dancer brains will give us much stimulating entertainment…. loving the red hair and the chemistry. The morgue duo practice around-the-clock to perfect their moves while also trying to figure out who of the competition killed Gulliver and Nancy, a winning dance team. Does Clive (Malcolm Goodwin) play the role of "dance coach?" Because that has entertainment written all over it…
https://youtu.be/Ygv0ulZegX8
iZombie season 5, episode 3 "Five, Six, Seven, Ate!": SO YOU THINK YOU CAN DANCE — While investigating the deaths of Gulliver and Nancy, the dynamic duo of Seattle's winning dance team, Liv (Rose McIver) and Ravi (Rahul Kohli) go undercover as dance partners to size up the other contestants aka the prime suspects. Meanwhile, Peyton (Aly Michalka) confronts Major (Robert Buckley) after she's told that one of his soldiers was out of line during a routine lice check at the school. Lastly, Clive (Malcolm Goodwin) and Bozzio (guest star Jessica Harmon) receive a shocking surprise during Lamaze class. David Anders and Bryce Hodgson also star. Viet Nguyen directed the episode written by Diane Ruggiero-Wright
Are more of Major's squad getting out of line, if Peyton (Aly Michalka) needs to step in to reprimand? In this week's episode, I'd like to see Major (Robert Buckley) finally take control of Fillmore-Graves: enforce and protect. I'd also like the Seattle PD and Fillmore-Graves try to get to the bottom of locating the "Dead Ender" – but in typical iZombie fashion, I don't think that resolution will come until the end of the season and Dolly Durkins (Jennifer Irwin) will continue to cause havoc and instigate war.
With the birth of Clive and Bozzio's (Jessica Harmon) baby fast approaching, Clive attends Lamaze class? Tis the time to educate oneself about the different stages of pregnancy, from the first contraction to the final push. Will the expecting parents be surprised by a birth video – or does Bozzio go into labor?
"Five, Six, Seven, Ate" appears to have all the components of why I love the CW's iZombie: crime, brains, laughter, and cast chemistry.
https://youtu.be/ftlxGHNGEhM
CW's iZombie stars Rose McIver as Olivia "Liv" Moore, Malcolm Goodwin as Clive Babineaux, Rahul Kohli as Dr. Ravi Chakrabarti, Robert Buckley as Major Lilywhite, David Anders as Blaine DeBeers, Aly Michalka as Peyton Charles, and Bryce Hodgson as Don E. Filmed in Vancouver, British Columbia, Rob Thomas, Diane Ruggiero-Wright, Danielle Stokdyk, and Dan Etheridge serve as executive producers. Production is handled by Bonanza Productions Inc., in association with Spondoolie Productions and Warner Bros. Television.
iZombie airs Thursday nights at 8 p.m. ET/PT on the CW.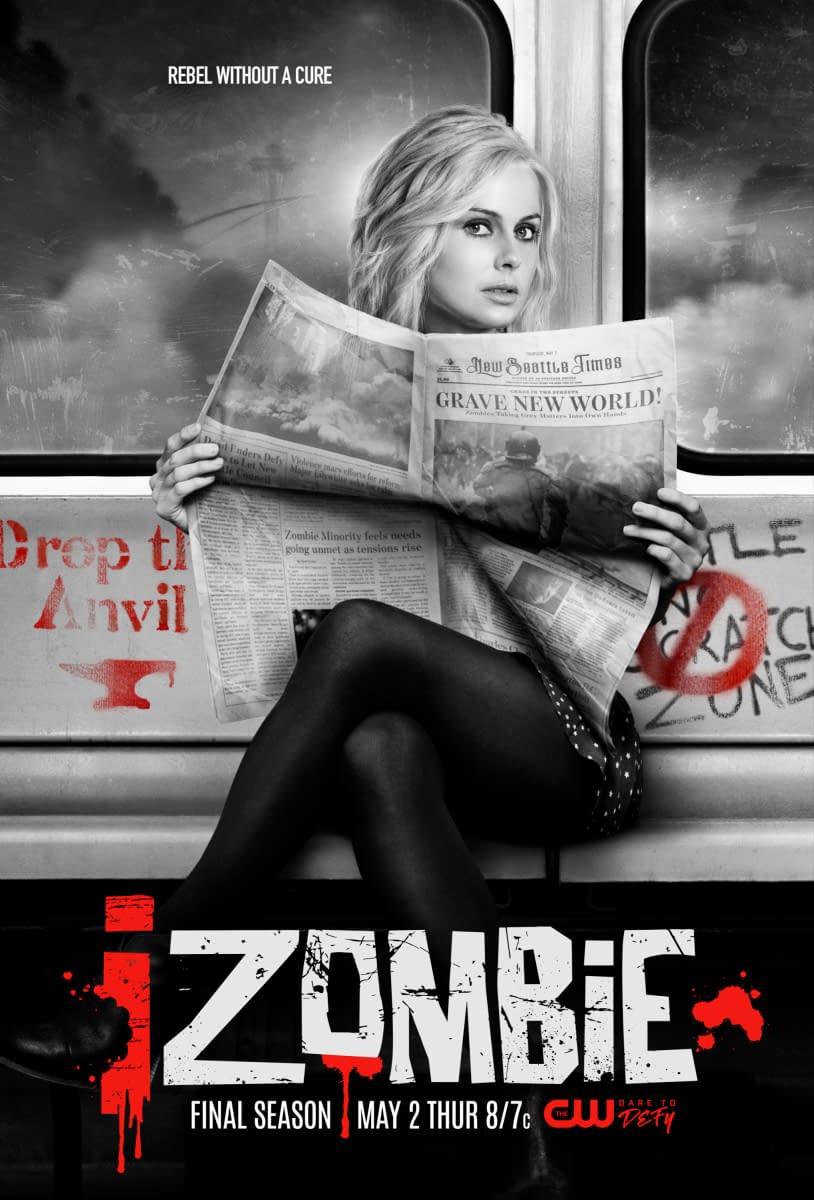 Margo Staten is a Ukrainian born, raised in Brooklyn, organically driven, coffee loving, twice-divorced mother of one baby Einstein. Has a passion for books, yoga in the park and all things 80's and New Orleans.