"iZombie" Season 5, Episode 8 "Death of a Car Salesman" Closes the Deal [SPOILER REVIEW]
This week's episode of CW's iZombie "Death of a Car Salesman" had a number of shocking flashbacks – something not very typical of the show and I'm not sure how I feel about it. Martin Roberts (Bill Wise) aka Beanpole Bob and Mr. Boss (Eddie Jemmison) go way back and apparently Martin was responsible for creating the zombie virus; Don E (Bryce Hodgson) and Blaine (David Anders) were part of the crew distributing it back then; the U.S. government pretty much has decided to nuke Seattle; Hi Zombie premieres; Blaine hires a bunch of goons to kidnap the Freylich children; and a salesman dies.
https://youtu.be/Mal6-YB3ssE
"Sales is a bloodsport"
Liv (Rose McIver) and Ravi (Rahul Kohli) consume the brain of a zealous car salesman. Rich Randall is murdered when his car goes haywire making it a homicide, not a suicide as originally assumed. The morgue duo spend their time competing for essentially just about everything, including the PD's raffle: the person who sells the most amount of tickets wins a brand new mountain bike. As is the norm, I do love when Ravi and Liv partner up – but my hat goes off to Ravi and his hilarious cutthroat streak. In all honesty, he just looks better in a blue suit.
"You're still on Utopium"
Reunited and it feels so toxic: Liv and her father Martin attempt to build a relationship. They meet for coffee in the park, grab hot dogs and stroll as he lies to her face about his drug addiction. The poetry continues as she calls him out on his BS but later brings over some rehab pamphlets. I'm interested to see her reaction when she finds out that dad is in charge of an elaborate plan for zombie take cover. Will she kill him, freeze him, or will Major (Robert Buckley) do it for her?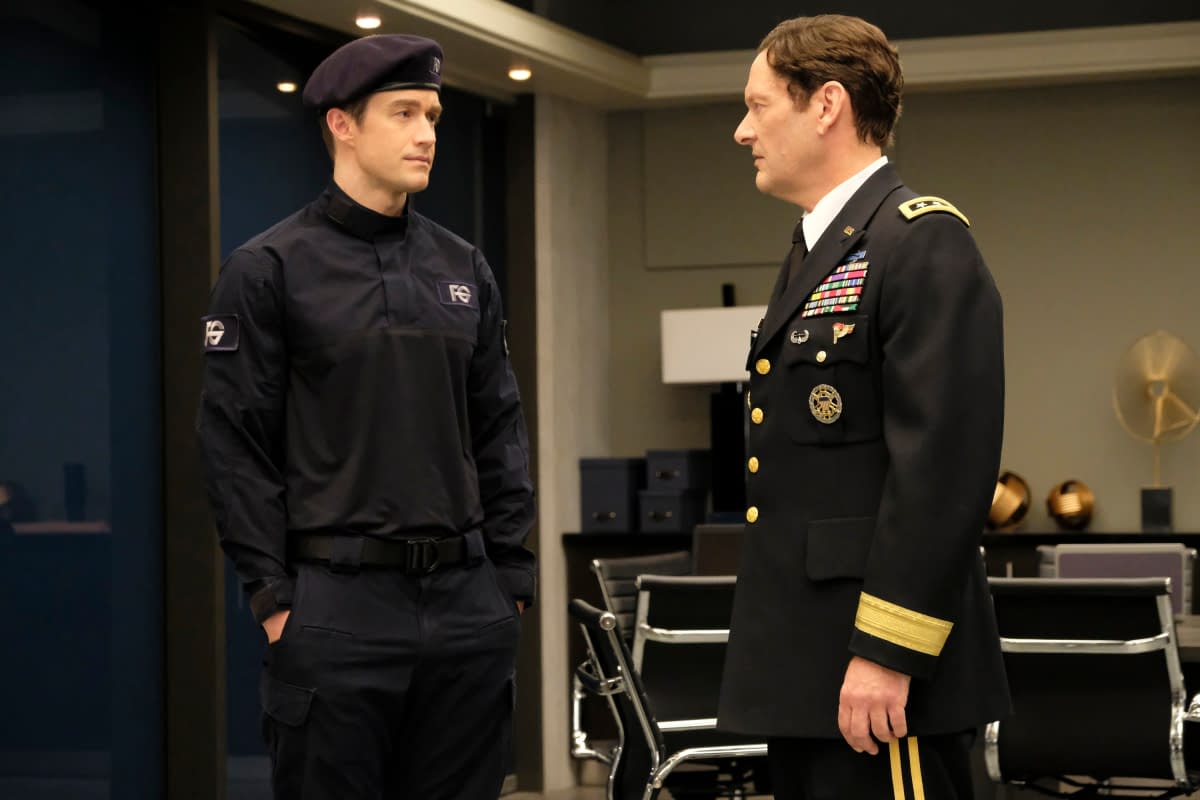 The U.S. Government comes to meet with Major and Peyton (Aly Michalka) where Major proposes taking the ten thousand zombies and putting them on their own island – is this for real a solution? I don't really see all of the zombies agreeing to be imprisoned on an island, nor how the government would be comfortable in allowing that to happen. It's clear that Washington is not on board with his idea especially after Major fails to produce the general's daughter – who was kidnapped last episode, whereabouts still unknown.
Blaine has made himself at home in Don E's mother's basement, even using some of the deposit he received from the Freylich brain sale to remodel the basement and purchase a brand new washer and dryer for his landlord. Blaine also meets with a bunch of goons for a kidnapping scheme. He asks an associate to rally up a team to kidnap and smuggle the Freylich kids into New Seattle ensuring that his ticket to riches is not tampered with.
Hi Zombie premieres to positive reviews and Ravi, Peyton, Major and Liv enjoy a nice evening at home on the couch, as if chaos is not surrounding them. Even Blaine seems entertained by it as his first missing zombie cure is smuggled in and safely held at the Scratching Post. Here it was kind of sad to see Don E fall for her and think of her as his soulmate. Poor Don E, he always gets the rotten end of the stick. Although a beautiful romantic scene when he orchestrates a bar fight for her, something she confesses has always been on her bucket list.
"You work for us now"
Probably the most shocking moment of the episode was first confusion over a VA doctor being turned zombie by one of FG rogue soldiers and then to close with same doctor infecting a number of U.S. Government's finest as they are on their was back to Washington. Clearly Martin's plan to expand the zombie population and ensure their survival is on track. I just can't truly believe he is someone in charge, he seems extremely unstable, so who is using him as a puppet… Mr. Boss?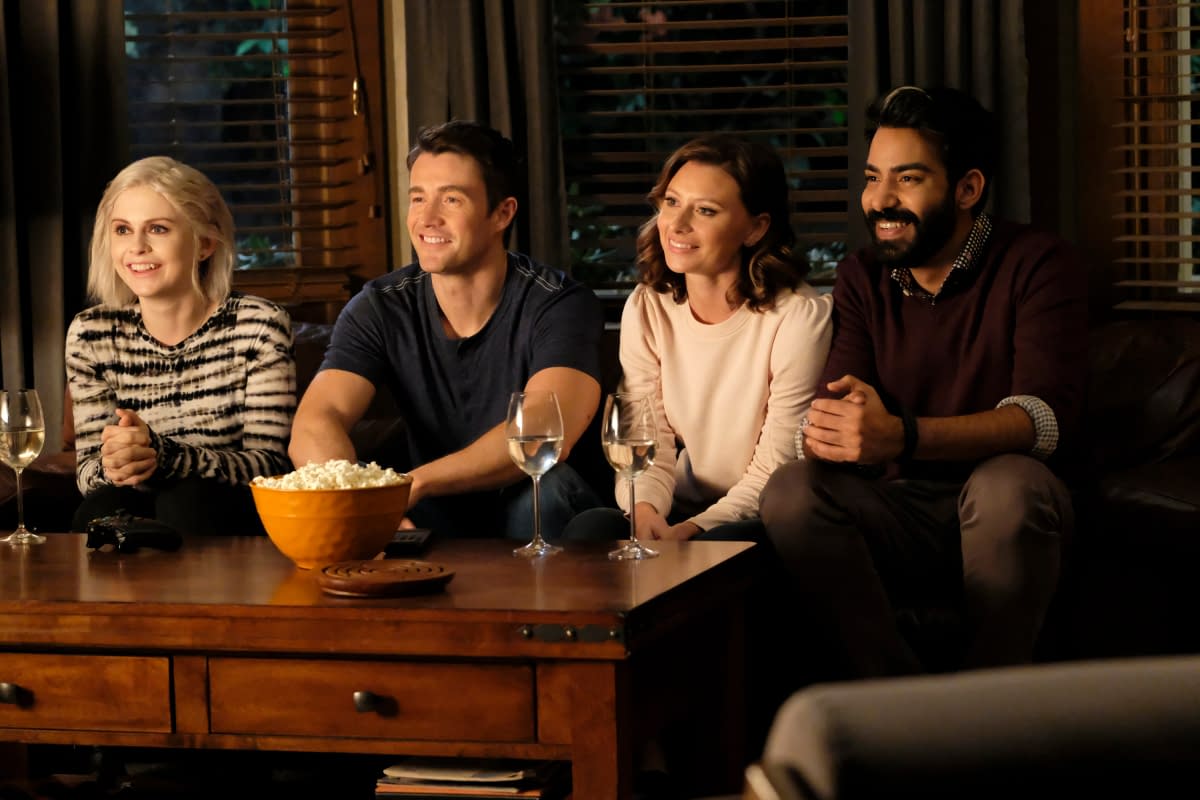 "The closer is heading out to make his collar"
Clive (Malcolm Goodwin) sort of solves the murder of the car salesman, pinning the crime on an ex-employees' daughter who happens to be a tech geek. Upon arresting her, the father admits that it was him and that he studied her text books for a year to be able to hack the car and program it to crash, or did she really do it, not sure, but enjoyed the father daughter parallel to Liv and Martin. I doubt Martin would protect his flesh and blood, or maybe there is a beating heart in their somewhere and he will die to save her.
The episode ends with Liv and Ravi tying for the mountain bike. We also see Martin's sensitive side looking quite touched watching the Renegade documentary as Frenchy informs him that Liv is someone to not underestimate making it also known that the "selected delegates within the U.S. government have been turned zombie"

With only five episodes left, how will all the loose ends play out. Will Liv go head to head with her father? What will happen to the zombies in Washington? Will Liv and Major get back together? For sure, Blaine will survive whatever comes his way, and I predict will walk away having consumed one of the Freylick brains.
https://www.youtube.com/watch?v=Swa793lqoVs
iZombie season 5, episode 9 "The Fresh Princess": LIV EATS THE BRAIN OF A BEAUTY PAGEANT CONTESTANT — Liv (Rose McIver) and Clive (Malcolm Goodwin) investigate the murder of Miss Teen Seattle beauty pageant contestant, Laurie-Beth Spano, who went into anaphylactic shock onstage in 1999 and ended up in a coma. At the time, police arrested rival contender Velma Charlet for spiking Laurie-Beth's makeup and she was given a four-year sentence. In present day, Laurie-Beth has passed away and Clive has arrested Velma, for her murder. Velma claims to be innocent and Liv consumes Laurie-Beth's brain in hopes of tracking down the murderer. Rahul Kohli, Robert Buckley, David Anders, Aly Michalka and Bryce Hodgson also star. Tessa Blake directed the episode written by John Bellina
CW's iZombie stars Rose McIver as Olivia "Liv" Moore, Malcolm Goodwin as Clive Babineaux, Rahul Kohli as Dr. Ravi Chakrabarti, Robert Buckley as Major Lilywhite, David Anders as Blaine DeBeers, Aly Michalka as Peyton Charles, and Bryce Hodgson as Don E. Filmed in Vancouver, British Columbia, Rob Thomas, Diane Ruggiero-Wright, Danielle Stokdyk, and Dan Etheridge serve as executive producers. Production is handled by Bonanza Productions Inc., in association with Spondoolie Productions and Warner Bros. Television.
iZombie airs Thursday nights at 8 p.m. ET/PT on the CW.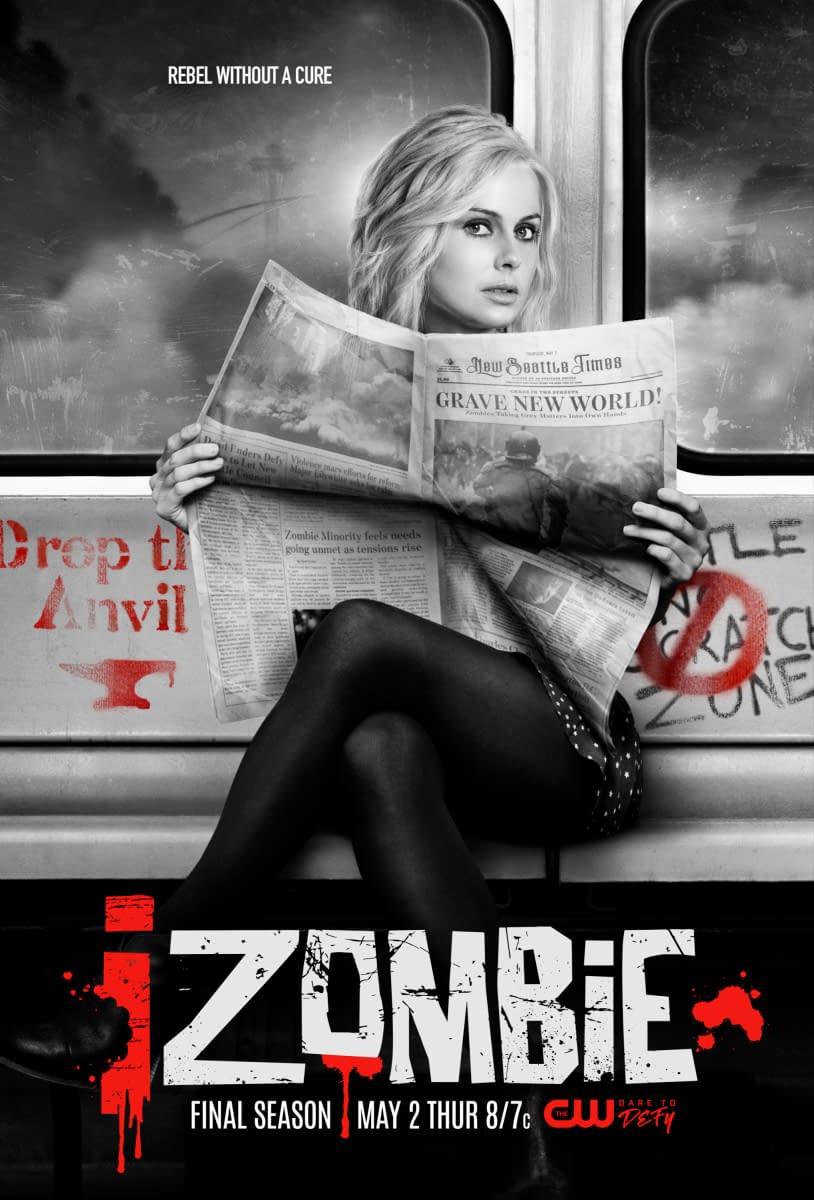 Margo Staten is a Ukrainian born, raised in Brooklyn, organically driven, coffee loving, twice-divorced mother of one baby Einstein. Has a passion for books, yoga in the park and all things 80's and New Orleans.