James Gunn on Speaking with Zack Snyder, "Wackiest Hashtag Ever"
James Gunn confirmed he spoke with Zack Snyder, while also pushing back on the "wackiest hashtag ever" that's meant to "save" the Snyderverse.
---
If you're reading this, then we're pretty sure you know by now that DC Studios co-heads James Gunn & Peter Safran announced the first wave of films and series ("Chapter 1 – Gods and Monsters") comprising their "big picture" blueprint for the new DCU. And based on social media reactions and the sales figures for the comic book series that the projects will be based on, it looks like we have a lot of happy DCU fans on our hands. Except for a certain contingent of Zack Snyder fans who will not accept anything short of Snyder either being handed the keys to the DCU or Warner Bros. Discovery to invest millions more in keeping the "Snyderverse" active. They were already not thrilled with the disrespect that they felt Snyder was shown before WBD's regime change, and their attitudes didn't get much better once David Zaslav took over and named Gunn & Safran to lead the DCU into the future.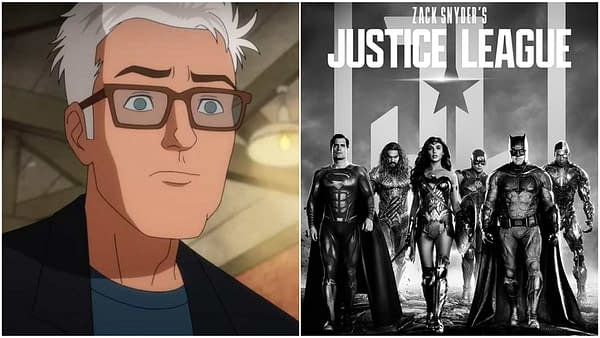 And we haven't even started down the trail of those who believe the Henry Cavill situation was all part of some "bigger plan" to essentially erase any memory of Snyder from the DCU. Thankfully, Gunn continued being the person we need him to be by taking to Twitter to set the matter straight. Responding to someone who tagged him using the hashtag #sellthesnyderversetonetflix (it's exactly what you think it would be), Gunn made the case for why it might just be the "wackiest hashtag ever."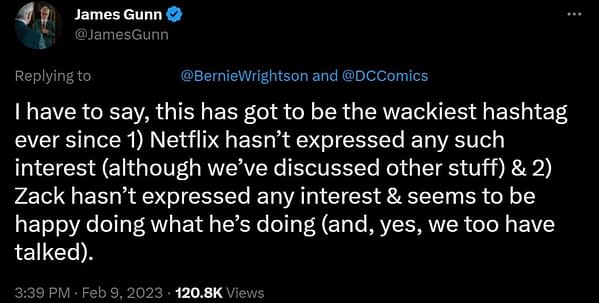 "I have to say, this has got to be the wackiest hashtag ever since 1) Netflix hasn't expressed any such interest (although we've discussed other stuff) & 2) Zack hasn't expressed any interest & seems to be happy doing what he's doing (and, yes, we too have talked)," Gunn wrote in the first of two tweets, once again countering conspiracies with cold, hard facts. In fact, the two have been in contact with one another – and guess what?!? They got along. "He contacted me to express his support about my choices. He's a great guy. Again, he seems really happy with the massive world-building he's doing now," Gunn added with a second tweet. Once again, using the truth as a stake to the heart of utter nonsense.
---
---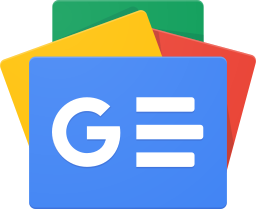 Stay up-to-date and support the site by following Bleeding Cool on Google News today!