DC Studios' James Gunn Made A Promise That We Need Him To Keep
Of all the things that came out of Tuesday's DC Studios news, there was a promise that James Gunn made that we're going to hold him to.
---
We're closing in on a week since DC Studios co-heads James Gunn & Peter Safran announced the first wave of films and series ("Chapter 1 – Gods and Monsters") comprising their "big picture" blueprint for the new DCU, and it's nice to see that things are still in their "honeymoon stage" with regards to how it's being received. From a "selfish" television perspective, it was a diverse mix of surprises that included the animated Creature Commandos, the Amanda Waller (Viola Davis)-focused Waller (stemming from Gunn's John Cena-starring Peacemaker), the Green Lantern-focused series Lanterns, the Wonder Woman prequel series Paradise Lost, and a dive into the DCU's comedy side with Booster Gold. And let's not forget what Matt Reeves has going on in his "Elseworlds" The Batman universe with the Colin Farrell-starring Penguin as well as an Arkham Asylum-based series. But this isn't about any of those, or the big news he made on the film side, or how Gunn & Safran could be the answer that DC Comics needed. It's about the promise that Gunn made to stay active on social media. Because we really, really need him to keep it.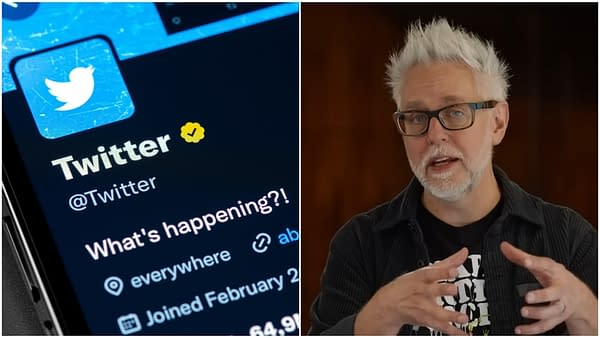 Why? From a dollars-and-cents standpoint, just look at what his post-DCU announcements tweets have done to boost comic book sales for the titles being adapted or being used as source material for a project. But it's about a lot more than that. We need Gunn continuing to do what he does on social media for two very important reasons.
First, it gives DC Studios something right out of the gate that Marvel Studios still doesn't quite have (with all due respect to Kevin Feige), and that's an influential figurehead who remains actively engaged with the fans. With Gunn & Safran charged with course-correcting years of mismanagement when it comes to DC properties, having a trusted, established lifeline for the fans is essential when it comes to re-establishing trust. I mean, look no further than Gunn's & Safran's initial rollout and the surprising bluntness & honesty with which they addressed issues and answered questions. You may not have necessarily liked every answer, but you can't say that the duo wasn't willing to tackle any and every topic put to them that they could. If you followed Gunn on Twitter prior to that, then you know that his level of openness is nothing new. For me, it was his tweets while filming HBO Max's Peacemaker detailing how much he had been won over by the streaming series process that left me feeling (cautiously) confident about what he and Safran would have planned on the television side.
And then there's "James Gunn, The Social Media Fighter. Demonstrating a near-"plus-ultra"-level ability to (paraphrasing Jeffrey Dean Morgan's Negan) shut shit down when it comes to misinformation in the past, Gunn's taking on trolls is being seen by some as "beneath" someone who now holds the position that Gunn does. And those folks would be very, very wrong. Because with so much garbage flowing out there, it's refreshing when someone with a title like "Head of DC Studios" still finds it important to "fight the good fight" every now and then. And when someone at Gunn's level speaks, we've seen that there are a whole lot of people who want to listen (and agree). Gunn doesn't come across as someone who takes that level of responsibility lightly (yes, I will avoid a "With great power…" cliche), understanding that kind of influence can be used for some serious good.
DC Studios' James Gunn: A Social Media Timeline
Here's a look back at a selection of Gunn's social media highlights since taking over as co-head of DC Studios, from November 2022 until the top of February 2023:
James Gunn Honors First Day as DC Studios Co-Chair in "Super" Fashion
James Gunn Message to DCU Fans: We Hear You; Lays Out Initial Focus
Green Lantern, James Gunn & When A "Scoop" Really Isn't A Scoop
James Gunn Remains Committed to DCU Series, Animation; Early Details
James Gunn Confirms: DC Studios Sees No Crisis with Infinite Gorillas
James Gunn Responds to DCU/Snyderverse Rumors, Urges Patience
James Gunn: Superman "Huge Priority"; Green Lantern "Important" & More
Young Justice, DC Animation An "Inspiration" to DCU Plans: James Gunn
James Gunn Calls Out "Fake" Green Lantern Report; GL Series Timeline
Another Day, Another DC Studios Rumor Killed by James Gunn
James Gunn Debunks DC Studios/Wonder Woman Rumor: "It's Not True"
James Gunn "Wrote 1/3 of An Unannounced DC TV Show" Today & More
Superman Casting Not Part of Initial DC Studios Rollout: James Gunn
James Gunn Has Perfect Response to Jason Momoa/DCU Meeting Video
James Gunn on DC Studios Casting Philosophy: Right Person, Right Role
James Gunn: Titans, Doom Patrol Ending Decision Preceded Him, Safran
James Gunn Promises DCU Answers, Avoids Congressional Hearings