Jason Momoa, in Ireland with the Game of Thrones Cast Again
Remember how we theorized the possibility of a certain undefeated Khal returning to Game of Thrones for the final season because of a Guinness-centric Instagram post from Jason Momoa? Well maybe, just maybe, there was some truth there.
Theoretically, Momoa was truly just in the same country/airport as GoT creative team David Benioff and D.B. Weiss, but a new set of photos posted to the actor's always-entertaining Instagram may mean we were close to the truth. Or, that the production is done with its preliminary filming for the final season, and Jason came to hang out with his friends.
Momoa's text for the eight photos posted reads:
"I'm so grateful to be apart of the greatest show on earth. I'm honored to be able to come to Ireland and celebrate with my friends. I'm just here for kisses and hugs and The black stuff 😜😜😜😜. mahalo David and Dan you are legends . Congrats to the talented crew and cast. Aloha j"
The images show things like Jason holding Kit Harington in front of an Iron Throne (so no hard feelings about the Dany situation, huh), posing with Peter Dinklage, more Guinness mustaches, Benioff and Weiss, and several other familiar Game of Thrones family members.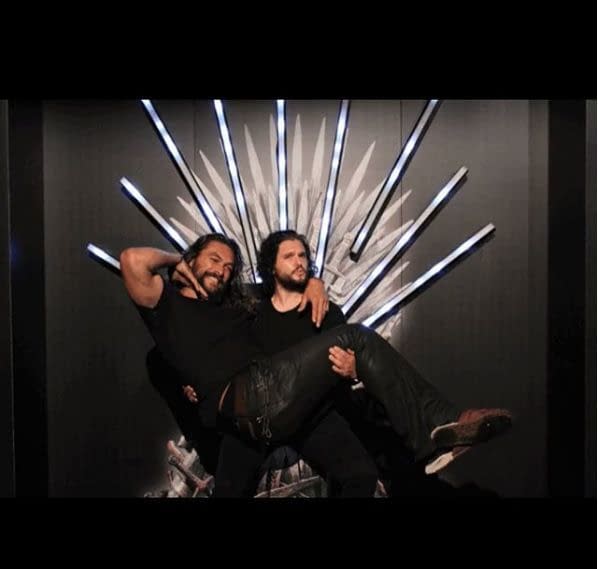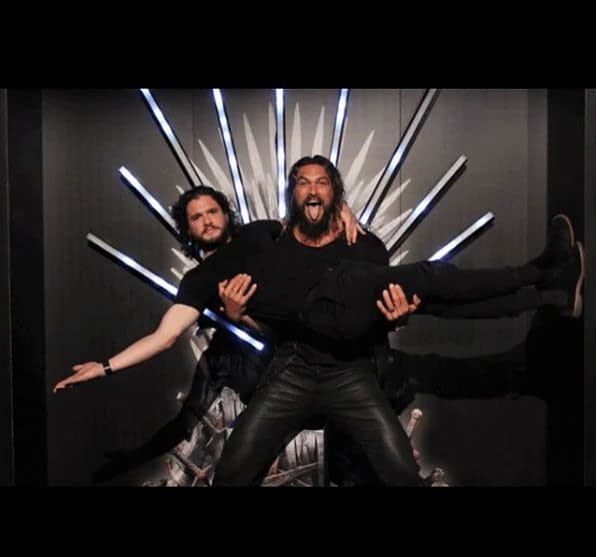 Again, this could just be a cast gathering that happened while Jason was in Ireland, but the theory that Khal Drogo will make some kind of appearance in the final season seems to be prevalent. In any case, we're super looking forward to seeing how the show ends.