Legends of Tomorrow Showrunner on Season 6, Marvin the Martian Aliens
One of the many things you have to love about The CW's DC's Legends of Tomorrow is that the show knows how to deliver a proper season finale. We have some MAJOR SPOILERS ahead for "Swan Thong" so tread lightly. Our heroes took out the Loom of Fate and Lachesis' (Sarah Strange) back-up plan, but not before taking down a whole mess load of bloodthirsty Encores to the tune of guest star Sisqo's "Thong Song." But by the time the dust settled, the Waverider welcomed Zari 2.0 (Tala Ashe) to the team and said goodbye to some familiar faces (we'll save the reasons out of spoiler respect): Zari 1.0 (Ashe) and Charlie (Maisie Richardson-Sellers). Then there's that matter of the aliens who abducted Sara (Caity Lotz) under the Legends' noses, setting things up for series co-showrunner Phil Klemmer to sit down with EW to offer some thoughts and teases for the sixth season.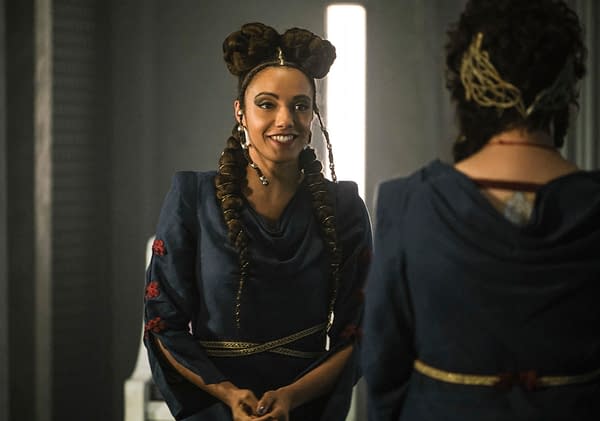 First things first, so is this the last we're seeing of Richardson-Sellers on the Waverider? Except for a possible guest appearance, it would appear so: "Maisie's got a career she's pursuing now. We would love to have her back at any occasion, but at the same time we're just thrilled to see what she has planned for herself as a filmmaker. We've been talking to her for years now about what her sort of five-year plan was, and she has more direction and ambition as a twentysomething than certainly I do as a fortysomething. She's like a force to be reckoned with, and we just wanted to not stand in the way of all the things she wants to do. Man, we'd love to have her back for a little check-in, but also we're super-excited just to see where she goes with her career."
Klemmer and the writers were aware of Richardson-Sellers' plans well in advance of the season finale, which made giving her character closure that much easier: "We knew this would be Maisie's [final season] well over a year ago, which is great because it allows you to have everything be working toward that point of separation. Man, when she takes the mic at the punk club, it's really wonderful! It's nice when you can handle it as gracefully as we could, because it's super-bittersweet."
With Sara still missing when the sixth season of DC's Legends of Tomorrow begins, there's one person Ava (Jes Macallan) will be able to rely on: Nate (Nick Zano), who Klemmer says knows what it's like to lose people: "Not that he's gonna give up on love, but with Sara being kidnapped by aliens at the end of the finale, you can imagine that Ava's gonna be in a rough spot starting next season and it seems like Nate is uniquely qualified to be there [for her] having experienced so much loss himself, and giving Ava the strength to believe that her separation from Sara won't be forever. I really like the idea that Nate can be kind of that platonic, I don't know, like a stand-in? Again, I always think about the Legends as a family, and Sara and Ava are clearly the parents. With one parent gone, I like the idea that Nate is a bit of a goofball and a bit of bro sometimes, but that he's really gained some real wisdom and he would be able to support what's missing."
So what's the deal with the aliens heading into next season? While it's still too early for Klemmer to offer specific details, he sees the season's "big bads" as a way of streamlining the season's storyline mythology. Considering just how deeply complex this season's narratives became, the change is a welcome one: "I think we like them because on the surface they were so stupid. You get to this fatigue at the end of a season where your mythology becomes very complicated and your bad guys' plans, you know, take a lot of explanation and they become a little heady when you start talking about free will and Fates, and you're just looking for a palette cleanser, " Klemmer explained. "To think about little green men with laser guns who just want to rule the world, you know, Marvin the Martian kinda shape, you're like, "Yes, that's what we need!" Not having to understand who our villains are on any kind of emotional scale means we can focus on the emotional stories of our characters, but then it's just a story of how do we kick these guys' asses."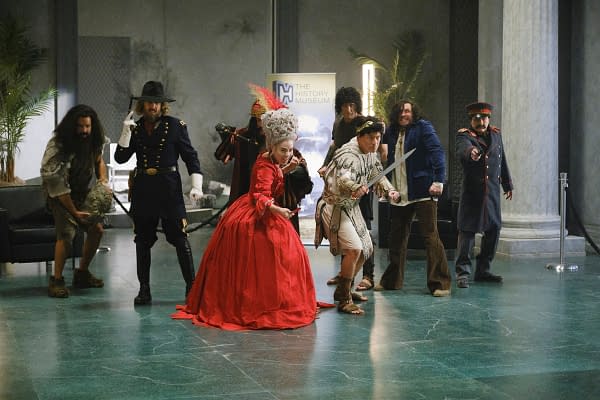 That said, Klemmer reassures viewers that the writers will be giving the Looney Tunes homage layers to their story: "I'm sure, guaranteed, that we'll find a way to humanize and find the emotional complexity of Marvin the Martian [laughs], and by the time we get to the finale, we'll have to spend like half our time realizing they weren't so bad, they were just misunderstood. At this moment, we want to keep it real simple so that we can find the complexity with our characters. We'll totally screw it up, I'm sure."