Let's Talk About So You Think You Can Dance Season 15 Episode 6
FOX series So You Think You Can Dance is back for it's 15th season. The competition show starts with a series of auditions across the country where dancers are chosen to be sent forward to a semi finals at The Academy before making the actual top 20 performers.
Continually one of the most enjoyable reality shows (FIGHT ME), contestants often will go on to be featured prominently in national tours (like Lady Gaga) and films like The Greatest Showman.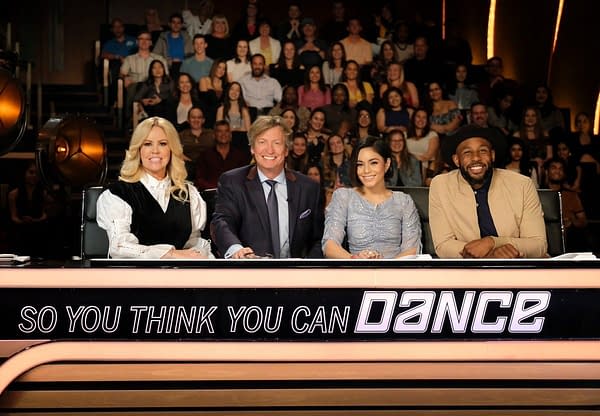 Judges for this part of season 15 are former So You Think You Can Dance contestant Twitch, actress/singer Vanessa Hudgens, ballroom champion and Hot Tamale Train conductor Mary Murphy, and series creator Nigel Lithgow. Longtime series host Cat Deeley is back as well.
If you want to know what happened and who we saw last week, you can catch up here.
This week sees a continuation of The Academy trials, and we'll be updating as the episode airs:
the episode opens with a quick catch up of what happened last week- solos, hiphop, and ballroom rounds
Tonight it's going to be Emmy nominated Travis Wall doing contemporary, and Mandy Moore (no, not that one) doing a large jazz group number
41 contestants remain going into the contemporary round, and Cat introduces him to the hopefuls
Hi Travis! Nice two-tone hair there Sir
"You have to truly let down your boundaries," Travis says of the style.
They only have 90 minutes of learning the piece before they perform it for the judges.
The first group performs it, and it's a mix of good and not so good.
Travis says Cole was beautiful- his lines and jumps, and that he's very excited to work with him
Some fabulous jumps in the montage of the other performances, kinda mad we don't get all of them anymore.
OH NO they let our lovely redhead tapper go
33 dancers remain going into the Mandy Moore group number
It's a good test really, since this is what they do weekly on the show, right?
Just as a reminder- Moore choreographed for The Greatest Showman recently
Members of each style will have their own section of the routine, ballet, jazz etc who are choreographing part of their style solo
The ballroom folks are having issues keeping together
Cat stops by to chat with each group, and the ballroom group is notably tense
The tappers present first jazz, ballroom, contemporary, and the hiphop group with some smooth footwork
A pretty great group number, all the energy levels were high
All but one of the ballroom group makes it through to the next round
Both tappers made it through
Poor young Tessa just didn't connect with the judges during her piece, and she doesn't react to the news well.
Jay (Ms LeGanja LeStranga) did make it further than we thought he would, but he gets sent home following the group routine
We've reached the final solos before the final 20 are chosen
Some really great solos this time, obviously all the dancers got the memo that it's now or never
Alan's solo was….not so great. He totally lost himself, but not in a good way.
JayJay is the first to make it to the top 20!
Genessy is the first girl to make it to the top 20
Jensen, Stephanie, Dayna, Madga, Sydney, Brianna, Chelsea, Emily, and Hannahlei finish out the top 10 girls.
Cole, Justin, Slavik, Peyton, Dustin, Evan, Kyle, Darius, and Alan (wow, even WITH that stupid solo) finish out the top 10 guys
Nigel tells the top 20 that only 10 of them will be going through to the live shows.
***
Uh so apparently we ARE getting the All Stars this year, as next week we get another Academy week with additional trials.
So You Think You Can Dance airs on Mondays on FOX.