Let's Talk About 'The X-Files' Season 11 Episode 9, "Nothing Lasts Forever"
This week's The X-Files is the 9th episode of season 11 on FOX, and is titled "Nothing Lasts Forever". While investigating human organ theft, Mulder (David Duchovny) and Scully (Gillian Anderson) uncover a mysterious cult consumed with macabre rituals.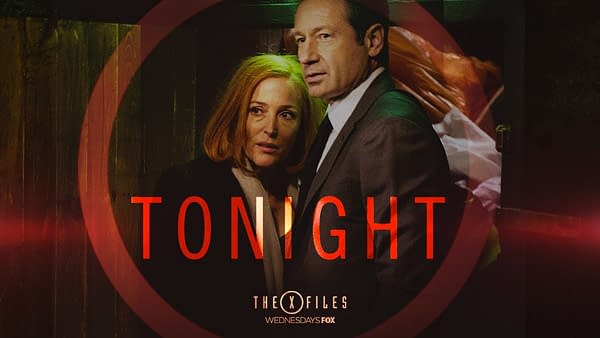 Organ theft? Sign me up! But also be aware- there is a lot of blood in this episode. Like, a lot of it.
E9 was directed by James Wong, longtime X-Files family member, and Chris Carter wrote the episode along with Karen Nelson.
Things that happened in The X-Files s11e9:
We start off in an OR, not an uncommon sight for this show.
Obviously someone is getting some major surgery
A young person is perching on the top of what looks like the hospital where the surgery is happening, and there is a radio voice in the distance talking about chemtrails.
The young person is revealed to be a lady, and she offers a prayer before turning and running away
Back in the OR, one of the surgeons lifts out the patient's pancreas, and licks it.
"Shame to waste a good one."
The girl sneaks into the OR, and unsheathes a sword. She quickly dispatches two of the men in the room
She hammers a bar of what looks like rebar into one of the men's chest, and offers scripture.
The ice chest full of organs makes it's way to another local hospital, with the words "I will repay" written on it.
The post-credits words read "I want to be beautiful"
Scully is in church, a place we haven't seen her in a long time. She's in line to take communion, and we see her take the wafer and the wine
Called into the case, Mulder points out the stakes in the hearts (although metal) should have been made out of wood- cyprus, cedar, and pine.
Mulder puts on a pair of glasses, and Scully of course teases him.
"They're progressives."
"Just wait til you get gout."
Back at the strange murderous girl's place- a large group of 'people' are in their beds. At first, it looks like an orgy (which is happening in another room) but it's revealed to be something more sinister.
A couple side by side in bed sit up, and as they start to separate from their back to back position, we see blood and something like a bad skin graft keeping them together.
Another in the same room, Barbara Beaumont (Fiona Vroom) takes a sip from her tableside cup- her lips stained with blood.
Mulder joins Scully in a church, and I can't help but think about the pilot of Californication.
We find out the young girl's name is Juliet (Carlena Britch), and when she visits the same church Scully is in
Scully tells the story of how she first found God
"All we have is a result of all the choices we've made, at the end of the day, we just have to hope that we made the right one," Mulder says to Scully.
He notices that three bars from the church's iron fence are missing
Barbara is revealed to be some kind of Madame Bathory, consuming blood and organs to stay young. She's also helping those in her home, keeping them alive on the same dark items.
Scully manages to put a tracker in a heart at a local hospital- which was taken by Barbara's husband Dr. Luvenis (Jere Burns).
Another surgery is happening, to attach Olivia (who is Juliette's missing sister) to Luvenis's back
Mulder and Scully track down Barbara's apartment, and confront her, which doesn't go so great.
Juliette shows up at the same time, and manages to get a hold of Barbara, and stakes her
"I may not believe in God, but I believe in you. It's how I talk to him, is through you," Mulder says to Scully in another church.
They talk about what her life would have been had she left early on in their partnership, and she starts to wax poetic about them being 'together'.
She leans in and whispers something to him, very 'Lost In Translation' because we CAN'T TELL WHAT SHE SAYS
But she continues with "spending the next chapter with you", and Mulder lights a new candle with the flame of Scully's
"I always wondered how this would end," he says as the light from the new candle flares brighter than all the others.
*cue all the XPhile yelling because YES THEY SHOULD BE TOGETHER*
Pretty good episode as far as the Mulder-Scully relationship goes, wish the monster would have been more developed, maybe less time spent with the bloody gore and more on how this is all happening for her.
Next week's episode 10 will be the season finale, and the future for the characters are still very unclear.