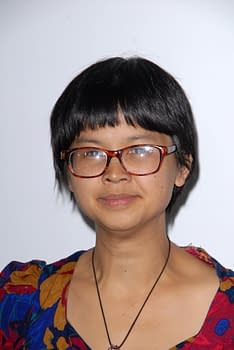 We are finally going to meet one of Ella Lopez's best friends, except Ella Lopez (Aimee Garcia) is the only one that can see her. Charlyne Yi (House) will be guest-starring on the FOX drama Lucifer this spring on its 21st episode. She will play Ray-Ray, one of the forensic expert's oldest friends. And while the two women get along great, they have one problem that causes them a bit of drama… Ray-Ray is a ghost that only Ella can see.
This opens up some interesting questions about how ghosts work in a world where angels and devils are real. Does this mean that angels can't see ghosts? That almost seems kind of weird. And why would Ella be able to see Ray-Ray and no one else can? It's really a fascinating idea and should make for a very interesting episode.
Along with her time on House as Dr. Chi Park, Yi has also appeared on Love, Twin Peaks: The Return, and Jane the Virgin. She's also done voice work on shows such as Steven Universe and We Bare Bears.
Lucifer is on another brief hiatus, but season 3 will pick up with episode 20 on Monday, April 16th at 8 p.m. ET on Fox.
Source: TVLine
Enjoyed this article? Share it!