Fox has released the third part of the Off the Script series with Lucifer stars Tom Ellis and Tom Welling asking each other questions. This time it starts with Welling describing Ellis in three words… one being 'tall', and then Ellis talks about how following Gordon Ramsay on Twitter is a guilty pleasure. But the real interesting answer comes on the third question when Ellis explains how he sees the series as a reverse Beauty and the Beast. No, he doesn't mean that he's Beauty and Decker (Lauren German) is the beast, but rather that Decker gets the 'prince' look first with the real 'beast' underneath with Lucifer.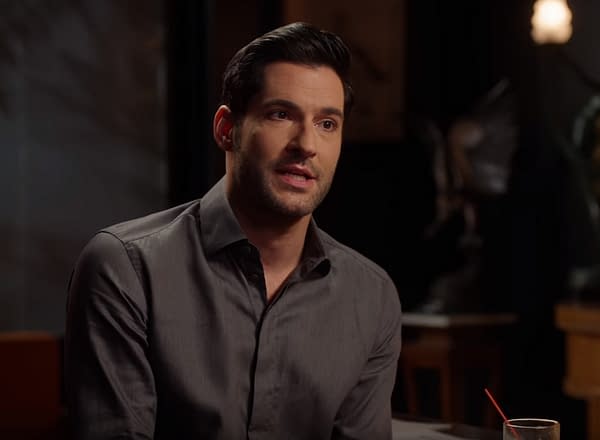 Welling talks about having filmed Smallville in Vancouver and how Lucifer used to film there and now is in L.A.. And then in what might be the best line in the piece, Welling ask Ellis to describe Marcus Pierce in one word — Ellis chooses "Enigmatic", and Welling responds, "Can you be more specific?" It made me laugh.
Then on a serious note, Ellis was asked if Lucifer would ever ask for God's forgiveness. Ellis says that Lucifer is in a very different place right now, wanting nothing to do with that… but points back to an episode from last season with Tim Omundson playing God Johnson and how he thinks that what Lucifer really wants deep down is his father's approval. But he'll never admit it to anyone.
Lucifer airs Mondays at 8 p.m. ET on Fox.
Enjoyed this article? Share it!