"Manifest" Season 2: Welcome Back to Flight 828, Except This Time? Everything Has Changed… [PREVIEW]
While fans of NBC's hugely popular freshman series Manifest still have awhile to wait for the show's sophomore run (set to return in 2020), that doesn't mean it's too early for the network to start teasing them on what they can expect when it does return.
And as teases go, this is a pretty good one: Michaela (Melissa Roxburgh), Ben (Josh Dallas), and Cal (Jack Messina) find themselves back on Flight 828 – except this time?
Everything has changed…
https://youtu.be/Issehc3pOUI
Joining the cast for the second season in recurring roles are:
Yasha Jackson (Ray Donovan) as Suzanne Martin, a Dean at Astoria University and Ben's (Dallas) ex-girlfriend. They happen to reconnect after running into each other on campus.
Garrett Wareing (Pretty Little Liars: The Perfectionists) as TJ Morrison. Another one of the passengers on Flight 828, TJ Morrison is a college freshman who went to Jamaica for vacation and came back 5 and a half years later. He's alone in the world and Ben (Dallas) takes him under his wing.
During its freshman season, Manifest averaged a 2.8 rating in adults 18-49 and 12.6 million viewers overall according to "Live+7" ratings from Nielsen Media Research, making it the season's top ranked new scripted series in 18-49 and the overall 6th entertainment series. The series generated television's biggest viewership lift going from "LIVE+Same Day" to "LIVE+7" Nielsens, adding 6.1 million viewers through seven days of delayed viewing (6.5 million to 12.6 million). Counting 35 days of linear and projected non-linear viewership, Manifest grows to a 4.86 rating in 18-49, nearly quadrupling its next-day L+SD 1.25 rating.

Now here's a look back at the official trailer and overview for NBC's Manifest:
https://www.youtube.com/watch?v=Dwc27Lsr1EY
When Montego Air Flight 828 landed safely after a turbulent but routine flight, the crew and passengers were relieved. Yet in the span of those few hours, the world had aged five years and their friends, families and colleagues, after mourning their loss, had given up hope and moved on.

Now, faced with the impossible, they're all given a second chance. But as their new realities become clear, a deeper mystery unfolds and some of the returned passengers soon realize they may be meant for something greater than they ever thought possible.

From Robert Zemeckis, Jack Rapke, Jeff Rake, Jackie Levine and Len Goldstein comes an emotionally rich, unexpected journey into a world grounded in hope, heart and destiny.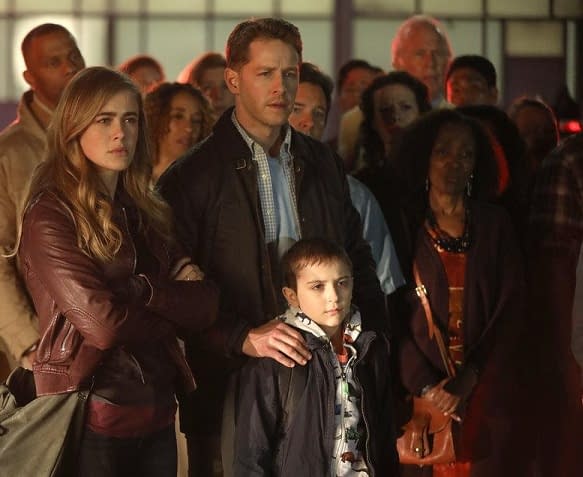 NBC's Manifest stars Melissa Roxburgh (Valor), Josh Dallas (Once Upon a Time), Athena Karkanis (Zoo), J.R. Ramirez (Power), Luna Blaise (Fresh Off the Boat), Jack Messina, and Parveen Kaur (Saving Hope).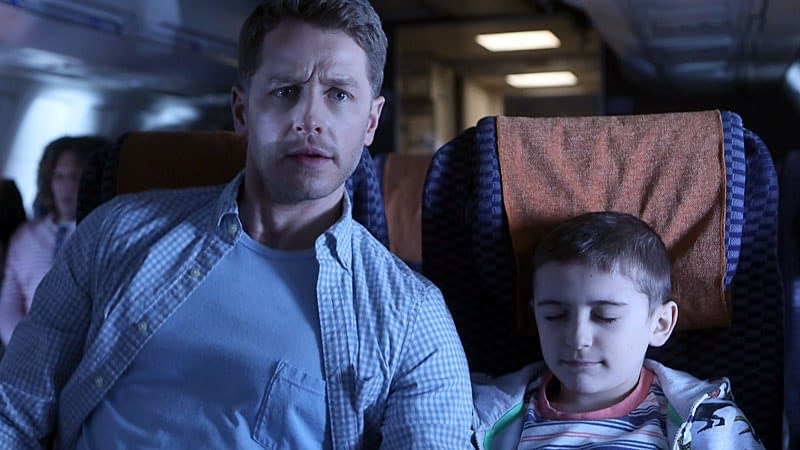 Jeff Rake writes and executive produces, with David Frankel having directed and executive produced the pilot. Robert Zemeckis, Jack Rapke, Jackie Levine, and Len Goldstein also executive produce. Manifest is produced by Warner Bros. Television, Universal Television, Compari Entertainment and Jeff Rake Productions.