Sherlock and Doctor Who writers Mark Gatiss and Steven Moffat are writing a brand-new adaptation of Bram Stoker's classic vampire novel for BBC One and Netflix, and they're bringing a first look at their new series to MCM London on Saturday 26th October. Oh look, I'm already planning to go to the show. That just reminded me to apply for a press pass…

As well as showing footage from the series, they will be joined on stage by fellow executive producer, and wife of Steven Moffat, Sue Vertue and the new Dracula himself Claes Bang.

Set in Victorian London with a Vlad intent on world domination, the show also stars Jonathan Aris, Sacha Dhawan, Nathan Stewart-Jarrett, Clive Russell, Joanna Scanlan, Dolly Wells and Mark Gatiss himself.
Much of the shooting took place at Bray Studios near Maidenhead, where many classic Hammer Horror movies were filmed, while Transylvanian scenes were filmed at Orava Castle in Slovakia.
Dracula, a Hartswood Films production, will premiere on BBC One, before streaming outside of the UK and Ireland on Netflix…. but those at the ExCel Centre for MCM London Comic Con will get to see it first. Hopefully that will include me…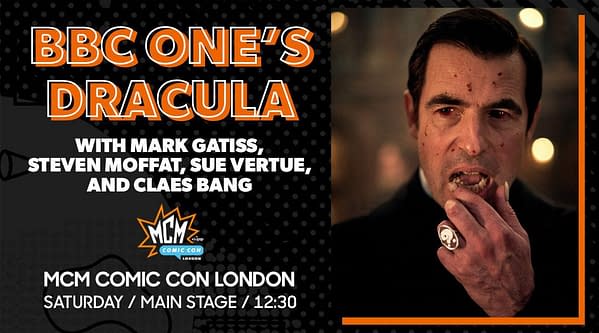 Enjoyed this article? Share it!