"Marvel's Agents of S.H.I.E.L.D." Season 6 Episode 11 Review: "From The Ashes" Creepy [SPOILER] Rises
At the close of last week's episode of Marvel's Agents of S.H.I.E.L.D. "Leap," things were pretty dire. Mournful, sad music played as the various members of the S.H.I.E.L.D. team realized the implications of the day. Mere hours after their triumphant celebration, Izel (Karolina Wydra) separated the team, one never to return. As a new day dawns in this week's episode, "From The Ashes," all of the answers in "Leap" lead to more questions. Predictably, viewers will need to wait until the August 2 two-hour finale for a satisfying conclusion to the Izel threat. However, from the ashes of S.H.I.E.L.D.'s good intentions rises a new, more powerful, creepier Sarge (Clark Gregg)…
Major Spoiler Alert
…that has Coulson's memories.
That's right ladies, gentlemen, and non-corporeal aliens, Coulson is in there. Throughout the entire season May (Ming-Na Wen), Daisy (Chloe Bennet), Mack (Henry Simmons), and everyone else attempted to convince themselves that Sarge is a big ball of genocidal maniac in a Coulson bag. But its just not true. All it took was Daisy beating the ever-loving crap out of him, quake-strangling him, and then threatening to behead him with a harmonic sword. Every time he comes back from the dead, Sarge/Coulson is a little more powerful and a little more…Coulson. Given his history, it is fitting that what finally convinced Daisy that Coulson was part of Sarge was not him calling her Skye. It was him sacrificing himself so the team would have a better chance at killing Izel. There really is nothing more Coulson than that.
Speaking of Daisy, she (and, incidentally, Bennet) shined in this episode. Everyone on the team danced around Sarge, worried about what Izel revealed when she took the gravitonium device. While May was trying to coax Coulson out, and Simmons (Elizabeth Henstridge) wanted Daisy to talk about feelings, only Daisy thought strategically. Daisy wants to connect Sarge with his inner badass, the one that can defeat Izel, not his feelings. May even tries to shame her for it, telling Daisy that Coulson wouldn't approve. Finally reading the letter Coulson left for her when he died, Daisy connects with him in a way she previously avoided. In the end, she decides that Sarge, with powers, is their best chance at survival.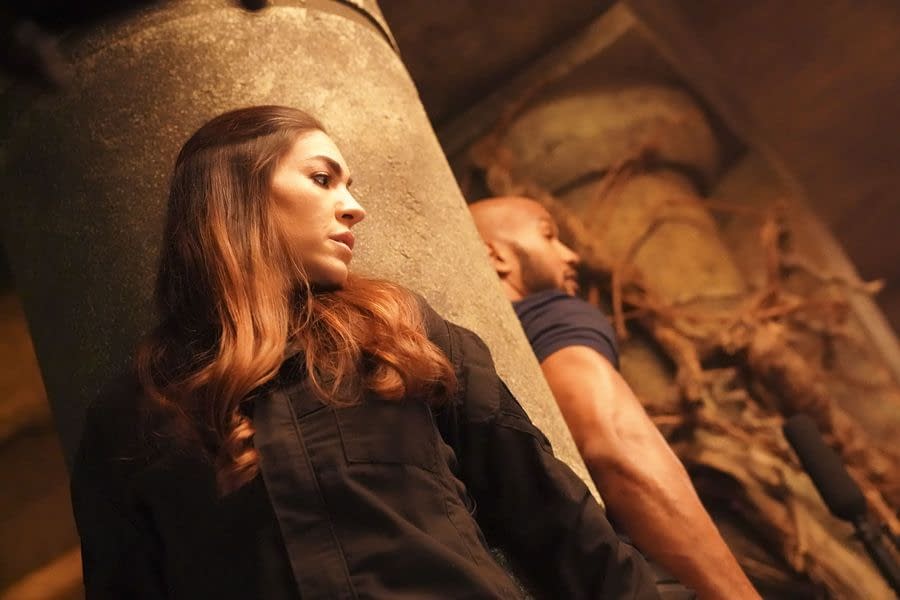 Daisy learns that it is Coulson's willpower, his soul, that is keeping his inner alien from obliterating everyone. Coulson's struggle to contain something powerful within himself, something he doesn't understand, resonates with Daisy. She see's her own past in Coulson's current struggle. When Daisy first got her powers, she freaked out. She was powerful, deadly even. There was a strong force within her, a part of her, that she didn't know how to control. Now, she is seeing that same dynamic play out inside Coulson. He begs her to kill him, to end the threat he represents. Daisy can see that Coulson is not only sacrificing himself, he is doing everything possible to regain control. Yo-Yo (Natalia Cordova-Buckley) and Daisy are the only Agents capable of recognizing those feelings in Coulson, because they have been there themselves. It takes a "supe" to help a "supe."
While Coulson's emergence from within Sarge is good for him and good for the team, it might be even harder on May. Thinking of Sarge as the big bad wearing her lover's face might be easier than dealing with a Coulson who is just…different. It will take a while for the team to adjust to the new Coulson-but-not-Coulson. Not only does he have powers now, but he has a century of experiences that don't include S.H.I.E.L.D.. It may be worse for May to have Coulson, but not have her Coulson.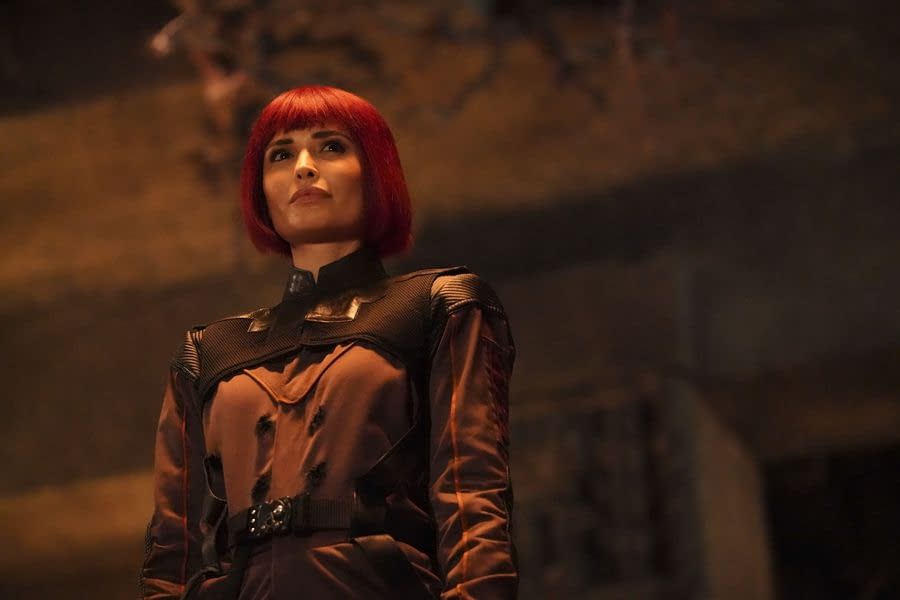 In the background of the hard, dramatic, grief-laden storyline between Daisy, May, and Sarge/Coulson, FitzSimmons (Iain De Caestecker, Henstridge) and their grandson are trying to save the day. Deke (Jeff Ward) is trying to learn how he fits into the dynamic between his grandparents. He doesn't have an official place in the lab, but they need him. You have to question his intelligence when he asks Piper (Briana Venskus) for emotional advice, however. When Deke does finally find his groove as part of the FitzSimmons brainstorming process, the look on peace on his face is priceless. Not only can he make a real contribution to helping the team, but he finally connects with his grandparents in a way he hasn't since coming back to their time. Maybe we should start calling them FitzSimShaw?
As the show hurtles towards next week's season finale, the team will finally learn whose side Sarge/Coulson is really on, and if Daisy's calculated risk has paid off. Hopefully the creepy look on Coulson's face as he wields the harmonic sword means death for Izel, and not for the Agents. The body count for this season is already unusually high.
The two hour Season 6 finale of Marvel's Agents of S.H.I.E.L.D., "The Sign" and "New Life," airs Friday, August 2, at 8 p.m. on ABC.
"New Life": With time running short, the team will have to go to hell and back to stop the end of everything. Who will survive?

"The Sign": With time running short, the team will have to go to hell and back to stop the end of everything. Who will survive?