Marvel's Agents of SHIELD Season 5, Episode 19 Recap: Option Two
This article contains spoilers for the Marvel's Agents of SHIELD season five episode – Option Two.
.
.
.
.
.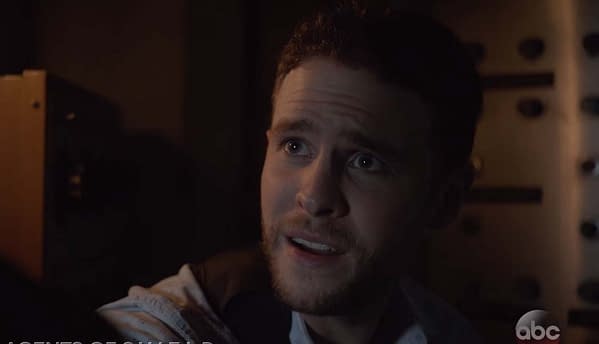 As we get into the final four episode of season five, Marvel's Agents of SHIELD becomes a more streamlined series with most everything happening in one place. In this episode, other than a brief side story with Daisy (Chloe Bennet) meeting with the Candyman (Jake Busey) and finding that one of the few things left in the Deathlok program that might help Phil Coulson (Clark Gregg) stay alive has to do with the scorpion technology that John Garrett (Bill Paxton) used in season one and how it ties into Jiaying (Dichen Lachman), Daisy's mother we met in season two. The episode ends with Daisy going to dig up her mother's grave. Everything else takes place in the Lighthouse.
The episode focuses on the team trying to figure out where Hale (Catherine Dent) went and how to move the gravitonium to a safe location when they realize that the aliens are coming for it. There is also a lot of arguing over everyone's actions including Fitz (Iain de Caestecker) and Yo-Yo (Natalia Cordova-Buckley). May (Min-Na Wen) has set up with Candyman to find a safe place for Robin (Lexy Kolker), so Daisy is going to take them giving her a chance to meet with Candyman about Coulson. Meanwhile Talbot (Adrian Pasdar) starts calling for Coulson because he realizes that part of his programming was to activate a landing beacon that would let the aliens find the Lighthouse, but by the time the figure it out, the aliens lead by Qovas (Peter Mensah) are already there. The hologram recording (Patrick Warburton) starts giving options and Coulson takes the 'nuclear attack' option before hearing that there was an 'alien invasion' option and the Lighthouse becomes locked down for 15-years. And while they think they're safe, Coulson remembers the device that let them escape from Hydra and knows they aliens can get in anywhere they want.
Fitz finds an override on the manual and heads there with an agent, but an alien attacks and kills the agent. Deke (Jeff Ward) saves him but they discover that the override has already been destroyed. The aliens are moving through the base and everyone is collecting in either the lab with the gravitonium or in the control center for a final battle. But they throw in a twist that I don't know if anyone saw coming… with Yo-Yo and the others out fighting, Talbot and Simmons (Elizabeth Henstridge) are left in the lab and Talbot, who has been talking about fixing everything, see his chance and uses an icer on Simmons, then turns on the Particle Infusion Chamber and feeds all the gravitonium into himself. When the control center is being overrun, Talbot appears and literally crushes the aliens with his new powers, then takes Coulson and rises up out of the ground towards the surface.
The trailer below shows that Talbot really isn't stable and that he may be far worse than anything they had feared. They also may be paying off something that was set up in season one, episode three… but I'll address that in it's own article.
The Talbot move came out of the blue. Really didn't see that coming but it also sets up something amazing, especially if this is the last season. The writers are going through and connecting a lot of dots from over the five years of the show with the idea of giving a solid, satisfactory ending. The episode tapped into a bit of the feeling of an Aliens movie, which was sort of good timing as Thursday was Aliens day. These weren't exactly Xenomorphs, but they moved in a very creepy way. This was a really good episode.