"Monsters at Work" Offers New Info; "Chip 'n' Dale" Getting Disney+ Reboot [UPDATE]
Disney used the occasion of this year's Annecy Intl. Animation Festival to reveal a new poster for Monsters at Work, the upcoming animated Monsters, Inc. sequel series for their upcoming streaming service Disney+. If that wasn't enough, the multimedia giant also announced that popular chipmunks Chip 'n' Dale will be rebooted for Disney+.
UPDATE: Looks like the artwork that was released and run by media outlets was an "unapproved asset" – so instead? Another look at the logo – followed by some more details on the series:

Produced by Disney Television Animation with animation production by Montpellier-based Dwarf Animation, the series sees Billy Crystal and John Goodman return to their respective rolls as Mike and Sulley, with the story picking up six months after the original film ended. Now that the factories of Monsters, Inc. no longer harvest screams and instead run on the energy of laughter, a new generation of workers who fancy themselves as funny look to shine. Tylor Tuskmon (Ben Feldman), an eager and talented young mechanic on the Monsters, Inc. Facilities Team (MIFT), dreams of working his way up to the factory Laugh Floor to become a Jokester alongside his idols Mike and Sulley.
Monsters at Work also star Kelly Marie Tran (Star Wars: The Last Jedi) as Val Little, Tylor's lifelong friend and confidante; Henry Winkler (Barry) as Fritz, the scatterbrained boss; Lucas Neff (Raising Hope) as Duncan, an opportunistic plumber; Alanna Ubach (Coco) as Cutter, the officious rule follower; and Stephen Stanton (Star Wars Resistance) as Smitty and Needleman, the bumbling custodial team – with Aisha Tyler (Archer) voices Tylor's mom, Millie Tuskmon.
Joining the returning Crystal and Goodman are original cast members John Ratzenberger as Yeti and the new character, Bernard; Jennifer Tilly as Celia Mae; and Bob Peterson as Roze, twin sister to his original character, Roz.
"This is a hugely busy and exciting year and there's no better time to be working in animation, which continues to be at the heart of what we do at Disney. We are proud to announce this exciting slate, working with phenomenally talented international creatives to deliver stories that are full of fun, creating characters that are extremely loveable, and showcasing a breadth of animation styles."

– Orion Ross, VP of Animation – Digital and Acquisitions, Disney Europe & Africa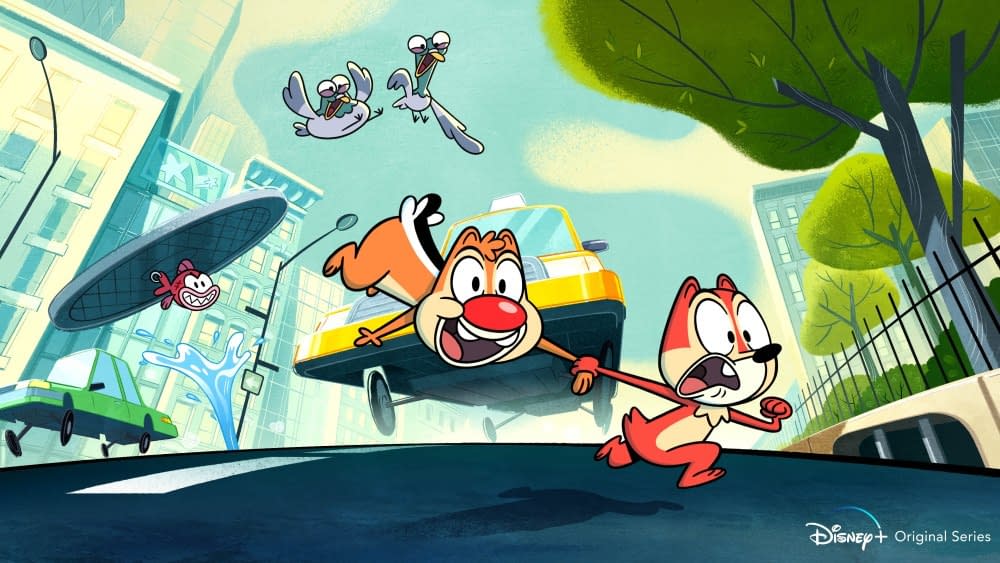 Disney's Chip 'n' Dale reboot will be developed by the company's London-based team in co-production with Marc du Pontavice's Paris'-based Xilam (Paprika, Mr Magoo). Setting the furry pair in a big city setting, the series' 39, seven-minute episodes will be produced in a traditional animation style and feature contemporary storylines.
"Animation continues to be one of the cornerstones of Disney magic and story-telling, across Disney Channels and excitedly, now on the new streaming platform, Disney Plus. As a company, we are privileged to work with so many creative masterminds, both here in France and across Europe, who are first in class when it comes to relaying timeless stories for all members of the family."

– Hélène Etzi, Country Manager, The Walt Disney Company France