Moose Looks to End Tommy Dreamer's Career: Impact Slammiversary
Welcome to Bleeding Cool's ongoing Impact Wrestling Slammiversary coverage. The first match of the night saw the Motor City Machine Guns return to answer the open challenge from The Rascalz. Next up is Moose vs Tommy Dreamer for the TNA Championship.
Before the match, John E. Bravo is lectured by Taya Valkyrie backstage. She warns him not to screw up here chance to become Knockouts Champion in the Gauntlet Match tonight. There's one thing he needs to remember tonight: Taya must win. After she leaves, Rosemary approaches. Can you guess what she wants Bravo to remember?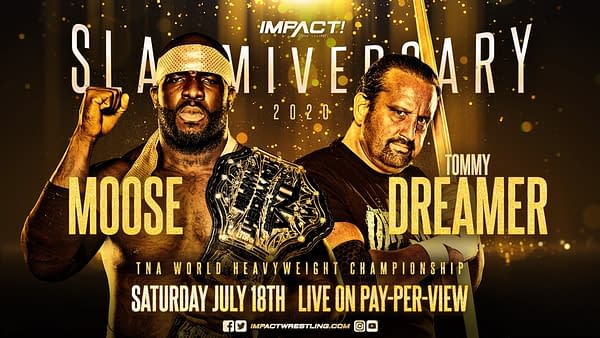 After a video package, Tommy Dreamer and Moose come out for their match. This match will be conducted under "old school rules," whatever that means. Moose is introduced as a wrestling god. Don Callis apologizes to Karl Gotch. Josh Matthews says he'd rather hang out with Callis than his wife.
Moose yokes up Dreamer to start the match. Grampa Dreamer gets tossed out of the ring and grabs a garbage can lid. That answers the question of what "old school rules" means. It means ECW rules. Outside the ring, it's Grampa who has the advantage. Dreamer is wearing a "Moose Sucks Eggs" t-shirt, which Callis explains is a reference to Terry Funk wearing a Dusty [Rhodes] sucks eggs shirt.
Moose takes control after hitting Dreamer with a chair. He gives him a suplex on the entrance ramp and goes shopping for weapons under the ring. He finds what the announcers call a kendo stick, but if these really were old school rules, they'd call it a Singapore cane like they did in ECW. Moose attacks Dreamer in the ring with the cane, but Dreamer gets a side Russian leg sweep, the only actual wrestling move he knows. Dreamer goes to the top with the cane and Moose hits him with a dropkick on the way down, driving the cane into his face. Ouch!
Moose then puts a garbage can on Dreamer's head and dropkicks that. Moose is cocky now, bragging about how easy it is to beat up a 75-year-old man. Moose goes up to the top for some reason and dives right into a Diamond Cutter by Dreamer into the cage. Dreamer barely moved during this move. Don Callis sells Dreamer's "experience."
They brawl with weapons and without for a while. Eventually Moose chokeslams Dreamer onto a pile of chairs and hits a standing moonsault on top of him, but Dreamer kicks out. This kid has such heart! Moose goes to the top rope again, declares himself a wrestling god, and moonsaults directly into the pile of chairs. Dreamer hits a DDT which Moose kicks out of, and you know what, this match is kinda way better than it deserves to be.
Dreamer heads outside and gets a sack of thumbtacks. He wants to piledrive Moose into them, but Moose piledrives his fist into Dreamer's nuts instead. Moose says he'll end Tommy's career and calls him an old piece of garbage. He tries to shove his face into the thumbtacks. Dreamer powers out, but Moose rakes his eyes and then slams him face-first into the thumbtacks. Moose hits the spear and No Jackhammer Needed for the win.
After the match, Gia Miller is outside the Impact Zone waiting for a car to pull up. Will it be a fired WWE mid-carder? Better. It's Johnny Swinger, driving a Jaguar. Swinger says got the car because the rental place was saving it for "Anderson" and he didn't see Ole anywhere. Miller was hoping it was Gallows and Anderson, but that will come later.