Mr. Monk's Last Case: A Monk Movie: Tony Shalhoub Returns to Peacock
Tony Shalhoub is returning as Adrian Monk for Peacock's Mr. Monk's Last Case: A Monk Movie, reuniting original cast members & writers.
---
Tony Shalhoub will be returning to Peacock as his much-loved OCD-ridden detective Adrian Monk in Mr. Monk's Last Case: A Monk Movie. The movie is, of course, based on the Emmy Award-winning, critically-acclaimed, fan-favorite USA comedy Monk. Adrian Monk is a brilliant detective who suffers from obsessive-compulsive disorder, and his psychological disorder costs him his position as a legendary homicide detective in the San Francisco Police Force. Due to the tragic unsolved murder of his wife, Trudy, he has developed a heightened fear of germs, heights, crowds, and virtually everything else, which provides an unusual challenge to solving crimes … not to mention his day-to-day existence. In the highly-rated series finale, Monk solved the biggest case of his career, cracking the mystery of who killed his beloved wife Trudy.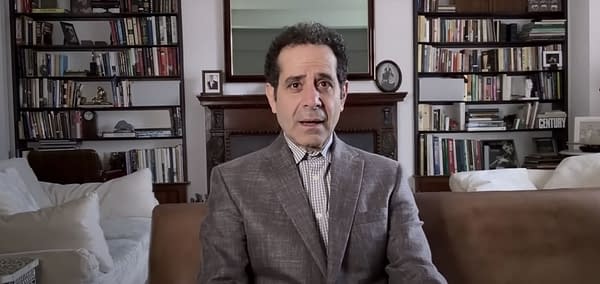 In Mr. Monk's Last Case: A Monk Movie, the titular detective returns to solve one last & very personal case involving his beloved step-daughter Molly, a journalist preparing for her wedding. Mr. Monk's Last Case: A Monk Movie will come from the original creative team, including Andy Breckman, David Hoberman, Randy Zisk, Shalhoub, and Studio UCP. The movie will bring back original stars Ted Levine, Traylor Howard, Jason Gray-Stanford, Melora Hardin, and Hector Elizondo.
"When creator Andy Breckman came to us with a new Monk case set in the present day, we immediately fell in love with this story all over again," said Michael Sluchan, EVP, Movies, Kids, Daytime, NBCUniversal Television and Streaming. "The movie has the heart and humor of the original series with a contemporary relevance, and we're overjoyed to work with the original creative team, including Andy, David Hoberman, Randy Zisk, the unparalleled Tony Shalhoub, and our partners at UCP, for what is sure to be a must-see movie event for Peacock audiences." Beatrice Springborn, President, UCP, added, "New and returning fans of Monk will love how this creative team was able to preserve all that we admire about Adrian Monk while bringing him into the present. We can't wait for Peacock viewers to experience this fresh, fun, and imaginative film."
The original series premiered on USA Network in 2002 and ran for 125 episodes over eight seasons, with the series finale breaking ratings records as the most-watched cable drama at that time in 2009. The series won a total of eight Primetime Emmy Awards, one Golden Globe Award, and two Screen Actors Guild Awards. Star and executive producer Tony Shalhoub (Monk, The Marvelous Mrs. Maisel) was Emmy-nominated for Outstanding Lead Actor in a Comedy Series for eight consecutive years (2003 to 2010), and won in 2003, 2005, and 2006.
Back in May 2020, Peacock reunited series stars for The At-Home Variety Show, featuring Shalhoub and his co-stars Levine, Howard, and Gray-Stanford, showing how their characters were coping during the pandemic. And just a reminder that all eight seasons of Monk are currently streaming on Peacock.